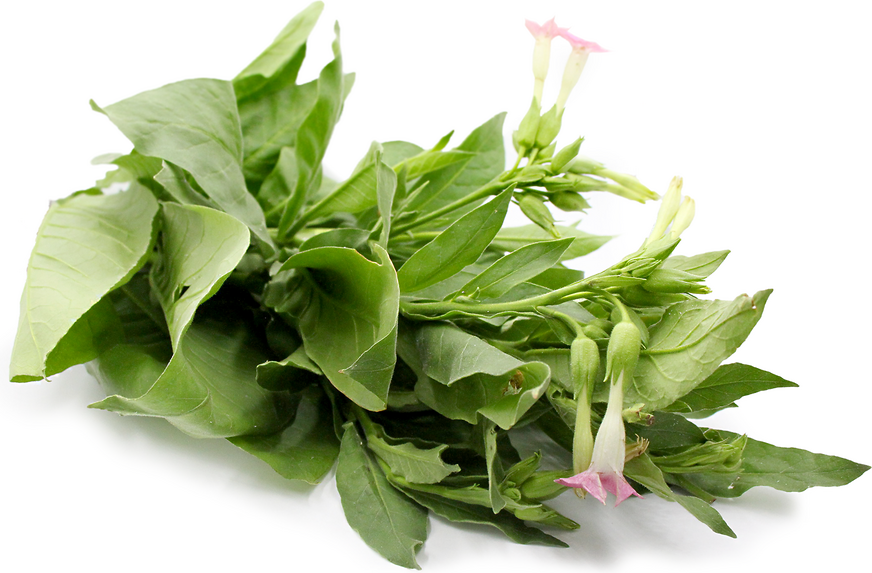 Tobacco Leaves
Inventory, lb : 0
Description/Taste

Tobacco leaves are long, elliptical green leaves. They are varied in size, with the largest leaves, which occur at the base of the plant, growing to around 60 centimeters in length. Tobacco leaves have short hairs which excrete a yellow substance which contains nicotine. The plant itself is an annual herb that bears five-petaled, trumpet-shaped flowers. Fresh-cut Tobacco leaves have a grassy scent. The leaves have a sharp, spicy taste that is tingly, like horseradish and pepper.


Seasons/Availability

Tobacco leaves are available year-round.


Current Facts

Tobacco leaves are botanically classified as Nicotiana tabacum, and belong to the eggplant family. Although they are best known for being dried and used for smoking, they have a long history of being used medicinally by native cultures. Chefs have controversially begun to use Tobacco leaves in cuisine in order to achieve a more complex flavor for their dishes. However, eating the leaves themselves is hard on the stomach. Consuming a high amount of the leaves may be TOXIC as they contain nicotine. There are many reports of harvesters falling sick from exposure to the leaves. Adolescents, pregnant women and people with heart disease are advised to steer clear of Tobacco, including dishes made using Tobacco leaves.


Nutritional Value

Tobacco leaves contain high amounts of protein, and in 1981, the World Health Organization's Farm and Agriculture Organization stated that the leaves may have use as a functional food. Extracts of protein from Tobacco leaf have been found to contain amino acids and lysine, and no nicotine. However, we know that nicotine found in Tobacco leaves, especially when made for smoking Tobacco, is addictive,and contributes to cancer growth. Smoking dried Tobacco leaves in the form of cigarettes and pipe tobacco is harmful, as the smoke is highly carcinogenic.


Applications

Tobacco leaves are usually harvested, then dried, and used in pipe smoking, or in cigarettes. However, they are also increasingly used in cuisine where they impart a subtle, bitter heat. They may be cooked with rice, or used to smoke meats like wild game and fish. The London chocolate company Artisan du Chocolat also adds whole leaves to chocolate bars. Authorities warn that Tobacco leaves should be consumed with caution.To store fresh Tobacco leaves, place them in a looe bag in the refrigerator, where they will last for up to a week.


Ethnic/Cultural Info

Tobacco leaves have been used medicinally for centuries. Mexican physicians used fresh leaves to help relieve headaches. In Colombia, fresh leaves are used in poultices, which are placed extrenally over boils and wounds. In Africa, dried leaves are used to help with sores. There are also "magical" properties attributed to Tobacco leaves. The Mayans in Mexico once thought that they had protective powers. Some Native American societies use Tobacco as part of sacred rituals, and when used in this way, is not associated with addiction and adverse health effects.


Geography/History

Tobacco leaves come from the Tobacco plant. Its exact origins are unknown, but it is thought to have originated in South America some 200,000 years ago. The Tobacco plant as we know it today is possibly a hybrid of Nicotiana sylvestris, Nicotiana tomentosiformis, and Nicotiana otophora, which were indigenous to the Caribbean. However, like wheat and other commercialized crops, Tobacco today looks quite different from its wild ancestors. It also no longer occurs in the wild. The Arawak and Taino indigenous people of the Caribbean were said to have first used and cultivated Tobacco, using it both for pleasure, and for medicinal and spiritual purposes. In 1492, Comumbus and his explorers brought seeds and leaves back to Spain. In the 1500s, Tobacco was introduced in France, and from there spread to the rest of Europe, and then Asia. In Tudor England, Tobacco was first thought of as a wonder drug. In the 1800s, doctors began spreading word of the harmful effects of Tobacco after it was discovered that they contained nicotine. However, it became fashionable as celebrities began promoting smoking for pleasure.