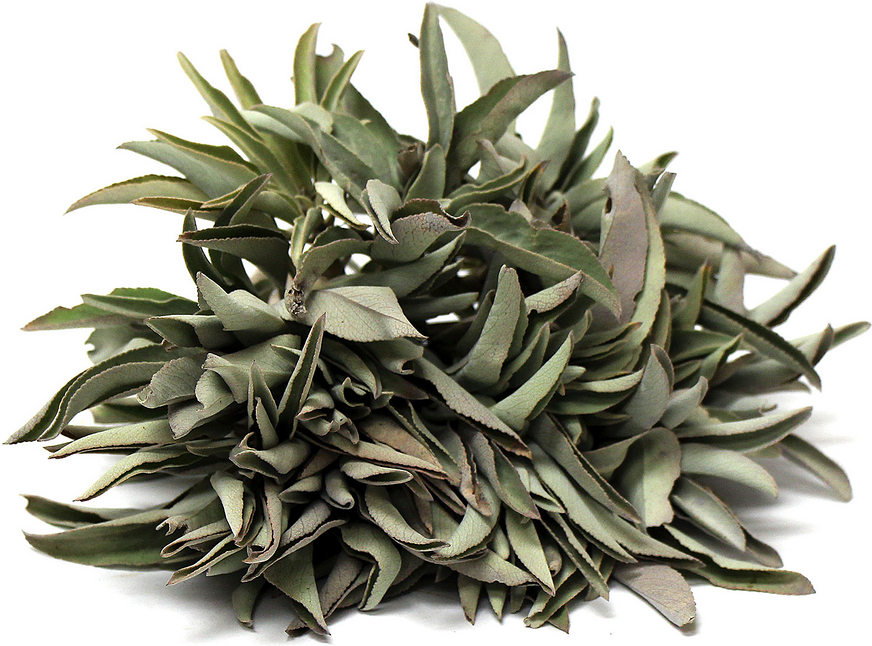 White Sage
Inventory, oz : 0
Description/Taste
White sage is a shrub comprised of medium to large leaves, averaging 7 to 10 centimeters in length, that are generally elliptical to lanceolate in shape. The leaves are matte, waxy, and evergreen, covered in a coating of fine hairs, giving them a silvery, white appearance. When the leaves are young, they are wrinkled with a gray-green hue, and as the leaves mature, they develop a smoother surface and a silvery tone. The leaves also bear crenulate or rounded, toothed margins, and the edges taper slightly at the leaf base. In the late summer, White sage produces long stalks with white flowers that sometimes showcase spots of lavender. Each flower stalk can bear up to one hundred tiny flowers, and the stalks are hollow, reaching up to one meter in height. White sage has a strong aroma. When the leaves are brushed, the hairs on the leaves trigger oil glands to release oils and aromatic compounds, producing a robust sage and pine, subtly sour smell. White sage also contains an herbal, savory, and slightly peppery flavor.
Seasons/Availability
White sage leaves are available year-round, and the flowers bloom from the late spring through the summer.
Current Facts
White sage, botanically classified as Salvia apiana, is an evergreen shrub belonging to the Lamiaceae family. The herbaceous perennial grows 1 to 2 meters in height and is highly favored for its aromatic nature and medicinal properties. White sage has historically been used as a healing plant among Native American peoples of North America, and the leaves are also favored as a culinary herb, providing savory, earthy flavors. It is important to note that there is another plant, Artemisia ludoviciana, commonly known as White sage, that is also burned as a purifying treatment. Besides medicinal and culinary practices, White sage is valued by home gardeners as a plant that attracts beneficial pollinators. When the flowers are in bloom, bees, butterflies, and hummingbirds all visit the blossoms. Beekeepers throughout California prefer to keep beehives on land that includes White sage, also earning the plant the nickname Bee sage.
Nutritional Value
White sage provides some essential oils that contain antibacterial, antifungal, and antimicrobial properties. The leaves were traditionally steeped into a tea and used among Native American peoples as a stomach soother and remedy for sore throats. White sage contains eucalyptol, a natural compound that contains refreshing, mint-like cooling properties. The leaves were also crushed and mixed with animal fat as a topical ointment for skin sores, chewed as a breath freshener, or chewed as a source of hydration.
Applications
White sage has a robust flavor well suited for a variety of culinary preparations. The leaves can be used fresh to season meats, seafood, and vegetables, or they can be incorporated into soups and stews. White sage can also be finely chopped and baked into bread, cooked into sauces for added flavoring, or used to flavor desserts. In addition to using the leaves fresh, they can also be dried and steeped into a tea or used in infusions. White sage seeds are also frequently used in culinary preparations to make flour. The seeds can be consumed raw or cooked and were customarily ground into a powder to make pinole, an ancient flour made from ground corn, agave, chia seeds, spices, vanilla, and other seeds. This mixture was made by Native Americans into biscuits, tortillas, and cereals. White sage stems were also sometimes used to flavor stocks, but after cooking, the stems were typically discarded due to their tough, fibrous nature. White sage pairs well with legumes, aromatics including garlic, shallots, and onions, herbs such as bay leaves, rosemary, parsley, and thyme, meats such as lamb, poultry, pork, and turkey, seafood, pine nuts, and squash. Fresh White sage leaves will keep 4 to 5 days when wrapped in paper towels and stored in a plastic bag in the refrigerator.
Ethnic/Cultural Info
White sage is a sacred herb used in healing ceremonies among the Chumash people, a Native American tribe with a rich heritage along the coastal regions of Southern California. The sage leaves are known as Wey'wey and are used at the beginning of Chumash ceremonies to cleanse the spirit and calm the senses. The Chumash people collect small branches of sage and leave the branches to dry. Once dried, the branches are used during prayer, and if burned, the smoke was believed to create space to provide divine healing. It is essential among the Chumash that White sage is harvested sustainably. Only small amounts should be taken each time, and none of the leaves are to be wasted as it is such a valued, spiritually healing plant. In the past few decades, there has been an influx of commercial sweat lodges constructed in the United States to capitalize on the increasing consumer interest in natural healing. Many of these lodges use White sage to provide smoke cleansings for guests, which has led to overharvesting of the wild White sage plants located on native land.
Geography/History
White sage is native to a large geographical region throughout the American Southwest and Great Plains. The evergreen shrub thrives in more dry, arid climates, especially in the coastal chaparral of California, and the plant has been used for thousands of years for medicinal, culinary, and ornamental purposes among Native American peoples. Today White sage can still be found growing wild in the southwestern United States and Baja California. The plants are also offered through online seed retailers and garden centers as a home garden cultivar for personal and culinary use worldwide. White sage leaves can sometimes be found through local farmer's markets in the Southwestern United States.
Recipe Ideas
Recipes that include White Sage. One

is easiest, three is harder.