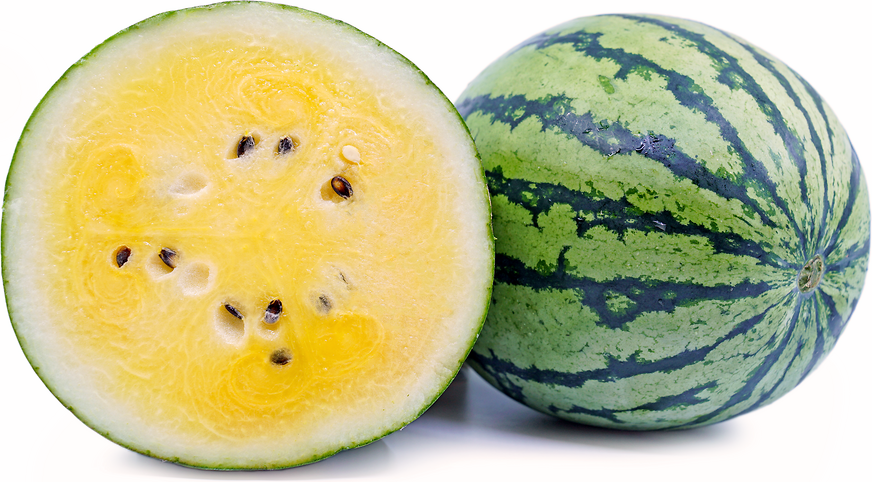 Yellow Watermelon
Inventory, lb : 0
This item was last sold on : 10/13/23
Description/Taste
Yellow watermelons vary in size, depending on the specific variety, and can be found in oval, round, to oblong shapes with blunt, curved ends. The rind ranges from semi-thick to thick and is dense, hard, smooth, and firm. The rind can also be dark green or showcase light green to emerald mottling and striping. Underneath the exterior, the rind fades into a white hue and is adhered to the flesh. All parts of the rind are edible and have a crisp and slightly fibrous nature with a mild and vegetal taste. The flesh appears in shades of pale yellow, gold, to yellow-orange and is tender, crisp, and aqueous with a succulent consistency. Each Yellow watermelon variety will either be seedless or contain black-brown or white seeds, and both types of seeds are edible. Black watermelon seeds are thicker, chewier, and more developed, fertile seeds. White watermelon seeds are immature, thinner, and infertile. When selecting ripe Yellow watermelons grown in open fields, look for a yellow spot, known as the ground spot, field spot, or belly of the fruit. This spot is where the fruit touched the ground while it was maturing. If the ground spot is white or almost non-existent, the fruit may have been picked too early. Ripe Yellow watermelons will also feel heavy for their size and emit a light, hollow sound when tapped. Yellow watermelons are refreshing raw or can be lightly cooked and have a delicate, mellow, and sweet taste with subtle notes of honey and apricot.
Seasons/Availability
Yellow watermelons are available year-round, with a peak season in the summer.
Current Facts
Yellow watermelons, botanically a part of the genus Citrullus, are a naturally occurring fruit belonging to the Cucurbitaceae family. Yellow-fleshed watermelons pre-date red and pink-fleshed cultivars of the modern day and are one of the oldest types of watermelons, traced back to Africa. It is important to note that Yellow watermelons are not genetically modified and have been cultivated for thousands of years through seed collection and natural crossbreeding techniques. Historically, Yellow watermelons were not sweet, but throughout years of selective cultivation to improve their flavor, the golden-hued fruits developed a mild, sweet taste. Yellow watermelons have also been bred for enhanced flavor in the past few decades. There are five main varieties of Yellow watermelons sold in markets today. Buttercup Yellow watermelons are one of the sweetest Yellow watermelons and are known for their seedless nature and dense flesh. Yellow Doll is a small, early maturing cultivar, also known as Yellow Baby Doll, while Yellow Crimson, Desert King, and Yellow-Flesh Black Diamond are all favored for their sweet taste. Despite their individual varietal names, Yellow-fleshed watermelons are often sold under their broad, generic name of Yellow watermelons, and the fruits are similar to red-fleshed cultivars in consistency and outward appearance but lack the antioxidant lycopene, a pigment that contributes to the red-fleshed watermelon's naturally saturated hue. Yellow watermelons can be used interchangeably with red-flesh varieties in fresh and cooked preparations. The golden-hued fruits are a specialty ingredient less common in commercial markets than red-fleshed cultivars, but they are increasing in notoriety and popularity through media exposure, publications, social platforms, and consumer awareness.
Nutritional Value
Yellow watermelons are a source of vitamin C to strengthen the immune system, potassium to balance fluid levels within the body, and copper to develop connective tissues. The fruits also provide beta-carotene, which is converted into vitamin A in the body to assist in healthy organ functioning, magnesium to control blood pressure, calcium to build strong bones and teeth, and other nutrients, such as phosphorus and vitamin B5. Watermelons contain citrulline, an amino acid that helps to lower blood pressure in the body. The rinds are a source of fiber to regulate the digestive tract, and the seeds have some zinc, magnesium, folate, and iron.
Applications
Yellow watermelons have a subtly sweet, honeyed flavor suited for fresh and cooked preparations. Domesticated watermelons, regardless of their specific variety, can be consumed straight, out-of-hand, and the rind and flesh are traditionally sliced into pieces as a refreshing snack. Yellow watermelons can also be cut into small cubes and tossed into green salads, balled and mixed with fresh herbs and cheeses as a side dish, or added to grain bowls for a sweet taste. The flesh complements the spice and acidity in salsa, and it can be blended and frozen into sorbets, popsicles, and granitas. Yellow-fleshed watermelons can be used interchangeably in recipes calling for red-fleshed watermelons. These golden-hued varieties will have a milder taste and shine in simple syrups, cakes, tarts, pudding, and other desserts. Yellow watermelons can also be lightly grilled for a smoky flavor. The flesh can be cooked with pork shoulder, marinated in flavorings, battered, and fried, or used as a base for a pizza alternative. Yellow watermelons can also be seared in a hot pan to caramelize the surface. In addition to cooked preparations, Yellow watermelons are popularly incorporated into smoothies, frescas, and cocktails such as margaritas and spritzers. Try using Yellow watermelons in jerky recipes or pickling the rind as a tangy condiment. Yellow watermelon seeds are also edible and can be roasted, sprinkled in olive oil, salt, cinnamon, sugar, or a mixture of lime juice and chili powder. Yellow watermelon pairs well with herbs such as basil, cilantro, and parsley, nuts including peanuts, walnuts, and pine, fruits such as coconut, citrus, and berries, cheeses such as feta, goat, and mozzarella, tomatoes, cucumber, and ginger. Whole, unopened Yellow watermelons will keep for several weeks to months when stored in a cool, dry, and dark place. Once sliced, the flesh will stay edible for 3 to 5 days when stored in a sealed container in the refrigerator. If leftover flesh is still in the rind, wrap the cut side tightly with plastic and store in the fridge.
Ethnic/Cultural Info
In Africa, Yellow watermelons are referred to as "desert kings." Watermelons were cultivated along the Nile River in Ancient Egypt, and the fruits thrived in arid, hot climates. Yellow watermelons provided a valuable water source for the Ancient Egyptians, and the fruits could be stored in cool and dark places for an extended period. Watermelons are also comprised of over ninety-percent water, and the fruit's thick rind allowed the Ancient Egyptians to carry the fruits on long journeys. One of the most notable uses of Yellow watermelon was its significance as a water source for the Egyptian afterlife. Yellow watermelons were depicted on the walls of famed King Tutankhamun's tomb, and experts believe the fruits were placed in the tomb as a water source for the pharaohs as they journeyed into the afterlife. Seeds were also often found in the pharaoh's tombs. It was thought that the seeds could be used for planting crops in the afterlife.
Geography/History
Yellow watermelons are native to Africa and have been cultivated for over 5,000 years. Archeological evidence has been found of watermelon seeds in the ancient settlement, Uan Muhuggiag, in the Tadrart Acacus area of Libya. Scientists debate the ancestor of domesticated watermelons, but it is generally believed the species may have developed from wild melons that were hard and bitter with pale-green flesh. The Kordofan melon of Sudan is also considered an important relative of domesticated watermelons. Ancient Egyptians cultivated Yellow watermelons as a water source. One of the earliest depictions of watermelons is found in the Egyptian tomb of Khnumhotep II in Saqqara. An oblong, green-striped melon is featured alongside other fruits in a wall painting. During the 18th Dynasty of Egypt, a period spanning from 1550 to 1292 BCE, Yellow watermelons were selectively bred for flavor, eventually introducing some of the first red-fleshed cultivars. This belief stems from watermelon leaves that were discovered in a tomb at Deir el-Bahari near Luxor in the 19th century. Watermelons were later spread to the Middle East and the Mediterranean sometime between 400 BCE and 500 CE and were often carried as natural water canteens on long travels and voyages. In Israel, Yellow watermelons were described in several texts dating to around 200 CE, and watermelons, in general, were used as a form of tithing in various codices of Jewish Law. Yellow watermelons also appeared in Byzantine mosaics in Israel around 425 CE. Over time, Yellow and red-fleshed watermelons appeared throughout Africa, the Middle East, and the Mediterranean and were cultivated for a sweeter taste. Watermelons were also introduced to Central and East Asia through the Silk Road trade routes and into Western Europe through the Moors. Red-fleshed watermelons eventually became the dominant type of watermelon for its sweeter taste than Yellow watermelons, and this trend has extended into the present. Today Yellow watermelons are a specialty variety found through local farmer's markets and select grocers in Asia, Africa, Europe, Australia, North America, and South America. The fruits are also grown in home gardens in warm climates, including Africa, Mexico, and Southern California.
Recipe Ideas
Recipes that include Yellow Watermelon. One

is easiest, three is harder.
the other 12...