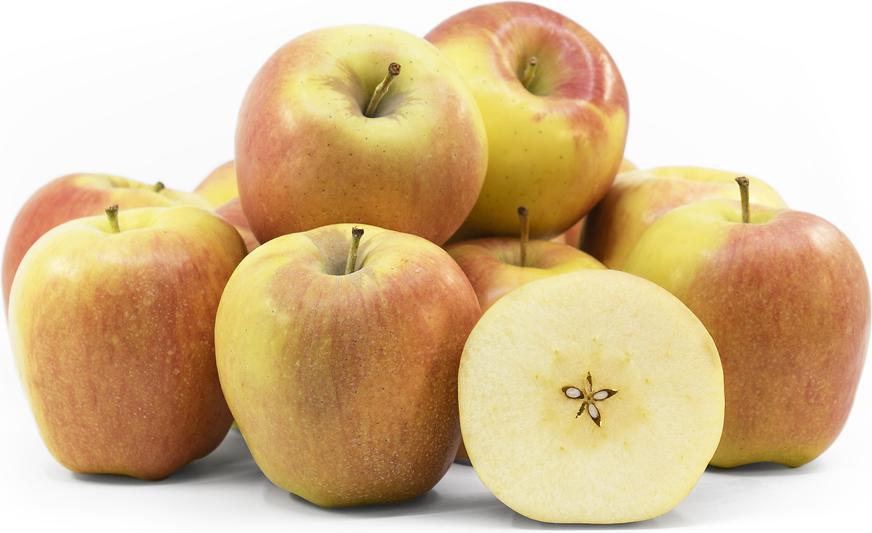 Ambrosia Apples
Inventory, 72 ct : 0
Description/Taste
Ambrosia apples are a medium to large varietal, averaging 7 to 8 centimeters in diameter, and have a round to conical shape, tapering slightly towards the base. The apple's skin is glossy with a light layer of wax and is thin, smooth, and delicate. The apples have a bright to pale yellow base coloring and are covered in an orange-red to red-pink blush with a few faint lenticels. Underneath the surface, the yellow to cream-colored flesh is fine-grained, aqueous, and dense with a crisp but soft crunch. The flesh also encases a small central core filled with tiny black-brown oval seeds. Ambrosia apples are aromatic with a fruity scent and are naturally low in acid, contributing to the apple's mellow, sweet flavor. The apples are known for their honeyed taste and have simple flavor notes of pears, flowers, and wildflower honey.
Seasons/Availability
Ambrosia apples are harvested in the fall. Once picked, the apples are kept in professional cold storage from the fall through early summer.
Current Facts
Ambrosia apples, botanically classified as Malus domestica, are a mid to late season variety belonging to the Rosaceae family. The apples were discovered growing as a chance seedling in an orchard in British Columbia in the late 20th century and were selected for their floral, sweet, and aromatic flavor. Ambrosia apples are considered a club apple variety, meaning an organization manages them to regulate worldwide production to ensure that quality and consistency standards are being met. Ambrosia apples have one of the shortest harvest seasons of North American apple cultivars, and growers must monitor the fruits daily to pick them at peak maturity. The apples convert starch into sugars quickly during the ripening process, and if the fruits are not harvested right after this conversion, the apple's flesh will become too soft. An infrared camera also scans Ambrosia apples during harvesting to sort out apples with poor coloring, rotten spots in the flesh, and skin blemishes. In the modern-day, Ambrosia apples have become the third most common commercial variety in British Columbia, and the apples are considered dual-purpose, utilized in fresh and cooked culinary preparations.
Nutritional Value
Ambrosia apples are a good source of fiber to regulate the digestive tract and vitamin C to strengthen the immune system while reducing inflammation. The apples also provide potassium to balance fluid levels within the body, calcium to build strong bones and teeth, iron to develop the protein hemoglobin to transport oxygen through the bloodstream, and other amounts of nutrients, including boron, phosphorus, copper, magnesium, and zinc.
Applications
Ambrosia apples are an all-purpose apple with a sweet, honeyed flavor well suited for fresh and cooked preparations. The apples have thin skin, and it is recommended to leave the skin on when eating the fruits to absorb the most beneficial nutrients. Ambrosia apples can be eaten straight, out of hand, chilled for improved flavor, or the apples can be sliced and displayed on charcuterie plates, shredded into slaws, chopped into salads, or used as a fresh topping over breakfast dishes such as pancakes, overnight oats, porridge, or parfaits. Ambrosia apples can also be pressed into a sweet, floral juice, or they can be blended into smoothies. It is important to note that the apple's flesh is slow to oxidize, so the apples can be sliced and used in sandwiches or school lunches without turning brown and discoloring. In addition to fresh preparations, Ambrosia apples can be roasted with root vegetables and served as a side dish to savory meats, cooked into scrambles, chopped into stuffing, or simmered into soups. The apples can also be cooked into risotto, polenta, or couscous, pureed into applesauce, blended and frozen into popsicles, or poached and served with sorbet. One of the unique qualities of Ambrosia apples is their ability to hold their shape when cooked. This density allows the apples to retain their sweetness and moisture when incorporated into cakes, pies, muffins, doughnuts, and fritters, or the apples can be stuffed with dried fruits and nuts and baked whole, creating a savory-sweet dessert. Ambrosia apples are naturally sweet and require less sugar than other apple varieties in dessert preparations. Ambrosia apples pair well with cheeses such as brie, cheddar, and parmesan, figs, lavender, kale, squash, meats including pork, poultry, and beef, seafood, vanilla, caramel, sesame, and brown sugar. Whole, unwashed Ambrosia apples will keep for several weeks when stored in the refrigerator's crisper drawer. In professional cold storage, the apples can last 4 to 6 months.
Ethnic/Cultural Info
Ambrosia is derived from the Greek language and was used in ancient mythology to describe the food or drink of the gods. The heavenly term was used for lavish scenes of food and beverages illustrated in paintings, stories, and other art mediums, and the food was often depicted as being carried by doves. Ambrosia apples were given this name in honor of their honey-sweet flavor. When the Mennell family tasted the fruits, they felt that the apples had a flavor that would have been fitting as a "food of the gods" and gave the apples their divine title. The Mennell family was also convinced of the apple's heavenly attraction when they noticed that their orchard workers could not resist the apple's sweet flavor. The story goes that the workers would eat so much of the fruit that sometimes trees would be stripped bare before any fruit could be sold.
Geography/History
Ambrosia apples were discovered growing as a chance seedling in the orchard of Wilfrid and Sally Mennell in Cawston in the Similkameen Valley of British Columbia in the late 1980s to early 1990s. The Mennell family allowed the seedling to grow into a mature apple tree and found that the fruit was exceptional in flavor and color. Wilfrid decided to propagate the apples commercially and partnered with the Summerland Varieties Corporation, formerly known as Pico or the Okanagan Plant Improvement Corporation, in 1993 to register the new variety. The parentage of Ambrosia apples is unknown, but pomologists point to Jonagold and Golden Delicious as possible parents due to the cultivar's proximity to trees of those varieties. Once Ambrosia apples were released in the 1990s, they were introduced to growers worldwide under strict production guidelines. The variety was patented for several years in the 1990s and early 2000s, preventing competing orchards from growing the variety without approval and fees. In 2015, the patent expired in Canada and the United States in 2017. The patent is also said to expire in Chile in 2021, but there are many other countries worldwide where the patent will not expire until 2034. Today Ambrosia apples are still grown in Cawston, British Columbia, and the mother Ambrosia tree is still alive and producing fruit in the Mennell's orchard. Ambrosia apples are also cultivated in other regions of Canada, the United States, South America, Australia, New Zealand, and Europe and can be found through farm stands, distributors, and select grocers.
Recipe Ideas
Recipes that include Ambrosia Apples. One

is easiest, three is harder.
the other 11...