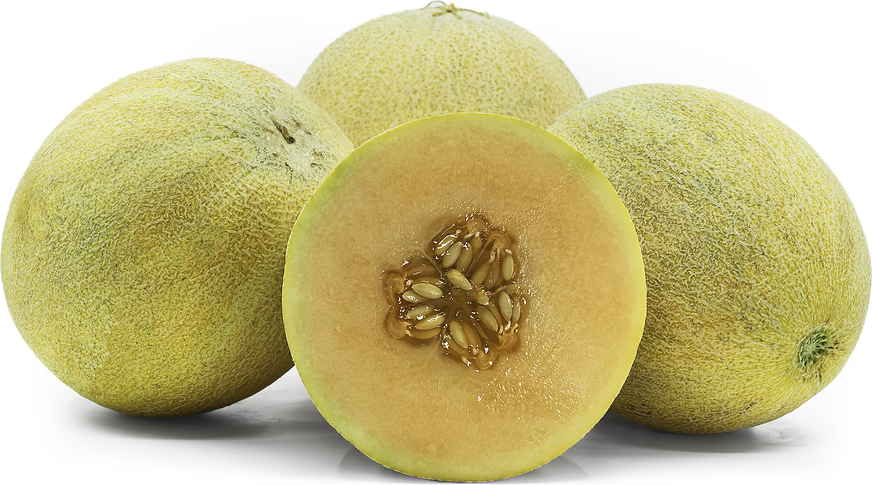 Ambrosia Melon
Inventory, ea : 0
Description/Taste
Ambrosia melons are a small to medium-sized variety, averaging 10 to 15 centimeters in diameter and 3 to 5 pounds in weight, and have a round to somewhat oval shape with curved, uniform edges. The melon's rind is thin and firm with a yellow base when ripe, covered in a raised, rough, and tan netting. The netting becomes more pronounced as the melon reaches maturity, sometimes enveloping the entire surface. Underneath the rind, the flesh is thick, dense, aqueous, and pale orange, showcasing a light to dark green ring below the surface. The flesh has a soft, tender, and succulent consistency, encasing a small central cavity filled with oval ivory seeds suspended in a gelatinous mixture of liquid and fibers. Ambrosia melons emit a honeyed, fruity, and floral aroma when ripe, and the blossom end will give slightly under pressure. The melon's flesh is sugary sweet, averaging around 9.5 Brix, a measurement of sugar content, contributing to the melon's saccharine flavor mixed with floral nuances.
Seasons/Availability
Ambrosia melons are available in the summer.
Current Facts
Ambrosia melons, botanically classified as Cucumis melo var. reticulatus 'Ambrosia,' are a hybrid muskmelon variety belonging to the Cucurbitaceae family. The aromatic melons grow on trailing vines and mature approximately 85 to 100 days after sowing. Ambrosia melons are highly favored for their sweet flesh, tender consistency, and small size. The name Ambrosia is derived from the Greek word "ambrotos," meaning "immortal," also translating to mean "a pleasing taste or smell." The aromatic descriptor was given to the melons in honor of their sweet, juicy, and fragrant flesh. Ambrosia melons are not suitable for long-distance shipping, leading the variety to be valued as a specialty cultivar than a commercially produced melon. Select growers and home gardeners appreciate Ambrosia melons for their disease resistance, especially to powdery mildew, and their prolific, somewhat easy-to-grow nature. Ambrosia melons are primarily consumed fresh to relish their flavor and texture, but the melons can also be incorporated into a variety of sweet or savory preparations.
Nutritional Value
Ambrosia melons are a source of fiber to regulate the digestive tract, potassium to balance fluid levels within the body, and vitamin C to strengthen the immune system while reducing inflammation. The melons also contain vitamin A to maintain healthy organ functioning, beta-carotene, the orange pigment found in the melon's flesh that provides antioxidant-like properties to protect the cells from free radical damage, and lower amounts of magnesium, vitamin B6, and folate.
Applications
Ambrosia melons have a sweet, juicy, and floral nature, showcased when served fresh. The melon's rind should be scrubbed and washed with soap and water to remove harmful bacteria, and once cleaned, the melon can be sliced into wedges, cubes, and pieces. Ambrosia melons are popularly served straight, out of hand in small pieces, halved and topped with creamy dips, cheeses, or yogurt, wrapped in cured meats as an appetizer, chopped into fruit bowls, or cubed for green salads. The melons can also be incorporated into breakfast dishes such as oatmeal, ricotta cheese, or yogurt, served as a waffle or pancake topping, or consumed as a stand-alone dish. In addition to culinary preparations, Ambrosia melons are frequently pureed into smoothies and shakes, used as a flavor for cocktails, or blended into sorbet. The melons can also be mixed into chilled soups, lightly grilled for a caramelized flavor, simmered into chutney, syrups, sauces, and preserves, or used as a flavoring for tarts, custards, cakes, and ice cream. Ambrosia melons pair well with honey, maple syrup, vanilla, cucumber, herbs such as basil, mint, and cilantro, nuts including pecans, hazelnuts, pepitas, and pistachios, and other fruits such as blueberries, strawberries, kiwi, watermelon, oranges, and raspberries. Whole, unwashed Ambrosia melons should be left at room temperature to ripen and then stored in the refrigerator for up to one week. Once mature, the melons are recommended to be consumed immediately for the best quality and flavor. Ambrosia slices can be stored in the refrigerator in a sealed container for three days.
Ethnic/Cultural Info
Ambrosia melons are cultivated in Reno, Nevada, as a test melon variety for The Desert Farming Initiative, a program run in partnership with Reno College's Agricultural Experiment Station. The initiative was established in 2013 when the Nevada Department of Agriculture gave Reno College a grant to work with local farms to create a sustainable and organic commercial farming program in Nevada. Many different types of fruits and vegetables are cultivated at the experiment station to test, research, and educate growers on what varieties are suitable for a high desert climate. Melons thrive in hot, dry, and sunny regions, and several specialty cultivars, including Ambrosia melons, are grown at the farm. Researchers chose more unique melon varieties to offer a specialized market where consumers can purchase melon varieties not commonly found in stores. Nevada melon production is often overshadowed by California and Arizona, but the initiative is working on branding their melons as a specialty product of the state under the campaign entitled "Nevada melons, sinfully sweet."
Geography/History
Ambrosia melons are a type of muskmelon that experts believe is native to Persia and Western Asia and have been cultivated since ancient times. Muskmelons were spread to North Africa, specifically Egypt, sometime before 2400 BCE and were also introduced to East Asia and Europe. Over time, many varieties of muskmelons were developed in commercial cultivation throughout Europe, the Middle East, and Asia. In 1494, melons were brought to the New World with Christopher Columbus, and the seeds were traded to Native Americans who planted the melons as a food source. The exact origins of Ambrosia melons are unknown, but the variety has been a popular home garden cultivar throughout the United States for over 40 years and is a part of the North American cantaloupe group. Today Ambrosia melons are cultivated by select growers as a specialty variety, sold through farmer's markets, distributors, and some grocers. The cultivar is also grown in home gardens throughout the United States.
Recipe Ideas
Recipes that include Ambrosia Melon. One

is easiest, three is harder.