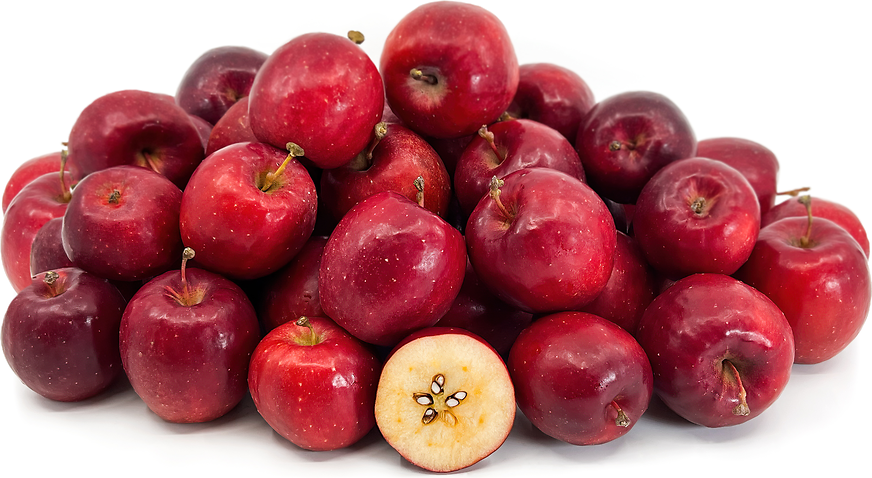 Alps Otome Apples
Inventory, lb : 0
Description/Taste

Alps Otome apples are small in size, averaging 4 to 5 centimeters in diameter, and have a round, oval, to conical shape with flat shoulders, a curved middle, and a narrow base. Each fruit typically weighs between 30 to 60 grams, and the green-brown stems are characteristically long and slender, a trait considered attractive when paired with the apple's small size. Some russeting may also occur in the stem cavity, depending on growing conditions. The apple's skin is firm, glossy, semi-textured, and thin, with a slightly astringent taste. The skin also has a golden yellow base covered in a saturated and opaque red-pink blush, and pale-hued lenticels are scattered across the surface. Underneath the skin, the ivory to white flesh is dense, aqueous, and hard with a crisp and crunchy consistency. Alps Otome apples are high in sugar, around 15 degrees Brix, mixed with moderate acidity, creating a balanced, sweet, tart, and sour taste. The apples can be consumed raw or cooked and have a refreshing, mild, and fruity nature.


Seasons/Availability

Alps Otome apples are harvested in the late summer through early fall, with a peak season from late September through mid-November.


Current Facts

Alps Otome apples, botanically a part of the Malus genus, are a Japanese variety belonging to the Rosaceae family. The mid to late-season apples grow on deciduous trees reaching 2 to 5 meters in height and are commercially produced for their small size, firm flesh, and balanced sweet-tart flavoring. Alps Otome apple trees are distinct as they can be grown in small spaces, including balconies and gardens. The variety can also survive in pots and will only grow to 1 to 2 meters in height, keeping the tree a manageable size for collecting fruits. Japanese growers favor Alps Otome apples for their easy-to-cultivate nature, hot and cold tolerance, and high yields. The trees are planted ornamentally for their fragrant, seasonal blossoms, and the fruits are a secondary element prized for fresh eating and cooking. The name Alps Otome roughly translates as "Maiden of the Alps," and the variety is also commonly referred to as Mini apples in commercial markets. In the modern day, Alps Otome apples are a specialty apple with a short shelf life sold through fresh markets when in season. The apples are only produced on a small scale and are typically purchased as a fresh eating and cooking variety.


Nutritional Value

Alps Otome apples are a source of copper to develop connective tissues, vitamin C to boost the immune system, fiber to regulate the digestive tract, and potassium to balance fluid levels within the body. The fruits also provide some calcium to build strong bones and teeth, magnesium to control nerve functioning, iron to develop the protein hemoglobin for oxygen transport through the bloodstream, and other nutrients, including phosphorus, B vitamins, and manganese.


Applications

Alps Otome apples have a sweet-tart taste suited for fresh and cooked preparations. The variety is often consumed straight out of hand, and the fruits can be eaten with or without the skin, depending on preference, as the skin has a slight astringency. Alps Otome apples can also be used as edible, decorative elements to fruit platters and cheese boards or tossed into lunches, backpacks, and cars as an on-the-go snack. In Japan, the small apples were once featured as part of an in-flight meal on an All Nippon Airways flight. The sweet and sour apples can also be chopped into salads or grain bowls. Beyond fresh preparations, Alps Otome apples can be simmered into syrups, compotes, jams, and jellies. The apples can also be wrapped in puff pastry and baked, incorporated into cakes, muffins, and tarts, or roasted whole. Try eating baked Alps Otome apples with ice cream as a decadent dessert. The apples can also be infused into candies or other confectionaries. Alps Otome apples pair well with caramel, chocolate, vanilla, brown sugar, maple syrup, nuts such as almonds, peanuts, and pistachios, and spices including cinnamon, cloves, allspice, and nutmeg. Whole, unwashed Alps Otome apples should be wrapped in newspaper or placed in a plastic bag and stored in the refrigerator's crisper drawer for a few days. The apples have a short shelf life and should be immediately consumed for the best quality and flavor.


Ethnic/Cultural Info

Alps Otome apples are famously used whole in festival desserts in Japan, known as "ringo ame," translating to mean "candied apple." Ringo ame is often sold through yatai or food stalls in the summer and fall and is made from fresh fruit dipped in mizuame, a hard sugar syrup coating. Mizuame is made from potato or millet starch melted into sugar, and once dry, it creates a crunchy, clear coating over fruits. The process of making ringo ame dates back to the Heian Period, 794 to 1185 CE, and was introduced from China. Initially, ringo ame was made as offerings to gods at temples and was reserved for nobility. Over time, the fruit-filled treat became a common, widespread snack made through yatais constructed throughout cities during the Edo Era, 1603 to 1868 CE. Yatais were established to feed the influx of single men traveling to Edo for work, now modern-day Tokyo and the street food stalls became an integral component of daily life, offering snacks, full meals, and desserts. Alps Otome apples are a popular fruit selection for ringo ame as the entire apple can be skewered and dipped whole in the sugar coating. The variety is favored for its small size, sweet and tangy flavor, and crunchy texture. Alps Otome apples can also be dipped in sugar and then coated in chopped peanuts and chocolate or sprinkled in cinnamon. Other fruits utilized for ringo ame include strawberries, grapes, kiwi, and citrus.


Geography/History

Alps Otome apples are native to Japan and were discovered growing as a chance seedling in an orchard in Matsumoto City in the Nagano Prefecture. The small apples were found and introduced commercially by Mr. K. Hatagoshi in 1964 and are thought to be a cross between Fuji apples and Hime Ringo. Alps Otome apples were named in 1968, and after their release, they found success in home gardens and through specialty orchards. Today, Alps Otome apples are a specialty variety primarily localized to Japan as a fresh eating and cooking apple. The variety is mainly produced in the Nagano Prefecture, accounting for approximately 45% of total production, followed by Aomori Prefecture at 38% and Hokkaido at 17%. When in season, Alps Otome apples are sold through fresh markets and select grocers in Japan.