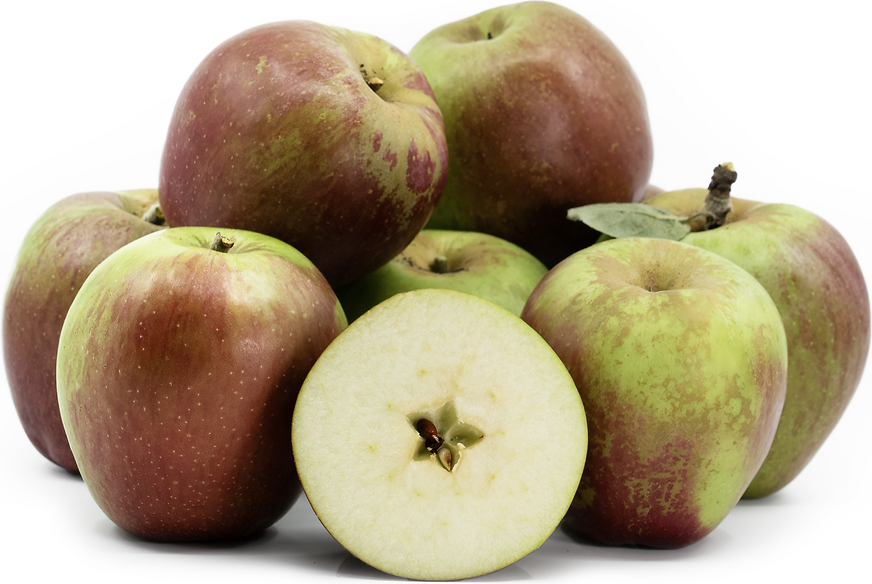 Belle de Tours Apples
Inventory, 1 Lb : 0
Description/Taste

Belle de Tours apples are a large varietal, averaging 7 to 8 centimeters in diameter, and have a conical to oblong shape, sometimes with slightly lopsided shoulders and narrow, tapered bases. The apples exhibit faint ribbing, russet around the short and fibrous brown stem, and have glossy, thick, and chewy skin. The skin also has a bright green base hue, covered in large patches of muted red blush, dull red striations, and prominent tan lenticels. Underneath the surface, Belle de Tours apples showcase a white-green flesh that is crisp, firm, dense, and aqueous. The flesh also encases a small central core filled with tiny dark brown seeds. Belle de Tours apples should feel heavy for their size, and there is little fragrance associated with this variety. The apples are not commonly consumed raw, but if consumed, the skin has a subtly sharp flavor, and the flesh is sweet, tart, and tangy with a light powdery, astringent mouthfeel. Cooked Belle de Tours apples have a milder, sweet-tart flavor and often absorb the accompanying flavors it is prepared with.


Seasons/Availability

Belle de Tours apples are available in the late fall through winter.


Current Facts

Belle de Tours apples, botanically classified as Malus domestica, are an heirloom French variety belonging to the Rosaceae family. The name Belle de Tours roughly translates to mean the "Beauty of Tours," a descriptor given in honor of the apple's native city within France. The late-season apples are regarded as culinary or cooking apples, meaning the fruits are rarely consumed fresh due to their tart nature. Belle de Tours apples were once a popular culinary apple throughout the Loire Valley of France, but with the introduction of modern apple varieties such as granny smith apples, the older cultivar has faded from commercial production. In the present day, Belle de Tours apples are very rare and are only found through private orchards attempting to preserve the variety in France and England. Despite its rarity, Belle de Tours apples are sometimes sold through local growers at weekly markets and are utilized as a cooking apple for sauces, baked goods, desserts, and jams.


Nutritional Value

Belle de Tours apples, like other apple varieties, are a source of vitamin C to strengthen the immune system and boost collagen production within the skin. The apples contain other vitamins, including vitamin K to assist in faster wound healing, vitamin E to protect cells against free radical damage, and B vitamins to maintain overall health. In addition to vitamins, Belle de Tours apples provide minerals such as potassium to balance fluid levels within the body, copper and manganese to develop connective tissues, and lower amounts of calcium, phosphorus, zinc, and iron.


Applications

Belle de Tours apples have a sweet-tart flavor best suited for culinary preparations. The crisp and firm apples hold their shape well when cooked and are popularly incorporated into pies, tarts, crisps, crumbles, and turnovers. In France, apple cakes are a popular dessert comprised of apples sliced and mixed with nuts, butter, sugar, and spices. Culinary apples, including Belle de Tours, are also cored, stuffed with dried fruits and nuts, and baked as a savory-sweet dessert. In addition to baked goods, Belle de Tours apples can be sauteed or caramelized and folded into crepes, used as a topping over French toast, roughly chopped and sauteed with fresh herbs, simmered and pureed into soup, or cooked into a frittata. The apple's sweet and tangy flavor also develops a flavorful jam, jelly, marmalade, or chutney, or it can be simmered into a sauce to pour over roasted meats. Belle de Tours apples pair well with herbs such as dill, sage, and parsley, meats including sausage, pork, and poultry, white wine, cheddar cheese, ginger, sweet potatoes, other fruits such as pomegranates, figs, and blueberries, and nuts such as walnuts, pine, pumpkin, and pecans. Whole, unwashed Belle de Tours apples will keep for several weeks when stored in the refrigerator. In professional cold storage, the apples will keep up to four months.


Ethnic/Cultural Info

Belle de Tours apples are one of the older apple varieties still grown on a limited scale in the Loire Valley of France. Along with its historical city of Tours, this region is often regarded as "Le Jardin de la France" or the "Garden of France," as it contains many fruit orchards, vineyards, and vegetable fields. Belle de Tours is one of forty local apple varieties of the region, but most of the remaining Belle de Tours trees are found within private or protected orchards. An organization known as the "Croqueurs de Pommes" or "The Apple Crunchers" gathers many of these growers together to help protect the heirloom varieties that have been excluded from commercial cultivation in favor of more modern apples. The Apple Crunchers are a volunteer-based organization that seeks to educate, protect, and preserve local apple varieties. There are several local chapters throughout France, and the chapter within the Loire Valley participates in community-based events to educate residents on heirloom apple varieties such as Belle de Tours. They also bring their home-grown apples to weekly markets and sell graftings of their trees to encourage the varieties to be planted in home gardens.


Geography/History

Belle de Tours apples are native to Tours, an ancient city in the Touraine region, also known as the modern-day Indre-et-Loire of France. The heirloom cultivar's date of origin and parentage is unknown, but pomologists believe the apple has been cultivated since at least 1913. Belle de Tours apples were once widely grown across the Loire Valley, a fertile area within Central France, known for its terroir and suitable climate. The apple was introduced into England from France in 1947 and was planted in the orchards of the National Fruit Collection at Brogdale Farm near Faversham, Kent. Today Belle de Tours apples are a rare variety that is no longer commercially cultivated. The apples are localized to private orchards and home gardens in France and are also grown through a few heritage orchards in England.