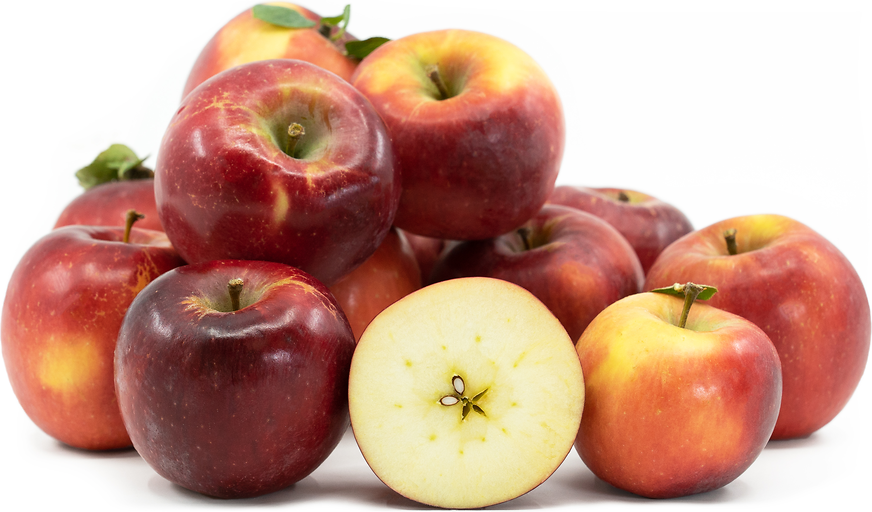 Enterprise Apples
Inventory, lb : 0
Description/Taste

Enterprise apples are a medium to large varietal, averaging 7 to 8 centimeters in diameter, and have a round, oblate, conic to slightly lopsided shape. The apples often exhibit flat shoulders that slope into a broad middle, eventually tapering to a narrow, slanted base. The apple's skin is smooth, glossy, and taut, showcasing a golden yellow, saffron-hued coloring almost entirely enveloped in a cardinal, maroon, to dark red blush. The blush can appear solid with burgundy striping, or it can be translucent in some spots, giving the surface an orange glow. The skin is also thick, tough, covered in prominent pale lenticels, and may have a hint of a blue-grey bloom when harvested. This bloom is easily removed with polishing. Underneath the surface, the cream-colored to yellow flesh has a moderate grain and is firm, aqueous, and crisp with a breaking, chewy consistency. The flesh also encases a small central core filled with tiny black-brown tear-drop-shaped seeds. Enterprise apples release a subtly sweet, herbal, and spice-filled aroma and have a naturally acidic, rich, and sprightly flavor when freshly picked off the tree. The variety is traditionally stored for 1 to 2 months to develop its flavor, mellowing into a mildly sweet, tart, and honeyed fruit with nuances of warm spices. The flesh will also become softer and have a less pronounced crunch.


Seasons/Availability

Enterprise apples are harvested in the late fall through early winter and can be stored through the spring. The fruit's peak season for optimal flavor is considered December through March.


Current Facts

Enterprise apples, botanically classified as Malus domestica, are a modern American variety belonging to the Rosaceae family. The mid to late-season apple was specifically developed by the famous joint breeding program, PRI, a cooperative between Purdue, Rutgers, and Illinois Universities in the Eastern United States, to be an improved variety with increased disease resistance. Enterprise apples were released in the late 20th century and became a widespread cultivar favored for their resistance to apple scab, fire blight, cedar rust, and powdery mildew. The variety was also valued for its sweet-tart flavor and extended storage capabilities. In modern-day markets, Enterprise apples are commercially grown on a small scale, mostly in cooler, northern climates, but they are also a popular home garden cultivar, ripening about three weeks after Golden Delicious. Enterprise apples are fast-growing and heavy producers, developing large, versatile apples typically used in fresh or cooked preparations.


Nutritional Value

Enterprise apples are a source of fiber to regulate the digestive tract, potassium to balance fluid levels within the body, copper to develop connective tissues, and calcium to build strong bones and teeth. The apples also provide vitamin C to strengthen the immune system, magnesium to assist with daily nerve functions, vitamin E to reduce inflammation, vitamin A to maintain healthy organ functioning, and other nutrients, including zinc, phosphorus, and manganese. The apple's dark red blush is a sign of anthocyanins, natural pigments within the skin with antioxidant-like properties to protect the cells against free radical damage and oxidative stress.


Applications

Enterprise apples have a sweet, tart, and spice-filled flavor suited for fresh and cooked preparations. The apples reach their preferred flavor after being stored for 1 to 2 months, but the skin may become waxy and chewy during this time. Some consumers choose to peel the skin before eating fresh, and the apples can be served as a stand-alone snack or chopped into salads. Enterprise apples can also be used as a raw topping over breakfast dishes such as pancakes, waffles, and overnight oats, layered into parfaits, or sliced and set over toast with nut butter. Try shredding the apples and mixing them into coleslaw, dipping slices into caramel or chocolate, layered onto sandwiches, or stirring into creamy side dishes. In addition to fresh preparations, Enterprise apples hold their shape well when cooked due to their thick skin and are popularly baked whole or stuffed with nuts, dried fruits, and spices and cooked. Enterprise apples can also be incorporated into dumplings, muffins, scones, bread, cake, pies, crumbles, and tarts or pan-sauteed in butter, spice, and sugar as a version of fried apples. The variety's flavor complements both sweet and savory dishes, and the flesh is commonly minced and stuffed into roasted meats, cooked into sauces, chutney, or butter, or served with root vegetables as a side dish. While less common, Enterprise apples can also be simmered into jams and jellies, blended into smoothies, pressed into cocktails, or dried into chips for extended use. Enterprise apples pair well with spices such as cinnamon, cloves, cardamom, ginger, and nutmeg, herbs including mint, basil, and rosemary, chocolate, vanilla, maple syrup, caramel, bourbon, and other fruits such as grapes, strawberries, oranges, and figs. Whole, unwashed Enterprise apples will keep for 3 to 6 months when stored in the refrigerator's crisper drawer.


Ethnic/Cultural Info

Enterprise apples earned its marketing moniker from the acronym of the breeding program that created the fruits. The "PRI" in the middle of the apple's name stands for Purdue University, Rutgers State University, and Illinois University, three institutions that joined forces in 1945 to create a breeding program focused on creating new apple varieties with resistance to apple scab, Venturia inaequalis. The program was proposed by J.R. Shay at Purdue University in cooperation with L.F. Hough at the University of Illinois. Scientists from Rutgers also later joined the program. Dr. L.F. Hough was one of the first scientists in the program to identify strains of apple scab in 1942 and 1943 after unusually cool, wet weather spurred apple scab infestations. After several years of research, testing, and breeding, the PRI Disease Resistant Apple Breeding Program created many new apple seedlings with scrab-resistant genes. These seedlings were tested for many years, labeled as Co-op with a number attached to differentiate. Up to the present day, the PRI Disease Resistant Apple Breeding Program has created over 1500 seedlings, and around 44 of the selections were chosen for advanced studies. Enterprise was the ninth variety released from the program, and the name was given as a commemorative title in honor of the challenging nature of the apple breeding project as a whole. Other notable apple varieties released from the PRI program include CrimsonCrisp™, GoldRush, William's Pride, Pristine™, Jonafree, Sir Prize, Sundance™, and Prima apples.


Geography/History

Enterprise apples were created by the PRI Disease Resistant Apple Breeding Program, a cooperative between Purdue University, Rutgers State University in New Jersey, and the University of Illinois. The variety was created from a series of complex crosses between Golden Delicious, Rome Beauty, and McIntosh apples. A crab apple variety, Malus floribunda, was also interwoven into the lineage to provide the Vf gene for scab resistance. Eleven seedlings of this cross were planted in the CL block of the apple breeding orchard on the Purdue University Horticultural Research Farm in West Lafayette, Indiana, in 1972. As the seedlings matured, they were studied for their disease resistance, flavor, and cultivation qualities, and breeder E.B. Williams eventually selected a single seedling for propagation, labeling it as PRI 2693-1. The seedling was later renamed Co-op 30 in 1978 and was released for advanced evaluations and testing as a possible new variety. Co-op 30 was officially released to commercial growers in 1993 and was branded and sold under the marketing name Enterprise. Today Enterprise apples thrive in commercial and private orchards throughout North America and Europe and are sold through distributors, farmer's markets, and select grocers.