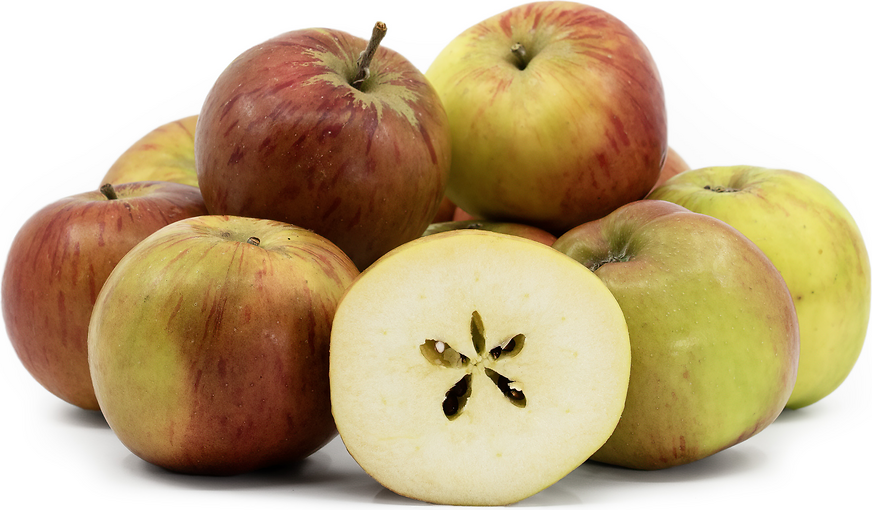 Faversham Creek Apples
Inventory, lb : 0
Description/Taste

Faversham Creek apples are a small to medium-sized varietal, averaging 5 to 7 centimeters in diameter, and have a round to conical shape with a slanted, lopsided appearance. The apples have flat shoulders, tapering to a narrow base, and the green-brown stems are short, thick, and fibrous, wedged in the center of a narrow cavity. The skin has a yellow-green coloring, almost entirely covered in a bright red blush, and is overlaid with darker, brick red striations and striping. The surface also has a thick layer of wax, creating a shiny, greasy, and slightly sticky texture. Underneath the skin, Faversham Creek apples contain yellow to white flesh tinged with green. The flesh is coarse, crisp, and dry, encasing a central core filled with dark brown seeds. Faversham Creek apples widely vary in flavor from tart, sweet-tart, to sweet, depending on the time in the season and climate, but the apples are generally acidic and have a dry, waxy consistency, not commonly consumed fresh. The variety is mainly cooked, developing a smooth, tangy, and sweet puree.


Seasons/Availability

Faversham Creek apples are available in the early fall through winter.


Current Facts

Faversham Creek apples, botanically classified as Malus domestica, are an English variety belonging to the Rosaceae family. The brightly colored apples were discovered in the late 20th century and were a chance seedling found growing alongside a creek in Kent, England. Faversham Creek apples are not commercially cultivated and are a rare variety localized to their site of origin in Faversham. One of the unique features of Faversham Creek apples is their ability to thrive in marine conditions, as the original tree was recorded near salty marshes. Faversham Creek apples are considered a cooking apple, and the fruits are traditionally made into a puree for sauces, baked goods, and other desserts.


Nutritional Value

Faversham Creek apples are a source of fiber to regulate the digestive tract, potassium to balance fluid levels within the body, and vitamin C to strengthen the immune system. The apples also contain antioxidants to protect the cells against free radical damage and provide other amounts of nutrients, including boron, calcium, phosphorus, magnesium, vitamins A, E, and K, and zinc.


Applications

Faversham Creek apples have a sweet-tart flavor mainly utilized for cooked preparations. The apples are not consumed fresh due to their dry and acidic flesh, but the fruits cook down into a golden yellow puree that can be incorporated into several dishes. Faversham Creek apple puree can be mixed into muffins, cookies, cake, and bars. The brisk puree also creates a flavorful base when combined with sugar, making applesauce that can be spooned over roasted meats, served with savory main dishes, or placed in a small bowl and eaten as a side dish. The apples can be pureed and stirred into pancake or waffle batter, used as filling in tarts or cooked in crumbles, crisps, and cobblers. The apples can also be used in other recipes calling for cooking apples. Faversham Creek apples pair well with spices such as cinnamon, ginger, nutmeg, and cloves, sweet potato, roasted squashes, avocado, fruits including peaches, plums, raspberries, strawberries, blueberries, lemons, and oranges, vanilla, caramel, browned butter, and nuts such as pecans, pistachios, almonds, and walnuts. Whole, unwashed Faversham Creek apples will keep for a few weeks when stored in the refrigerator's crisper drawer.


Ethnic/Cultural Info

Faversham Creek apples were named after the well-known creek running through the historic market town of Faversham in Kent, England. Faversham is a small town in Southeastern England, situated along marshland and Faversham Creek, a waterway that connects into the swale beside the Isle of Sheppey and the North Sea. Settlement in the Faversham area can be traced back to pre-Roman times, and the creek was the primary lifeline throughout history. Faversham Creek connected the settlements to the North Sea, allowing trade, merchant, and industrial boats to travel with the tides to exchange food, beer, and construction materials. Several nature reserves surround Faversham, protecting large portions of marshy land for wildlife and natural plant species. Faversham Creek apples were discovered along the creek and were named in honor of their origination site.


Geography/History

Faversham Creek apples were discovered growing as a chance seedling in the 1970s by horticulturist Hugh Ermen in Faversham, Kent. The apple's heritage and detailed history are unknown, but the tree was found growing alongside Faversham Creek, a prominent waterway winding through the heart of Faversham. Ermen was a well-known British horticulturist who spent most of his career breeding new apple varieties at the National Fruit Trials at Brogdale Farm near Faversham. Faversham Creek apples were an unexpected discovery by Ermen, but the fruits never reached commercial cultivation as the variety was considered too obscure for propagation. Ermen submitted the variety for the National Fruit Trials, and Faversham Creek apples were accepted in 1978 under the number 1978-366. In 1989, the National Fruit Trials was shut down. Ermen and a team of apple enthusiasts saved the research apple orchards, establishing the new Brogdale National Fruit Collections. Today Faversham Creek apples are a rare variety primarily found in the National Fruit Collection at Brogdale Farm in the county of Kent, England.