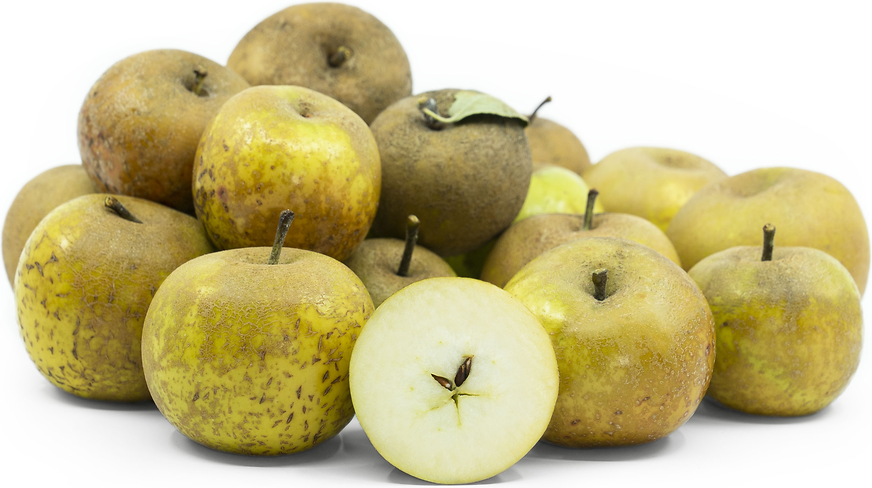 Golden Knob Apples
Inventory, lb : 0
Description/Taste

Golden Knob apples are a small varietal, averaging 5 to 5.5 centimeters in diameter, and have a round to ovate, slightly flattened, blocky shape. The apple's skin is semi-thick and chewy with a golden yellow-green base and is blushed with orange, depending on sun exposure. The skin is also covered in large patches of scaly brown russet, ranging from completely enveloping the fruit to speckling across the surface. The russet creates a firm and rough, sandy texture. Underneath the surface, the white flesh is faintly tinged with green and has a fine-grained, dense, crisp, subtly starchy, and aqueous consistency. The flesh also encases a moderately-sized central core filled with dark brown-black, tapered oval seeds. Golden Knob apples have an initially sharp and acidic taste followed by a honeyed, fruity sweetness mixed with tangy, nutty undertones.


Seasons/Availability

Golden Knob apples are harvested in the mid-fall and can be stored through the early spring.


Current Facts

Golden Knob apples, botanically classified as Malus domestica, are an heirloom English variety belonging to the Rosaceae family. The russet apples were discovered in the late 18th century and are a late-season variety favored for their sharp and nutty taste. Golden Knob apples were historically grown as a dessert variety in the 19th century and were planted in country estates and market gardens. The apples were sometimes regionally referred to as Little Golden Knobs, Kentish Golden Knob, Golden Nobb, Old Maid, and Old Lady apples. Golden Knob apple trees were known to produce large crops, and the apples have extended storage capabilities, making them a popular fruit to eat fresh during the winter season. In the modern day, Golden Knob apples are rare, mainly found in private orchards throughout England. The variety is grown more as a novelty and is planted in heritage orchards as a preservation method to keep it from becoming extinct.


Nutritional Value

Golden Knob apples have not been studied for their nutritional properties. Like other apples, the variety may contain a small amount of fiber to regulate the digestive tract, vitamin C to strengthen the immune system while reducing inflammation, and antioxidants to protect the cells against free radical damage. The apples also provide smaller amounts of potassium to balance fluid levels within the body, calcium to build strong bones and teeth, and other nutrients, including folate, magnesium, copper, vitamin K, zinc, and iron.


Applications

Golden Knob apples have a sweet, sharp, sometimes nutty flavor suited for fresh preparations. In the 18th and 19th centuries, the fruits were traditionally consumed as a dessert apple and were eaten straight out of hand, valued for their unique taste. In modern preparations, Golden Knob apples are still mostly consumed raw and are incorporated into fresh dishes, including salads, fruit medleys, and grain bowls. The apples can also be shredded into slaws, chopped into dips, or thinly sliced and layered with nuts, meats, or spreads as a bite-sized appetizer. Golden Knob apples provide added texture and flavor to cheese boards. They are also sometimes used to make apple haystacks, a dessert where shredded apples are mixed with crushed almonds, dates, maple syrup, and rosewater. The mixture is artfully arranged onto a plate and adorned with sliced fresh fruits such as kiwi, grapes, or apple slices for enhanced visual appeal. It is important to note that there are many variations of haystacks using differing ingredients. While less common, Golden Knob apples are occasionally baked into puddings, pies, cakes, and charlottes. They are also cooked into fritters, simmered into sauces for roasted meats, or pureed into apple butter. Beyond culinary dishes, Golden Knob apples add honeyed nuances to cider blends. Golden Knob apples pair well with vanilla, chocolate, maple syrup, brown sugar, nuts such as almonds, walnuts, and pecans, spices including cinnamon, cloves, ginger, and nutmeg, and meats such as pork, beef, and veal. Whole, unwashed Golden Knob apples are excellent keepers and can be stored up to four months after harvest in a cool and dark location.


Ethnic/Cultural Info

Golden-hued apples have appeared throughout history as a symbol of immortality. Legends of immortal fruits were woven into Greek mythology, Norse tales, and Irish folklore, and in Celtic tradition, golden apples resided on the Isle of Avalon. The mystical island was mentioned in the literary works of Geoffrey of Monmouth, specifically the "Historia Regum Britanniae," translating to the "History of the Kings of Britain," and "Vita Merlini," or the "Life of Merlin." The books mentioned that the Isle of Avalon was where King Arthur's Excalibur sword was forged and later the place where he was taken when fatally wounded in battle. Legend has it that King Arthur may still be alive on the island and will one day return to take his seat on the throne. Other theories think that his body is being watched over and tended to by his half-sister, the enchantress Morgan le Fay. The island was also known as the Island of Apples, a name which stemmed from the Welsh words "afal" and "afallon," meaning "apple." The island was rumored to grow apples year-round, and the fruits possess healing and magical powers.


Geography/History

Golden Knob apples are native to England and were discovered growing in the gardens of Enmore Castle sometime in the late 1700s. The castle is located in Somerset, a county in southwestern England, and is considered a historic site within the small village of Enmore. The variety's parentage is unknown due to its old age, and the apples were created naturally through random selection. Golden Knob apples were listed in Alexander MacDonald's "A Complete Dictionary of Practical Gardening," published in 1805. By the mid-19th century, they were grown in London market gardens and orchards in Kent. Market gardens were small plots of land specifically established to provide fruits and vegetables for city residents. Over time, Golden Knob apples faded into obscurity as English estate orchards and market gardens were deconstructed in favor of larger commercial farms. The variety was not selected for commercial production in the late 19th and 20th centuries and became localized to private orchards and select home gardens. Today Golden Knob apples are rare and are mainly found in Kent and Somerset in England. The Golden Knob apples featured in the photograph above were sourced from Brogdale Farm in Faversham, Kent.