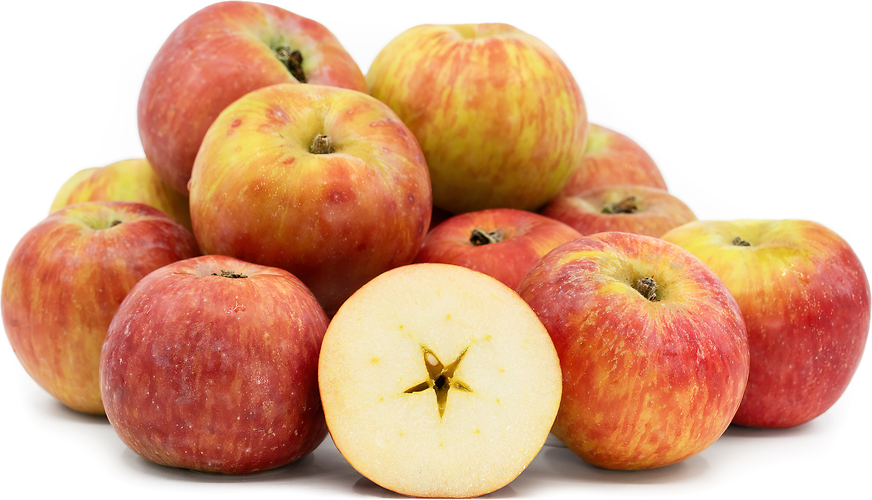 Gravenstein Apples
Inventory, lb : 0
This item was last sold on : 08/15/22
Description/Taste
Gravenstein apples are a medium to large varietal, averaging 6 to 7 centimeters in diameter, and have a round, ovate, to squat shape. The apple's skin is thin, delicate, waxy, and soft, showcasing a yellow-green base with some bumps, giving the surface a smooth but lightly textured feel. The skin is also covered in sparse patches of red-orange striping and mottling, light brown russeting in the stem cavity, and pale green lenticels scattered across the surface. Underneath the skin, the white to pale yellow flesh is fine-grained, firm, and aqueous with a crisp consistency. The flesh also encases a small central core filled with black-brown, tiny seeds. Gravenstein apples release an aromatic floral and fruity scent. The flesh has a balanced, sweet, and tart flavor with subtly acidic nuances and lingering honeyed notes on the palate.
Seasons/Availability
Gravenstein apples are available in the mid to late summer.
Current Facts
Gravenstein apples, botanically classified as Malus domestica, are an heirloom variety belonging to the Rosaceae family. The apples rose to fame in Europe's 17th and 18th centuries and were a dual-purpose variety favored for fresh eating and cooking. After their discovery, Gravenstein apples were spread throughout northwestern Europe and were planted in private orchards, chosen for the tree's large size, cold tolerance, and prolific nature. Gravenstein apples were later introduced to the New World, where they were planted in Canada and the United States, affectionately known as "Gravs" in California. Gravenstein apples quickly became an internationally renowned variety for their balanced, sweet, and tart flavor. They were even declared the national apple of Denmark in September 2005. Despite their fame, Gravenstein apples have a notoriously short shelf life and delicate skin, preventing the variety from being shipped long distances. The apples are also sensitive to diseases and have thin, easily disconnected stems leading to a pre-harvest drop. These characteristics have prevented Gravenstein apples from being commercially produced on a large scale, localizing the variety to fresh markets in their growing regions.
Nutritional Value
Gravenstein apples are a source of potassium to balance fluid levels within the body, antioxidants to protect the cells against free radical damage, and fiber to regulate the digestive tract. The apples also provide vitamin C to strengthen the immune system, vitamin K to assist in faster wound healing, vitamin A to maintain healthy organ functioning, and other nutrients, including zinc, copper, vitamin E, boron, calcium, manganese, and phosphorus.
Applications
Gravenstein apples have a sweet-tart flavor suited for fresh and cooked preparations. The apples are traditionally consumed as an early-season dessert variety and are savored for their balanced, sometimes sharp flavoring. Gravenstein apples can also be chopped into salads, shredded into slaws, quartered and served with robust cheeses, or finely cut and mixed into dips or salsa. While less common, Gravenstein apples can be used as a topping over pizza, layered into sandwiches, or chopped over oats and porridge. In addition to raw preparations, Gravenstein apples hold their shape when cooked and are often hollowed, stuffed, and baked in puffy pastry as a sweet dessert. The apples can also be cooked into pies, tarts, cakes, beignets, dumplings, fritters, and cookies. Beyond sweet dishes, Gravenstein apples are roasted with root vegetables, simmered into sauces and butter, baked into macaroni and cheese, or sauteed and served with savory main dishes. The apples can also be dried for extended use or pressed into juice for ciders and brandy. Gravenstein apples pair with meats such as poultry, pork, and beef, spices including cinnamon, cloves, nutmeg, ginger, and cardamom, vanilla, chocolate, cheeses such as parmesan, mozzarella, and feta, and fruits such as pears, citrus, and stone fruits. Whole, unwashed Gravenstein apples will keep up to three months when stored in a cool, dry, and dark place.
Ethnic/Cultural Info
In Norse mythology, apples were a symbol of immortality. Legend has it that the golden apples of immortality were grown by the goddess Idun to prevent aging among the gods of Aesir, or Asgard. The name Idun roughly translated to mean "giver of eternal youth," and the deity was also known as the goddess of youth, fertility, and spring. Idun was often depicted guarding and carrying golden apples in baskets, and in some accounts, she stored the apples in a wooden box made of ash wood, known as an eski. One bite of a golden apple and youth was restored. Idun's role as a giver of life, longevity, and youth led her to be a powerful goddess in Norse mythology. One of the most notable references to Idun was found in Prose Edda, a collection of three books containing mythological stories written by Snorri Sturluson in the 13th century. In the second book, Skaldskaparmal, Idun is kidnapped by Thiazi, the storm giant, with the help of Loki, the god of mischief. Without Idun, the gods of Aesir began to age, and the gods became angered by their waning appearances. They discovered Loki was behind the kidnapping and forced him to rescue Idun. Loki transformed into a falcon and flew to retrieve Idun, turning her into a nut so he could safely carry her home. Once Idun had returned to Aeri, she gifted the aging gods the apple of immortality, and the gods returned to their youthful selves.
Geography/History
The history of Gravenstein apples is unknown, with pomologists heavily debating where the variety originated. Several theories of origin connect the apple to a German variety known as Grevans Apfel, a Russian variety, or an Italian variety known as Ville Blanc, carried to modern-day Denmark in the late 16th century. The most documented origin theory traces the apples to South Jutland, Denmark, in 1669. Count Carl Ahlstedt found the variety at the monastery L'Abbaye de Hautcomber near Lac du Bourget in Savoyen. The Count sent branches to his brother, who grafted the branches onto the apple tree in their family garden at Grasten Palace. The grafted apple tree eventually produced flavorful fruits, and the apples were named Grasten after the palace. Over time, the name Grasten was turned into Gravenstein through translation variations, and the variety was planted throughout Europe. Gravenstein apples were also introduced to North America in the late 18th century. German migrants and Russian fur traders carried the variety to California and were rumored to have planted the first Gravenstein apple orchard near Fort Ross in 1811. Gravenstein apples became a major crop in California in the early to mid-20th century. They were mainly planted in Sonoma County, where they became one of the earliest apples to arrive in North American markets. Gravenstein apples were also sourced from Sonoma County to make apple sauce and dried apples for troops during World War II. Despite their rise to fame, Gravenstein apples in Sonoma County were eventually removed from orchards in the late 20th century and were replaced with grapes for increased wine production. The apple's history within the California county is commemorated through an annual Gravenstein Apple Fair in Sebastopol. Outside of Europe and the United States, Gravenstein apples were also grown in Nova Scotia in the 19th century and were introduced by Charles Ramage Prescott, the father of the Nova Scotian apple industry. Today Gravenstein apples have become a rare heirloom variety still appreciated and grown in home and private orchards in Europe, the United Kingdom, Canada, the United States, Australia, and New Zealand.
Recipe Ideas
Recipes that include Gravenstein Apples. One

is easiest, three is harder.