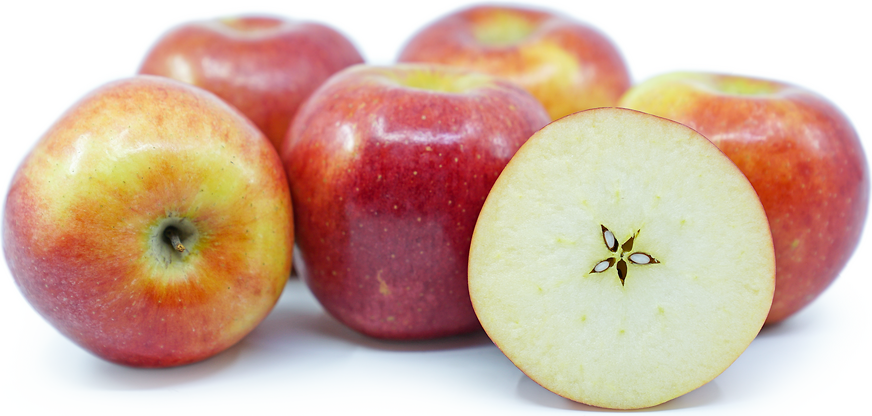 Koru® Apples
Inventory, lb : 0
Description/Taste
Koru® apples are a medium to large varietal, averaging 7 to 8 centimeters, and have a round to conical appearance with flat, slightly ribbed shoulders tapering to an asymmetrical base. The apple's skin is smooth, taut, and glossy, covered in prominent tan lenticels and some russeting in the stem cavity. The surface also showcases a rich golden-yellow coloring, enveloped in a dark red-orange blush with striping and mottling, and is medium-thick, preventing the apple from being bruised or damaged. Underneath the skin, the white flesh is tinged with green and has a firm, coarse-grained, and aqueous nature with a crisp and crunchy consistency. The apples are also slow-to-brown, and the flesh encases a small central core filled with tiny black-brown seeds. Koru® apples contain high sugar, measuring anywhere from 13 to 18 Brix, and have acidity, creating a balanced taste. The apple's flavor is initially acidic on the first bite, but the tartness is followed by a sweetness mixed with nuances of vanilla, orange juice, and spices and a lingering honey-like aftertaste. As the variety is left in storage, the acidity will mellow, and sweeter notes will arise after about three weeks of storage.
Seasons/Availability
Koru® apples are grown in both hemispheres, providing year-round availability in select markets worldwide. The apples are harvested in the fall and can be stored through the winter.
Current Facts
Koru® apples, botanically classified as Malus domestica, are a New Zealand variety belonging to the Rosaceae family. The apples were discovered growing as a chance seedling in the late 20th century and were selected for commercial cultivation as a multi-purpose variety. The large, bi-colored apples grow on trees reaching 2.4 meters in height and ripen approximately twenty days earlier than Fuji apples and ten days earlier than Braeburn, the variety's parent cultivars. Growers also favor the variety for its productive nature, ease of cultivation, resistance to disease and surface damage, and extended storage capabilities. Since its release to commercial markets, Koru® apples have expanded in production from New Zealand to the United States, where the apple is being heavily marketed as a premium, fresh eating and cooking variety.
Nutritional Value
Koru® apples are a source of fiber to regulate the digestive tract, potassium to balance the fluid levels within the body, and vitamin C to strengthen the immune system. The apples also provide vitamin A to maintain healthy organ functioning, vitamin E to reduce inflammation, copper to control nerve operations, and other nutrients, including manganese, zinc, vitamin K, calcium, antioxidants, and phosphorus.
Applications
Koru® apples have a sweet-tart taste suited for fresh and cooked preparations. The apples are traditionally consumed straight out of hand, and the flesh is slow to oxidize, allowing it to be used in various fresh preparations. Koru® apples can be shredded into slaws, chopped into salads, added to fruit medleys, or cut and used as a topping over granola, yogurt, overnight oats, and cereal. Try slicing the apples and layering them into cold or hot sandwiches, using them as a dipping vessel for nut butter, caramel, chocolate, and hummus, or quartering the fruits and displaying them on charcuterie boards. In addition to fresh preparations, Koru® apples can be cooked into soups, minced into stuffing, roasted with root vegetables, or mixed into a filling for dumplings. The apples can also be added to cooked grains, simmered into applesauce, jams, and jellies, or infused into syrups. Koru® apples are known for retaining their shape when heated, making them a choice variety for bread, muffins, pies, tarts, and turnovers. The apples can also be baked into crisps, crumbles, cakes, and strudels or dried into crisps for extended use. Koru® apples pair well with cheeses such as feta, pecorino, or goat, herbs such as fennel, sage, thyme, mint, and rosemary, nuts including almonds, walnuts, and pecans, and spices such as cinnamon, cloves, ginger, allspice, and nutmeg. Whole, unwashed Koru® apples will keep for 1 to 2 weeks at room temperature and for 2 to 4 months when kept in the refrigerator.
Ethnic/Cultural Info
Koru® is a brand name used in commercial markets. The variety was initially known as Plumac and Kotabaru before it was commercially cultivated, but when it was selected to be produced on a global scale, the brand name was chosen for variety distinction. Koru® is a word derived from Maori, the language and name of an indigenous people group that traveled from East Polynesia and settled in New Zealand. The word Koru roughly translates to mean an unfurling loop or coil, based on the idea of an unfurling fern frond. The word is also used as a symbol for "new life, growth, strength, and peace." Fern-like swirls are used across New Zealand as an uplifting icon, included on the national Maori flag, and a small swirl is incorporated into the Koru® apple logo, paying homage to the apple's country of origination. The apple is thought to embody the meaning of Koru, as the variety overcame many obstacles to survive as a chance seedling in a rose garden, showing strength and new life. The colors white, red, and black are also used in the apple's logo and branding, referencing the colors used in Maori culture. Black symbolizes masculine energy and the darkness from which the world emerged, red represents female energy and the realm where living beings come into existence, and white, the realm of light and the physical world, symbolizes the point of connection between the red and the black.
Geography/History
Koru® apples were discovered growing as a chance seedling in Upper Moutere, New Zealand, in 1994. The story goes that Geoff and Marilyn Plunkett found the apple seedling growing in their rose garden. It is thought the tree grew from seeds that sprouted from a discarded apple core. Geoff Plunkett was initially going to cut the seedling down, but he quickly realized that over twenty fruits were growing on the tree. Geoff took the fruits to Andy McGrath of McGrath Nurseries in 1998 and began propagating trees for potential commercial production. DNA tests revealed that the apples were grown from a Fuji apple, pollinated by a Braeburn apple located in a nearby orchard. In 2007, the apples were tested among consumers under the names Plumac and Kotabaru. The variety received favorable responses, and by 2010, the apples were renamed Koru®, a part of a constructed branding campaign. In 2011, commercial plantings were sown in New Zealand, and the first exports were shipped to the United States in 2013. Koru® apple production eventually expanded to the United States, and the domestically produced apples were available in markets by 2015. Today Koru® apples are owned and managed by McGrath Nurseries in New Zealand, and the company licenses the variety to growers in New Zealand and the United States. In America, the variety is primarily grown in the northwestern and northeastern regions, found through Chelan Fresh, Oneonta Starr Ranch Growers, and New York Apple Sales. Koru® apples are also being test grown in Europe, Asia, South Africa, South America, and Canada.
Recipe Ideas
Recipes that include Koru® Apples. One

is easiest, three is harder.