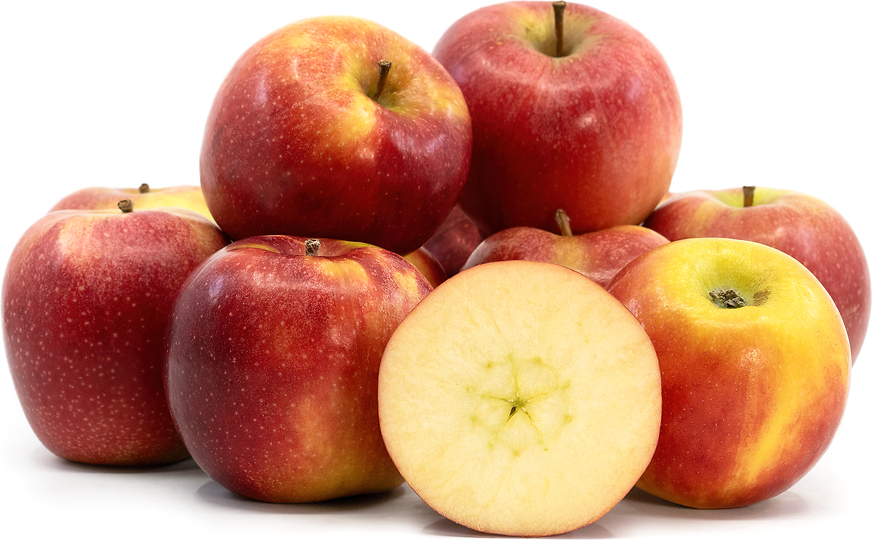 Morgana® Apples
Inventory, lb : 0
Description/Taste

Morgana® apples are a medium to large varietal, averaging 7 to 9 centimeters in diameter, and have a uniform, round to oval appearance. The apples generally have a curved, bulbous shape, sometimes appearing slightly blocky or angular with moderate ribbing, sloping shoulders, and a broad, flat base. The skin is semi-thick, hard, and chewy, protecting the flesh from bruising and allowing the apples to be shipped long distances without external damage. The skin also has a yellow-green base hue, almost entirely covered in a bright cherry red to dark red blush. The saturated blush is mostly solid with some faint striping, and many tiny green-brown lenticels are scattered across the taut, smooth, and matte surface. Underneath the skin, the ivory to cream-colored flesh is firm, dense, and fine-grained, with a crisp and crunchy consistency. The apple is known for its juicy flesh, and when bitten, the flesh cracks in a clean break, releasing refreshing bursts of aromatic juices that flood the palate with honeyed flavors. Morgana® apples have a tropical and fruity aroma with aniseed undertones. The flesh is high in sugar, ranging 14 to 15 degrees Brix, and has a touch of acidity, contributing to the variety's balanced, sweet-tart flavor with tangy, fruity, cider-like nuances.


Seasons/Availability

Morgana® apples are available in the winter through early spring.


Current Facts

Morgana® apples, botanically classified as Malus domestica, are a modern Dutch variety belonging to the Rosaceae family. The late-season apple was developed in the late 20th through early 21st centuries and was selected for commercial production for its vibrant coloring, balanced flavor, firm flesh, and extended storage capabilities. Morgana® apples are a type of club or managed cultivar, meaning the variety is protected by trademarks and licenses under the Morgana® Apple Group. This controls the quality and production of Morgana® apples and ensures the variety remains a premium retail cultivar. Morgana® apples are typically harvested in October and are sold in commercial markets from January through March, but the availability varies depending on the success of the growing season. The apples are promoted as an "on-the-go" cultivar as they have thicker, stronger skin allowing them to be carried long distances without the risk of bruising. Morgana® apples are also showcased for their high juice content and are labeled with the slogan "the juiciest" on marketing materials. The apples are sometimes referred to as a snack that you both drink and eat due to their juice content, and stickers and packaging for the apple use designs inspired by water drops in shades of blue, further evoking the idea of juiciness and freshness. Morgana® apples are favored as a fresh eating variety and are typically consumed raw as a snack or in culinary dishes.


Nutritional Value

Morgana® apples are a source of fiber to regulate the digestive tract, potassium to balance fluid levels within the bloodstream, and phosphorus to produce genetic material, including DNA and RNA. The apples also provide vitamin C to strengthen the immune system while reducing inflammation, calcium to build strong bones and teeth, copper to develop connective tissues, vitamin A to maintain healthy organ functioning, and other nutrients, including vitamin E, magnesium, zinc, manganese, and vitamin K. The vibrant red hues within the skin indicate the presence of anthocyanins, pigmented compounds with antioxidant-like properties to protect the cells against the damage and oxidative stress caused by free radicals.


Applications

Morgana® apples have a balanced, sweet-tart flavor suited for fresh and cooked preparations. The apples have a bursting, juicy nature and firm, crunchy flesh showcased when consumed straight out of hand. Morgana® apples are primarily eaten as an "on-the-go" snack, but the variety can also be sliced and served on charcuterie boards with cheeses, meats, and nuts, cut into wedges, and paired with dips such as chocolate, caramel, or nut butter, or shredded into slaws. The apples can also be roughly chopped and tossed into green salads and fruit salads, skewered and dipped into cheese fondue, layered into sandwiches and burgers for a crisp bite, or added to salsa. Try scattering apple slices on top of baked brie, wrapping chunks of apple in cinnamon-glazed bacon, or placing slices on top of crostini slathered in jam and cheese shavings. Morgana® apples pair well with herbs such as chives, parsley, mint, and thyme, cheeses including pecorino, gouda, parmesan, feta, and goat, fruits such as pomegranate seeds, grapes, figs, and berries, and nuts including almonds, walnuts, pecans, and pistachios. Whole, unwashed Morgana® apples will keep for 4 to 5 weeks when stored in a cool, dry, and dark place, such as a cellar or refrigerator crisper drawer. In professional cold storage, the variety can be kept for 5 to 6 months.


Ethnic/Cultural Info

Morgana® apples were named for their ethereal sensory-inducing capabilities. Morgana is an ancient name connected to Morgan le Fay, a powerful sorceress in Arthurian legend who symbolized creation, magic, and energy. The sorceress is well-known for her shape-shifting abilities, prophecy, and unbridled nature in tales written about Camelot and King Arthur and has become an everlasting mystical figure throughout history. Transcending from the literary legend, the concept of Fata Morgana describes a type of mirage seen on land and sea, an optical illusion that sometimes makes things appear as if they are flying, floating, or inverted. The term Fata Morgana stems from Morgan le Fay's reputation of luring sailors to traps at sea, and it has evolved over time into a common descriptor for mirages and various illusions. Both Morgan le Fay and Fata Morgana have inspired the branding of Morgana® apples, and the variety exudes an aura of magic with its powerful, firm flesh combined with a refreshing and surprising, juicy nature.


Geography/History

Morgana® apples are native to Belgium and were created by Better3Fruit, an independent breeding program in the sub-municipality of Rillaar in Aarschot, Belgium. The variety was developed by Better3Fruit breeders Johan Nicolaï, Inge De Wit, Paul Van Laer at Heverlee, Hendrik Eyssen, and Johan Keulemans and was produced from a cross between Golden Delicious apples and an apple known as NY75413-30. Golden Delicious was the female parent within the cross, and NY75413-30 was the male parent, and the initial breeding was conducted in May of 1990. Further selections of the new variety occurred in 2001, and by the winter of 2002 through 2023, it was being grafted onto various rootstocks for additional evaluations and testing. During the creation of the variety, breeders sought to produce an apple with improved shelf life, flesh texture, shipping ability, and overall quality. The variety was first named Kizuri and was licensed by apple developer ABCz Group. Kizuri apples were sold in markets for a few years before they were rebranded under the marketing name Morgana®. This moniker was part of a strategic alliance between four European companies, including Italian Melinda, Belgian BFV, German Krings Obstbau Vertriebs, and the Dutch corporation Fruitveiling Zuid Limburg Margraeten. The companies united under the name Morgana® Apple Group, also known as MAG, and the apple variety was planted in Italy, Belgium, the Netherlands, and Germany under an exclusive license agreement with ABCz Group. Morgana® was officially announced to the produce industry in 2018 through the Fruit Attraction show in Madrid, Spain. 2018 and 2019 was also a year for expanded cultivation, and it is estimated that over 600,000 trees were planted throughout Europe. In 2021, Morgana® apples were heavily marketed to industry professionals, and the variety is currently being promoted and curated through selective advertising across several distribution channels. Today Morgana® apples are also being grown in the United Kingdom, Spain, and Scandinavia, and the variety is being assessed for possible export to the Middle East and Asia. The Morgana® apples featured in the photograph above were sourced in Belgium.