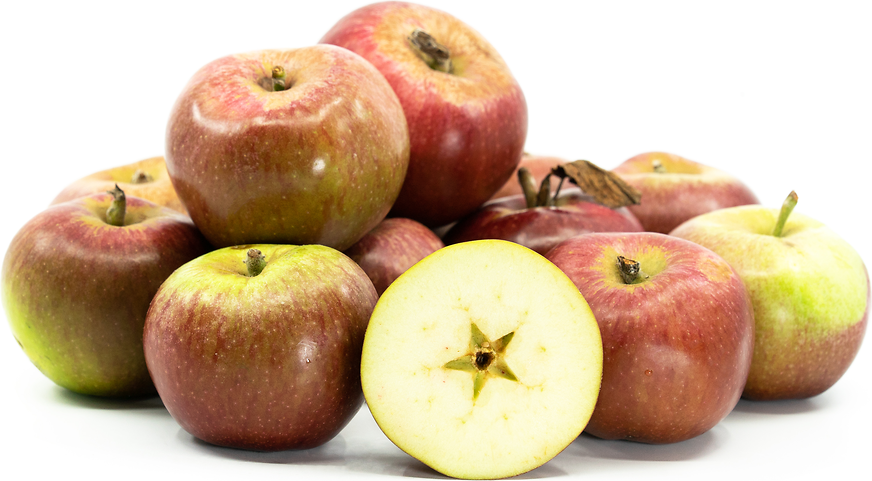 Norfolk Beefing Apples
Inventory, lb : 0
Description/Taste

Norfolk Beefing apples are a large varietal, averaging 7.5 to 8 centimeters in diameter, and have a round to ovate appearance with slightly blocky shoulders. The apple's thick skin showcases glimpses of a bright yellow-to-green base coloring and is almost entirely covered in a muted, dull crimson blush. The dark red flushes are solid, overlaid with broken red striping, and tiny pale lenticels are scattered across the waxy, smooth, and semi-matte surface. Underneath the skin, the white flesh is tinged with pale green and has a firm, dense, and crisp consistency. The coarse-grained flesh also encases a moderately-sized central core filled with black-brown, tapered seeds. Freshly harvested Norfolk Beefing apples have a sharp, acidic, subtly sweet, and tart flavor with spice-filled nuances. As the apples are stored, they develop a sweeter and mellower flavor.


Seasons/Availability

Norfolk Beefing apples are harvested in the mid-fall and can be stored through the early spring.


Current Facts

Norfolk Beefing apples, botanically classified as Malus domestica, are an heirloom English variety belonging to the Rosaceae family. The late-season apples were first recorded in the 17th century and were a prominent variety throughout the 18th and 19th centuries as a cooking and drying apple. Norfolk Beefing apples are known by several regional names, including Norfolk Beaufin, Norfolk Biffin, Norfolk Beefin, Norfolk Bearer, Norfolk Coleman, Ramsden, Winter Coleman, Winter Beefing, Taliesin, Norfolk Bearer, and Catshead Beaufin apples. The variety was grown in commercial orchards and estate gardens, valued for its vigorous nature, heavy cropping, and large fruits with extended storage capabilities. They were also famously used in desserts and baked goods made in the country, shipped and sold throughout London. Despite their widespread popularity during the Victorian Era, Norfolk Beefing Apples declined in production in the late 20th century in favor of other apple varieties, being localized to a few private orchards in England.


Nutritional Value

Norfolk Beefing apples have not been studied for their nutritional properties. Like other apples, the variety is a source of fiber to regulate the digestive tract, potassium to balance fluid levels within the body, and vitamin C to strengthen the immune system, boosting collagen production and reducing inflammation. The apples also provide lower amounts of antioxidants to protect the body against the damage caused by free radicals, calcium to build strong bones and teeth, and other nutrients, including iron, copper, zinc, B vitamins, vitamin E, manganese, and vitamin K.


Applications

Norfolk Beefing apples have an acidic taste and firm texture suited for cooked and dried preparations. Freshly harvested apples are preferred for cooked dishes as they hold their shape well, but with extended storage, the apples will become sweet enough to eat out of hand. Norfolk Beefing apples are favored for baking whole, wrapped in pastry and cooked, hollowed and stuffed with spices and nuts, or incorporated into pies, cakes, muffins, tarts, fritters, and bread. The apples can also be roasted as a savory side dish, pureed and cooked into sauces and butter, or sauteed in cinnamon and brown butter served over ice cream. In 18th century England, Norfolk Beefing apples were used to make black caps, baked apple halves filled with candied peels, brown sugar, and lemon zest, drizzled with wine. The fruits were also favored for puddings. Beyond culinary dishes, Norfolk Beefing apples were occasionally pressed into cider and stirred into blends to create a complex flavoring. Norfolk Beefing apples pair well with spices such as nutmeg, cinnamon, cloves, and ginger, vanilla, maple sugar, brown sugar, and nuts, including almonds, walnuts, pecans, and hazelnuts. Whole, unwashed Norfolk Beefing apples have extended storage capabilities and will last up to five months when kept in a cool and dry location.


Ethnic/Cultural Info

Norfolk Beefing apples are notably known for being slow-cooked and compressed into dried treats called Biffins or Biffin cakes. Norwich bakers would make their morning bread and later place Beefing apples into the oven, topped with an iron pan. The pan would compress the apple, removing the air as it cooked, flattening the fruits while keeping the skin intact. Beefing apples had to be cooked for several hours, and once cooled and cored, the apples would develop a chewy texture and be soft to the touch. The word Biffin is thought to be a corruption of the word "Beefing," alluding to the apple's dark red, beef-like coloring and chewy texture. Some experts also believe "Beefing" was a term used to refer to apple varieties that were typically used in cooked preparations. These disc-like cooked apples were rubbed in sugar and were a traditional dessert sold in Norfolk markets, especially during the Christmas Season. Biffins eventually made their way to London. The apples were still being made by Norwich bakers, packaged in boxes layered with sugar, and shipped into the city. Throughout the holiday season, merchants would hawk the sugar-coated apples in the streets of London, and families would purchase the sweet treats as gifts. Biffin apples are served cold or at room temperature, and the skin is peeled before consumption. At the dinner table, peeled Biffins were garnished with additional sugar and cream, but the apples were often too irresistible and were eaten on the streets. Pomologists have nicknamed Biffins as one of London's first "fast foods." The dessert was so intertwined into London's holiday season that it was even referenced in "A Christmas Carol" by Charles Dickens. In the novel, the ghost of Christmas present shows Scrooge the festive London markets. The story mentions, "There were Norfolk Biffins, squab and swarthy, setting off the yellow of the oranges and lemons, and, in the great compactness of their juicy persons, urgently entreating and beseeching to be carried home in paper bags, and eaten after dinner."


Geography/History

Norfolk Beefing apples were first recorded in 1698 at the Mannington Hall Estate in Norwich, a city in Norfolk, England. The variety appeared on a list of fruit trees grown at the estate, and the property was owned by Robert Walpole, a former English Prime Minister. Norfolk Beefing apples are believed to be much older than their first written record and were planted throughout Norfolk as cooking apples. The variety was eventually shipped into London, rumored to have been sent to the prime minister when he was in town, launching the widespread planting of the apples throughout England. Norfolk Beefing apples were commercially grown in the 18th and 19th centuries, but by the mid-20th century, they were replaced with newer apple varieties, fading from production. The apples were also planted in the United States sometime around the 1840s. Today Norfolk Beefing apples are rare and are primarily found in Norfolk. The apples are also protected in some heritage orchards in Kent and are grown as a novelty in other regions of England. The Norfolk Beefing apples featured in the photograph above were sourced from Brogdale Farm in Faversham, Kent.