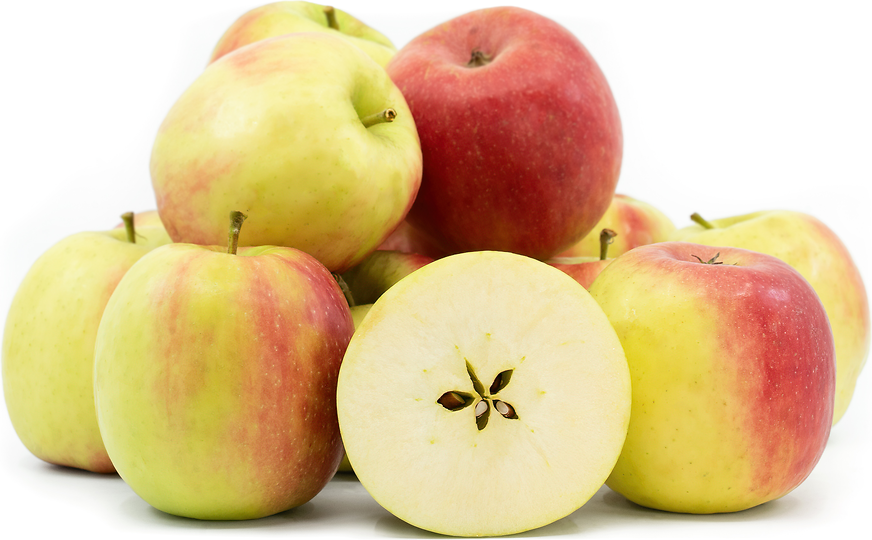 Pink Lady® Apples
Inventory, 88 ct : 0
Description/Taste
Pink Lady® apples are a small to medium-sized varietal, averaging 6 to 8 centimeters in diameter, and generally have a round appearance, sometimes displaying a slightly asymmetrical shape with a slanted base. The apple's skin is glossy, smooth, thin, and chewy, with prominent lenticels scattered across the surface. The skin also showcases a yellow-green hue, covered in large patches of bright pink to red blush, growing darker where the surface was exposed to longer periods of sunlight. Underneath the surface, the flesh is fine-grained, firm, and aqueous with a dense and crisp consistency. The flesh is slow to oxidize, retaining its white hue for extended periods, and contains a fibrous central core filled with dark brown, oval seeds. Pink Lady® apples contain high acidity and sugar levels, contributing to the apple's initially tart taste followed by a sweet and floral, honeyed finish. The apple's acidity also develops a refreshing and bright, "fizz-like" sensation on the palate, creating an effervescent aftertaste.
Seasons/Availability
Pink Lady® apples are harvested in the late fall through early winter. The apples are known for their extended storage capabilities and will stay fresh in professionally controlled coolers from the fall through early summer.
Current Facts
Pink Lady® apples, botanically classified as Malus domestica, are a late-season variety belonging to the Rosaceae family. The pink-blushed apples were developed in Australia in the 1980s and were selected as a commercial variety for their unique coloring, crisp flesh, and bright, sweet, and tangy flavor. Pink Lady® apples were the first apple cultivar trademarked with a specific brand name. The apple's varietal name is Cripps Pink, named after their breeder John Cripps, but among the Cripps Pink apples released to consumer markets, the highest quality apples are labeled under the proprietary marketing name Pink Lady®. Growers must obtain a license to cultivate and sell apples under the Pink Lady® brand name, and each Pink Lady® apple must be grown under specific conditions to produce a quality apple. Approximately 65% of the Pink Lady® apples grown worldwide do not pass the licensed name's rigorous requirements, as the fruits are measured according to their sugar to acid ratio, skin coloring, and lack of surface imperfections. Pink Lady® apple orchards are also meticulously maintained to meet quality standards. The apple trees are spaced to provide ample sunlight, and top branches are pruned to reveal more of the apple's skin to develop the fruit's signature pink blush. Pink Lady® apples require over 200 days to mature, one of the first apple trees to blossom in orchards and one of the last trees harvested in the late fall. Pink Lady® apples marked a new era of apple branding, paving the way for many modern cultivars to be sold under licensed names. Presently, Pink Lady® apples are a multi-purpose cultivar favored for fresh eating and cooking, and the fruits are sold worldwide as a premium variety. It is important to note that the apples retailed under the Pink Lady® brand name may also be slight variants of the classic apple, known as rosy glow, the lady in red, barnsby, and ruby pink apples. These apples are still grown under strict regulations and only display slight flavor nuances, appearing almost identical to standard Pink Lady® apples.
Nutritional Value
Pink Lady® apples are a good source of fiber to regulate the digestive tract and vitamin C to strengthen the immune system while reducing inflammation. The apples also provide potassium to balance fluid levels within the body, calcium to build strong bones and teeth, iron to develop the protein hemoglobin to transport oxygen through the bloodstream, and other amounts of nutrients, including boron, phosphorus, copper, magnesium, and zinc.
Applications
Pink Lady® apples have a crisp, sweet, and tangy flavor suited for fresh and cooked culinary preparations. The apples are popularly consumed straight, out of hand, and are valued for their effervescent taste. The fruit's crisp nature also lends itself to salads and cheese boards, and the flesh is slow to oxidize, maintaining the sliced apple's white appearance. In Australia, Pink Lady® apples are one of the primary apple cultivars for pre-packaged apple slices. The fruits can also be chopped for salsa, slaws, fruit bowls, and grain bowls, sliced and sprinkled as a topping over tacos, thinly cut and placed on flatbreads, stuffed into sandwiches, or blended into granita as a fresh dessert. In addition to raw preparations, Pink Lady® apples retain their shape and naturally sweet flavor when baked. The apples are frequently incorporated into sweeter preparations, including tarts, cakes, pies, muffins, clafoutis, and scones, layered into tiramisu, poached in wine with warm spices, or stuffed with dried fruits and nuts and baked whole. Pink Lady® apples can also be utilized in savory recipes, complementing roasted meats, root vegetables, and grains. The fruits can be minced and stuffed into dumplings, skewered onto kebabs and grilled, cooked into mince pies, quesadillas, and stuffing, or folded into ground meat for added flavor. The apples can also be pureed into applesauce, showcasing a light pink hue, or they can be simmered into preserves, apple butter, or syrups. Pink Lady® apples pair well with meats such as steak, poultry, pork, and turkey, seafood, nuts including pecans, walnuts, and almonds, cheeses such as swiss, gorgonzola, goat, cheddar, feta, and Monterey jack, lemongrass, fruits including watermelon, coconut, strawberry, and mango, salted caramel, vanilla, and dried fruits such as raisins, cranberries, and cherries. Whole, unwashed Pink Lady® apples will keep for two weeks when stored in the refrigerator's crisper drawer. In professional cold storage, the apples can be kept for extended lengths of time year-round.
Ethnic/Cultural Info
Pink Lady® apples were named after a cocktail in a 20th-century novel. Apple breeder John Cripps learned of the name Pink Lady from his favorite book, The Cruel Sea, written by Nicholas Monsarrat. The 1951 novel follows the lives of naval sailors at sea during World War II. The plotline depicts the daily struggles of crossing the rough Atlantic while under the pressures of war and documents the mental and physical challenges that each sailor must face every day. In one part of the novel, the protagonist savors a cocktail known as the "Pink Lady." John Cripps was inspired by the book and named his pink-blushed apple variety after the cocktail. Outside of the fictional novel, Pink Lady cocktails have been made by mixologists since the 1920s. The cocktails have traditionally been comprised of egg whites, grenadine, and gin, but some mixologists believe the original Pink Lady cocktail may have also contained applejack, a strong spirit made from apples. In the modern-day, mixologists have created contemporary interpretations of the Pink Lady cocktail, with some versions even incorporating Pink Lady® apple slices or juice into the beverage.
Geography/History
Pink Lady® apples were developed by John Cripps, an English horticulturist who moved to Western Australia to work for the Department of Agriculture. Cripps spent many years crossing various types of apples, and in the 1970s, he performed a natural cross between an Australian apple known as lady williams with the famous American golden delicious apple. The apples developed from that cross showcased a unique, pink-blushed appearance, crisp flesh, and a sweet-tart flavor and were selected as a new commercial cultivar in 1989, named Cripps Pink, after the breeder. Throughout the late 20th century, the best Cripps Pink apples with a balanced sugar-acid ratio and bright coloring were separated from the rest of the apples and were sold commercially under the licensed name Pink Lady®, a registered trademark of Apple and Pear Australia Ltd. This distinction allowed for consumers to expect a consistent quality level and growers could sell the specialty apples at premium prices. Pink Lady® apples were also introduced to the United States in the 1990s and were licensed to growers under the supervision of Brandt's Fruit Trees. Today Pink Lady® apples are grown commercially in Washington in the United States and are cultivated in regions worldwide with a warm climate and long growing season. Pink Lady® apples are produced in Europe, specifically France, Italy, and Spain, the United Kingdom, Australia, New Zealand, South Africa, South America, and Mexico. When in season, the apples are found through distributors, grocers, and farmer's markets.
Recipe Ideas
Recipes that include Pink Lady® Apples. One

is easiest, three is harder.
the other 42...
| | | |
| --- | --- | --- |
| Herb and Flour | | Pink Lady® Apple Cinnamon French Toast Bake |
| Deliciously Sprinkled | | Baked Apple Chips |
| Running to the Kitchen | | Apple Lentil Stuffed Acorn Squash |
| Anna Can Do It! | | Pink Lady Apple Blondies |
| Kumquat | | Grain-Free Cinnamon Roll Caramel Apple Pie |
| Real Foods | | Tofu and Apple Stuffed Bell Pepper |
| Relish | | Applesauce Breakfast Parfait |
| Olivia's Cuisine | | Poulet Valee D' Auge (Creamy Chicken with Apples |
| Kitchen Konfidence | | Apple & Quince Sparkler |
| Sweetish.co | | Pink Lady Apple Galette with Sea Salt |
| The Lemon Bowl | | Quinoa with Sun-Dried Tomatoes, Apples and Scallions |
| Stirring Stew | | Bright Lentil Salad With Apples, Fennel, and Herbs |
| Stemilt World famous Fruit | | Cauliflower, Caramelized Apple and Red Onion |
| SugarMama Baking Co. | | Deep Dish Apple Pie |
| Paleo Running Mama | | Caramelized Sweet Potato Apple Hash Browns |
| The Bojon Gourmet | | Buckwheat Hazelnut Brown Butter Cake, Cider Glazed Apples |
| Rawberry Fields | | Apple, Beetroot & Ginger Juice |
| Pinch of Yum | | Healthy Cinnamon Sugar Apple Muffins |
| Pink Lady Apples | | Pink Lady® Apple and Plum Cake |
| Eats Well with Others | | Caramel Apple Smoked Gouda Galette |
| Washington Post | | Apple Pie Parfaits |
| Fine Cooking | | Cider-Glazed Turnips & Apples with Sage & Bacon |
| Adore Foods | | Apple Crisp Stuffed Baked Apples with Butterscotch Sauce |
| Marley Spoon | | Pink Lady Apple Crisp |
| Handle The Heat | | How to Make Apple Roses |
| Favorite Family Recipes | | Apple Fries with Caramel Cream Dip |
| Woolworths | | Scandinavian Seared Salmon with Apples Salad |
| Relish | | Pork Meatloaf with Apples and Sage |
| Vegan Heaven | | Crockpot Oatmeal with Apple and Cinnamon |
| Pink Lady Apples | | Baked Apples |
| Love Food | | Chicken, Fenland Celery and Pink Lady Apple Stir Fry |
| Good Food | | Warm Salad of Roasted Pumpkin, Apple and Rocket |
| Yankee Kitchen Ninja | | Savory Sausage & Apple Bread Pudding |
| Life Made Sweeter | | Apple Pie |
| Woolworths | | Potato and Apple Rosti |
| Heartbeet Kitchen | | Creamy Autumn Chicken Salad with Apples & Pecans |
| Very EATalian | | Pink Winter Salad with Radicchio, Prosciutto, Pink Lady Apple, Asiago Cheese & Roasted Pine Nuts |
| Fine Cooking | | Pumpernickel Stuffing with Apples, Onions and Caraway |
| The Kitchen is My Playground | | Kale & Apple Salad with Honey |
| Pink Lady Apples | | Pink Lady® Apple and Rhubarb Tart |
| Alaska from Scratch | | Maple Dijon Potatoes with Apples and Chicken Sausage |
| Call Me Cupcake | | Apple Cobbler with Vanilla Sauce |