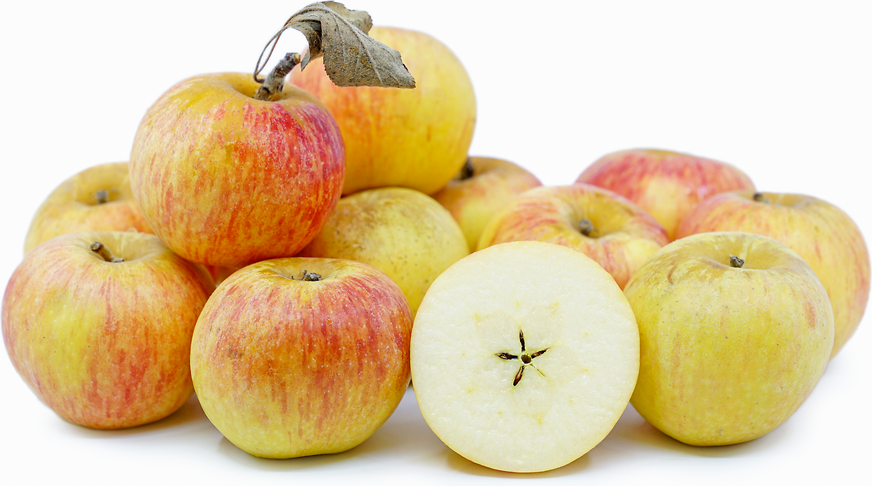 Cox's Orange Pippin Apples
Inventory, lb : 0
Description/Taste
Cox's Orange Pippin apples are a small to medium-sized varietal, averaging 5 to 6 centimeters in diameter, and have a somewhat uniform, oblate to round shape. The apple's skin is thin, matte, and generally smooth with the occasional patches of sandy-textured russet. The golden yellow base hue is often covered in faint lenticels and orange-red blush striping, and as the fruit ripens, the colors will become more vibrant with maturity. Underneath the surface, the flesh is ivory to white and is firm and fine-grained with a crisp, snappy consistency. The flesh also encases a small central core filled with tiny black-brown seeds. Some apple enthusiasts note that when the fruits are ripe, the seeds can sometimes be heard rattling around in the core when the apple is shaken. Cox's Orange Pippin apples are known for their aromatic flesh. The apples contain a balanced, sweet-tart flavor and showcase a complex blend of honeyed, spice-filled, and fruity nuances often said to evoke notes of cherries, melons, mangoes, oranges, and pears.
Seasons/Availability
Cox's Orange Pippin apples are available in the mid-fall through winter.
Current Facts
Cox's Orange Pippin apples, botanically classified as Malus domestica, are a famous English variety belonging to the Rosaceae family. The heirloom apple is regarded as one of the best dessert apples of England, highly favored for its fruity, complex, and balanced flavor and fine-grained, crisp texture. Cox's Orange Pippin apples were named after their founder, horticulturist Robert Cox, and their orange moniker refers to the apple's signature red-orange blush that appears across the fruit's surface. The 19th-century variety is known by many other names worldwide, including Orange de Cox, Cos Orange, Cox, and Cox's Orange, and it is also branded as a true "English apple" to highlight the cultivars British heritage. Cox's Orange Pippin apples have such an unusual taste that they have become a variety primarily consumed fresh to appreciate the apple's dynamic range of fruity nuances. This flavor complexity has also led the cultivar to be used in breeding programs. Scientists use Cox's Orange Pippin apples to impart a complex flavoring into new varieties, but the apple is crossed with hardier cultivars to create a variety with improved resistance to disease and longer shelf life.
Nutritional Value
Cox's Orange Pippin apples are a source of fiber to regulate the digestive tract and potassium to balance fluid levels within the body. The apples also provide vitamin C to strengthen the immune system, vitamin B6 to maintain amino acid levels within the bloodstream, quercetin to contribute anti-inflammatory and antioxidant-like properties to protect the cells against free radical damage, and other amounts of vitamin K, copper, boron, calcium, and manganese.
Applications
Cox's Orange Pippin apples have a balanced, sweet-tart flavor well suited for fresh preparations. The apple is often consumed straight, out of hand, and is eaten as a snack or healthy dessert to savor the variety's unusual flavor. Cox's Orange Pippin apples can also be chopped and tossed into salads and slaws, sliced and dipped into caramel, peanut butter, or chocolate, blended into smoothies, or served with soft cheeses on appetizer platters. In addition to fresh preparations, the apples can also be pressed into juices and ciders, dried into apple rings and strips, or canned for extended use. While more uncommon, Cox's Orange Pippin apples can be incorporated into baked goods and hold their shape well when heated. The apples are traditionally used in pies, tarts, crumbles, and crisps, or they are simmered into jams, jellies, chutney, and sauces for roasted meats. It is important to note that Cox's Orange Pippin apples typically do not create a fluffy puree like bramley apples. The variety is most commonly left in larger chunks to provide a tender, dense texture. Cox's Orange Pippin apples pair well with lemon juice, spices such as cinnamon, allspice, cloves, nutmeg, and ginger, vanilla, crème fraiche, meats including pork, turkey, and duck, and nuts such as almonds, pecans, and walnuts. Whole, unwashed Cox's Orange Pippin apples will keep 1 to 2 weeks when stored in the refrigerator's crisper drawer.
Ethnic/Cultural Info
Cox's Orange Pippin apples are one of the heirloom apple varieties found within Brogdale Collections, a specialty farm near the city of Faversham in Kent, England. The 150-acre farm grows over 4000 varieties of fruit trees, and the Cox's Orange Pippin apples are one of the resounding favorite varieties of the experts who work at the farm. Brogdale Farm is also home to the National Fruit Collection, an orchard containing over 2,131 varieties of apples worldwide. This collection is owned by the Department for Environment, Food, and Rural Affairs, also known as Defra, and is maintained by Reading University and the Fruit Advisory Services Team to research, study, and protect apples for future cultivation. Annual studies are conducted on the apple trees in the collection, and much of the research is centered around climate change, diseases, and pests. Within the National Collection, the apple trees are primarily grown for their branches, and the fruits are a secondary item, often unused by the scientists. Brogdale Farm collects the apples and uses them to make fresh-pressed ciders, juices, and homemade jams. One of Brogdale's craft ciders, known as the Woolly Pig, utilizes over thirty apple varieties to create a unique blend. The cider received its curious name from the farm's former resident Mangalitsa pigs, owned by the butcher of Brogdale. The story goes that the butcher would let his pigs roam the farm, and the cidermakers would feed the pigs leftover pomace from the cider production. The pigs developed healthy woolly coats from consuming the apple roughage, similar to sheep coats, eventually inspiring the cidermakers to name their signature cider after the pigs. Brogdale Farm also produces seasonal single variety pressed juices to showcase the unusual flavors of heirloom apple varieties.
Geography/History
Cox's Orange Pippin apples were discovered growing as a chance seedling in the garden of horticulturist Richard Cox in Colnbrook Lawn, a village near Slough in Buckinghamshire, England, now modern-day Berkshire. The new apple variety first appeared sometime between 1825 and 1830 and was later given to local nursery E. Small & Son for further propagation in the 1840s. The initial marketing plans were unsuccessful, but in the 1850s, Charles Turner of Royal Nurseries, another local grower in Slough, listed Cox's Orange Pippin apples in their catalog, launching the cultivar into commercial production. Cox's Orange Pippin apples were awarded a First Class Certificate in 1862 from the Royal Horticultural Society, a prestigious and challenging certificate to receive, and the variety quickly became one of the most popular apples in England. The parentage of Cox's Orange Pippin apples is unknown, but many experts believe it may be a seedling of the ribston pippin apple. The variety was also planted throughout Europe and in North America due to its flavorful reputation, but as quickly as the cultivar rose to fame, it began to wane from commercial and home garden production in the early 1900s due to its susceptibility to common apple diseases and difficulty in cultivation. Despite its challenging nature, Cox's Orange Pippin apples have remained a popular dessert apple in the United Kingdom. Apple-growing regions in England, especially in Kent and Worcestershire, are said by apple enthusiasts to produce the most flavorful Cox's Orange Pippin apples. Today Cox's Orange Pippin apples are widely grown across England in private home gardens and orchards as well as commercial and heritage orchards. The variety is also produced on a smaller scale in The Netherlands, Belgium, New Zealand, Tasmania, Canada, and the Pacific Northwest and East Coast of the United States. Outside of the United Kingdom, Cox's Orange Pippin apples are primarily found through farmer's markets, farm stands, and local grocers.
Recipe Ideas
Recipes that include Cox's Orange Pippin Apples. One

is easiest, three is harder.
the other 2...