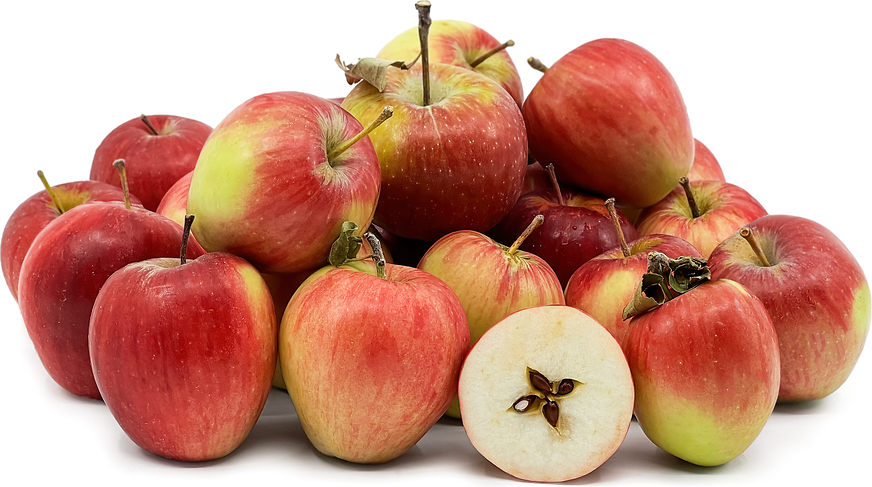 Ranetka Apples
Inventory, lb : 0
Description/Taste

Ranetka apples are small, round, conical, to oval fruits, averaging 2-4 centimeters in diameter, and have a somewhat uniform shape, growing in clusters attached to long and slender, brown stems. The skin is firm, smooth, waxy, and has a yellow-green base, covered in bright red patches of blush and striping. Depending on the specific variety, the amount of red blush and coloring will vary. Underneath the surface, the flesh is dense, crisp, coarse, and ranges in color from ivory, white, to pale green-yellow. Ranetka apples are generally considered too sour, astringent, and unpalatable when raw. The apples are preferably cooked, and when paired with sweeteners, the flesh develops a pleasant sweet-tart flavor with subtle tangy notes.


Seasons/Availability

Ranetka apples are harvested in the fall and can be stored through the early spring.


Current Facts

Ranetka apples, botanically classified as Malus baccata, are tiny, sour fruits that grow on flowering trees and belong to the Rosaceae family. The name Ranetka is a general descriptor used for many different varieties of apples that were developed from multiple crossings of Siberian apples with European and Chinese varieties. These apple cultivars were initially bred to have an increased resistance to frost, and with their creation, they also became favored by growers for their drought resistance, adaptability, and high yields. In the western world, Ranetka apples are known as crabapples, which is a name derived from the fruit tree's durability and tenacity, but the new name remained localized to the west and was not adopted into Asian agriculture. Ranetka apples are commonly grown on dachas, which are personal plots of land used for gardening across Russia and Central Asia, and are a versatile fruit that is widely used in culinary applications for its tart flavoring.


Nutritional Value

Ranetka apples are an excellent source of vitamin C, which is an antioxidant that can boost the immune system and increase collagen production within the body. The fruits also contain fiber, potassium, vitamin A, and calcium.


Applications

Ranetka apples are best suited for cooked applications such as boiling, stewing, and baking. The small, sour fruits are often cooked with sugar, honey, maple syrup, or molasses to sweeten the flavor, and the apples are commonly boiled and pureed into applesauce, baked into tarts, pies, and turnovers, or cooked into preserves and jams. Ranetka apples can also be cooked into mashed potatoes, served with roasted meats, stewed as a dessert, pressed into hard ciders, wine, and juices, or blended into a puree as baby food. In addition to fresh preparations, the apples can be dried or canned in syrup for extended use. Ranetka apples pair well with meats such as pork, poultry, and beef, cinnamon, coriander, thyme, star anise, brown sugar, maple syrup, honey, vanilla, cranberries, and sweet potatoes. The fresh fruits will keep 1-3 months when stored whole and unwashed in a plastic bag in cool, dry, and dark place such as the crisper drawer of the refrigerator.


Ethnic/Cultural Info

Ranetka apples are highly favored for making jams. The small fruits have a naturally high pectin content, which helps solidify the jam's thick and syrupy consistency. Jam making is a traditional fall activity in Russian households as a way to preserve fruits for the cold winter season to come. The art of boiling fruits with sweeteners has been present in Russia for hundreds of years, and the fruit is often roughly chopped or left in larger chunks to create a semi-transparent and thicker consistency. Ranetka apple jam is popularly served with tea, especially black tea, and the jam is sometimes flavored with ginger, vanilla, cinnamon, or lemons. The jam is also commonly served over pancakes, bread, and baked goods. Beyond culinary use, Ranetka apple trees are often planted in Russian gardens as they provide fragrant flowers that attract many pollinators to help encourage more abundant harvests of surrounding apple varieties. The hardy, cold tolerant, and drought-resistant trees are also used for urban planting throughout metropolitan cities and are seen lining walkways, parks, and town squares.


Geography/History

Ranetka apples were first developed in Central Asia and Russia during the early 20th century and were created from multiple crossings of Siberian, Chinese, and European apple varieties. Today Ranetka apples are primarily found in Siberia, Russia, especially in Omsk, Urals, Altai, Novosibirsk, and Krasnoyarsk, and can also be found through local growers in Central Asia, China, Mongolia, and India. The Ranetka apples in the photograph above were found at the Almaty Green Market in Kazakhstan and were purchased from a local apple vendor who grows the fruits in the foothills of the Ile Alatau mountains, next to the Issyk village.