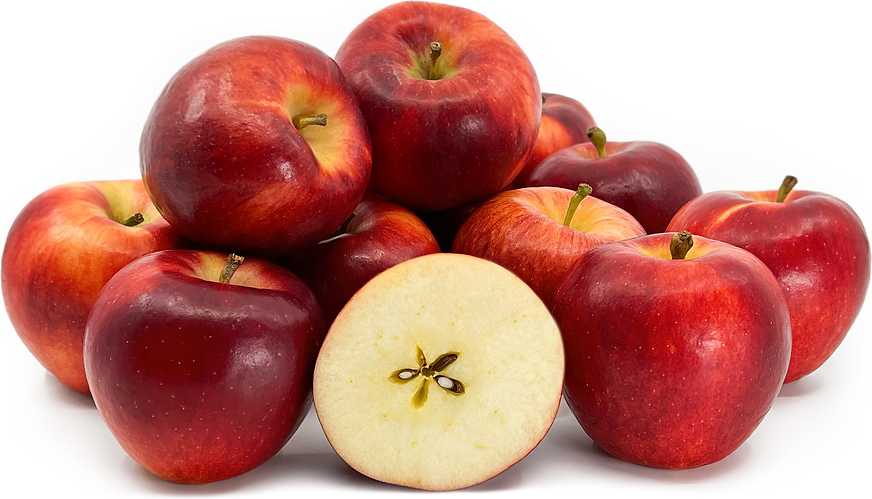 RedPop® Apples
Inventory, lb : 0
Description/Taste

RedPop® apples are a small to medium-sized varietal, averaging 7 to 8 centimeters in diameter, and have a fairly uniform, conical to oblate shape with flat shoulders, a broad and curved center, and a narrow base. The apple's skin is semi-thin with a lightly vegetal to grassy taste and has a glossy, smooth, and taut feel. The skin has a golden yellow coloring when ripe, almost entirely enveloped in vibrant red blush. The blush is variegated with saturated dark red hues mixed with translucent cherry red tones and there is some striping scattered across the surface. The skin is also covered in tiny yellow lenticels and some green-brown russet patches in the stem cavity. Underneath the skin, the white to ivory flesh is dense, firm, and aqueous with a crunchy, snappy consistency. The fine-grained flesh also encases a small central core filled with small black-brown seeds. RedPop® apples release a burst of fragrance when sliced or bitten and are said to have forward floral nuances followed by notes of elderflower, melon, plum, papaya, and dried mangoes and apricots. The flesh has a high sugar content of 14.5 to 15 Brix combined with moderate to low acidity, creating a bright, honeyed, and sweet, subtly tart taste.


Seasons/Availability

RedPop® apples are harvested in the fall and sometimes kept in cold storage. The variety is primarily available in commercial markets January through August.


Current Facts

RedPop® apples, botanically classified as Malus domestica, are a modern Italian variety belonging to the Rosaceae family. The cultivar was developed in the early 21st century as an improved apple with increased resistance to disease, a uniform shape and coloring, and productive nature. RedPop® apples are promoted for their moderate size, highlighted as a snacking apple for carrying on the go, keeping at a workplace, or storing at home. Since their introduction into consumer markets, RedPop® apples have seen commercial success in Asia for their sweet, honeyed flavor and are favored in European markets for their dark red coloring and firm nature, allowing the fruits to be stored for extended periods. The apples are grown using conventional and organic methods and are sold as a versatile variety for fresh and cooked preparations. RedPop® apples are heavily advertised with a curated marketing campaign centered around the slogan "RedPop® apples: little big sweet."


Nutritional Value

RedPop® apples are a source of potassium to balance fluid levels within the body, vitamin C to strengthen the immune system while reducing inflammation, and fiber to regulate the digestive tract. The apples also provide copper to develop connective tissues, magnesium to control optimal nerve functioning, calcium to build strong bones and teeth, and other nutrients, including vitamin A, manganese, zinc, phosphorus, vitamin K, and vitamin E. The vibrant red hues within the skin indicate the presence of anthocyanins, pigmented compounds with antioxidant-like properties to protect the cells against the damage and oxidative stress caused by free radicals.


Applications

RedPop® apples have a sweet, subtly tart taste suited for fresh and cooked preparations. The variety is mainly promoted as an apple to consume straight, out of hand, as a snack. RedPop® apples can also be shredded into slaws as a crunchy addition, tossed into salads, or sliced and served on charcuterie boards with cheeses, cured meats, and nuts. The apples have a crisp nature allowing them to be layered into sandwiches, julienned and incorporated into fresh rolls, or added to smoothie and grain bowls as a fresh topping. In addition to raw preparations, RedPop® apples can be cooked into a chutney and served on coconut rice, slathered on burgers, or combined with yogurt or hummus as a dip. The apples can also be simmered into syrups, jams, and jellies or cooked into apple sauce as an accompaniment to crepes or offered as a stand-alone side dish. The firm nature of RedPop® apples helps the fruits to hold their shaped when baked whole and the cooked flesh is popularly incorporated into muffins, pies, tarts, cakes, strudels, fritters, and crumbles. Try adding RedPop® apples to roasted vegetable side dishes, serving with meat main dishes, frying into dumplings, or mixing into risotto as a sweet enhancement. The variety can also be pressed into juice for beverages. RedPop® apples pair well with vanilla, maple syrup, heavy cream, spices such as cinnamon, cloves, nutmeg, ginger, and cardamom, nuts including hazelnuts, pecans, walnuts, and almonds, and spices such as mint, parsley, sage, and rosemary. Whole, unwashed RedPop® apples will keep for 1 to 2 weeks when stored in a cool, dry, and dark place, such as the refrigerator's crisper drawer.


Ethnic/Cultural Info

RedPop® apples were first grown in South Tyrol as a specialty apple. South Tyrol is a northeastern province of Italy just below the border of Austria and Switzerland. The region is known for its unique blend of an Alpine meets Mediterranean climate, creating an ideal setting for apple production. The region also receives over 300 days of sun per year, allowing for fruits to develop uniform, vibrant coloring. There are over 7,000 apple farms within South Tyrol expanding over 18,400 hectares, but despite these large numbers, each farm only has about 2.5 hectares of land. One of the special characteristics of apple cultivation in South Tyrol is that most of the farms are family owned and operated. This allows for each family to experiment with genetic diversity and cultivation methods, creating a region filled in innovation and ongoing research. Historically, apple orchards in South Tyrol were established to support a family as a food source and it wasn't until approximately 200 years after the apple's introduction into the region that a new variety was developed. Despite the initial lack of commercialization, families within the region began producing and hand carrying apples over the mountainous passes into northern metropolitan cities. Apples from South Tyrol quickly became famous for their flavor and quality, and in 1867, the construction of the railroad led South Tyrol apples to be transported as far as St. Petersburg, Berlin, and Vienna. In the modern day, South Tyrol is still known for its apple production and is one of the largest suppliers of organic apples in the European Union, accounting for around 25% of the commercial fruits.


Geography/History

RedPop® apples were developed in Italy through the Consorzio Italiano Vivaisti, also known as CIV, a joint venture between nurseries Tagliani Vivai, Vivai Mazzoni, and Salvi Vivai, established in 1983. The variety was bred in San Giuseppe di Comacchio, Ferrara, Italy, from a cross between the male pollen parent Mitchgla and the female seed parent Co-Op39. Breeders Alessio Martinelli and Michelangelo Leis created the variety, initially labeling it as CIVM49, and selected specific characteristics to showcase improved disease resistance and productivity. The first cross was made in 2000 and samples from the cross were later budded and grafted in 2006 for further evaluation. After several years of trials, CIVM49 was planted through the Consortium of South Tyrolean Fruit Growers Cooperatives or VOG in South Tyrol, Italy. VOG is one of Italy's largest apple exporters and marketers, and the company owns the master license of the variety in partnership with the Association of Val Venosta Producers of Fruits and Vegetables, VIP. CIVM49 apples were later branded under the name RedPop® for increased consumer appeal in consumer markets and were released to select markets in 2021. Today RedPop® apples are grown in South Tyrol, Italy, and are available in markets throughout Europe and Asia, mainly in Thailand, Singapore, Malaysia, Japan, and China. CIV has also established nursery partnerships with growers in New Zealand, South Africa, Chile, and the United States for expanded production of the variety. The RedPop® apples featured in the photograph above were sourced from the Sudtirol booth at the 2023 Fruit Logistica in Berlin, Germany.