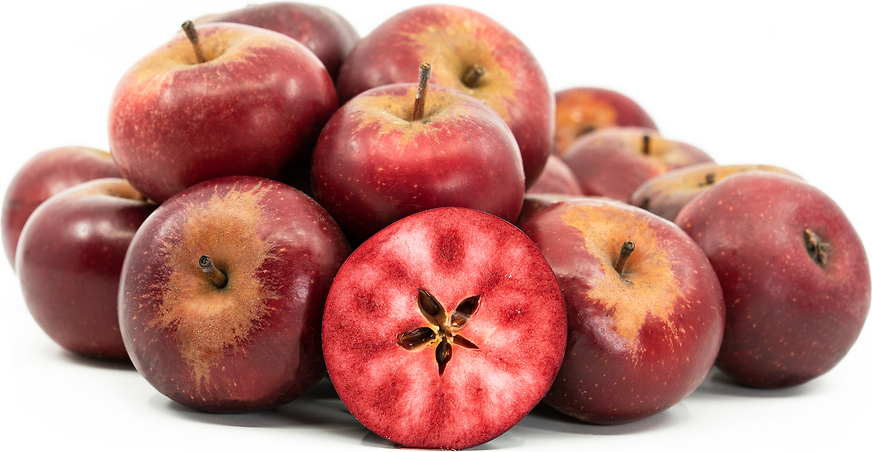 Rosette™ Apples
Inventory, 1 Lb : 0
Description/Taste

Rosette™ apples are a small to medium-sized varietal, averaging 5 to 6 centimeters in diameter, and have a round to ovate shape with flat shoulders and a squat, curved exterior. The apple's skin is semi-thick, matte, and smooth with prominent, textured yellow-tan lenticels and a patch of light brown russet surrounding the fibrous brown stem. The skin also has a green base and is almost entirely covered in a crimson to brick red blush, primarily solid with some striations. Underneath the surface, the flesh is fine-grained, soft, and crisp with a variegated, marbled appearance, comprised of red, pink, and white hues. The coloring will vary depending on temperature and growing conditions, and the deeper the color of the flesh, the higher the sugar content. The flesh also encases a central core filled with tear-drop-shaped, black-brown seeds. Rosette™ apples emit a perfumed, floral fragrance and have a light, delicate, sweet-tart flavor with fruity and berry nuances.


Seasons/Availability

Rosette™ apples are available in the late summer through early fall.


Current Facts

Rosette™ apples, botanically classified as Malus domestica, are a rare, early-season variety belonging to the Rosaceae family. The English cultivar was discovered as a chance seedling in the early 21st century and was named after its speckled, marbled pink and red flesh that often showcases a rosette-like pattern. Rosette™ apples are a dessert apple, a variety best consumed straight, out of hand, and are favored for their sweet and tangy, berry-like flavor. The modern cultivar is commercially cultivated on a small scale throughout the United Kingdom, released in limited quantities through growers and in supermarkets as a specialty variety under the name Raspberry Ripple. Rosette™ apples are also cultivated in home gardens as the trees are compact, heavy producers, easy-to-cultivate, and resistant to most diseases.


Nutritional Value

Rosette™ apples are a source of vitamins, including vitamin C to strengthen the immune system, vitamin A to maintain healthy organ functioning, and vitamin E to protect the cells against free radical damage. The apples also provide potassium to balance fluid levels within the body, fiber to regulate the digestive tract, and other amounts of calcium, zinc, copper, iron, and boron. The dark red to pink coloring in the skin and flesh contains anthocyanins, pigments with antioxidant-like properties that guard the body against sickness and external environmental damage.


Applications

Rosette™ apples have a light, floral, and fruity flavor well suited for fresh preparations. The apples can be consumed with or without the skin, and the flesh is popularly sliced and tossed into salads, combined into fruit bowls, quartered and displayed on cheese boards, or cut and used as a fresh topping over pancakes, waffles, porridge, and grain bowls. Rosette™ apples can also be sliced and dipped into chocolate as a colorful dessert, cut into rings and dried, or thinly sliced and used as a decorative finish over cakes, tarts, and other pastries. The flesh oxidizes slowly, but squeezing lemon juice over the freshly cut apples is recommended to prolong their natural appearance. In addition to fresh preparations, Rosette™ apples can be pressed into a sweet-tart juice, and the liquid is colored with a natural pink to red hue. Rosette™ apples pair well with cheeses such as brie, camembert, goat, and blue, nuts including almonds, walnuts, pistachios, and pine, herbs such as parsley, mint, and rosemary, vanilla, cinnamon, and chocolate. Whole, unwashed Rosette™ apples have a short shelf life and will only keep up to one week when stored in the refrigerator.


Ethnic/Cultural Info

Frank P Matthews is a family-owned and operated nursery outside of Tenbury Wells near Worcestershire, England. Each year, the company grows over a half a million trees and distributes these trees to garden centers across the United Kingdom. Frank P Matthews also produces over two hundred different varieties of apples, with Rosette™ apples being one of their trademarked signature creations. The company began promoting its rare cultivar through trade shows and networking events to generate awareness. Rosette™ apples were first introduced at the National Fruit Show in 2014 in England, an annual event for industry professionals to network and showcase their company's latest achievements. At the October 2014 conference, the brightly colored fruits garnered attention for their marbled, pigmented flesh, but they received the most recognition when they were showcased throughout the conference in juice form. Rosette™ apples produce a pink to red-hued juice with a balanced, sweet, and sharp flavor. The juice is favored for its natural coloring and does not require added dyes or pigments to create its rosy appearance.


Geography/History

Rosette™ apples are native to England and were discovered growing as a natural mutation in a garden near Worcestershire in the early 21st century. The parentage of the variety is unknown, but pomologists believe the cultivar may be a sport of the popular English discovery apple. The new apples were given to Frank P Matthews, a local nursery near Tenbury Wells, Worcestershire, and the nursery initially planted 100 trees for commercial propagation. Rosette™ apples were later released to other licensed growers around 2011 for expanded cultivation and were seen in select grocers in England in 2013 under the name Raspberry Ripple. Today Rosette™ apples are a rare variety available in limited quantities through specialty growers in the United Kingdom. The variety is also grown as a home garden apple tree.