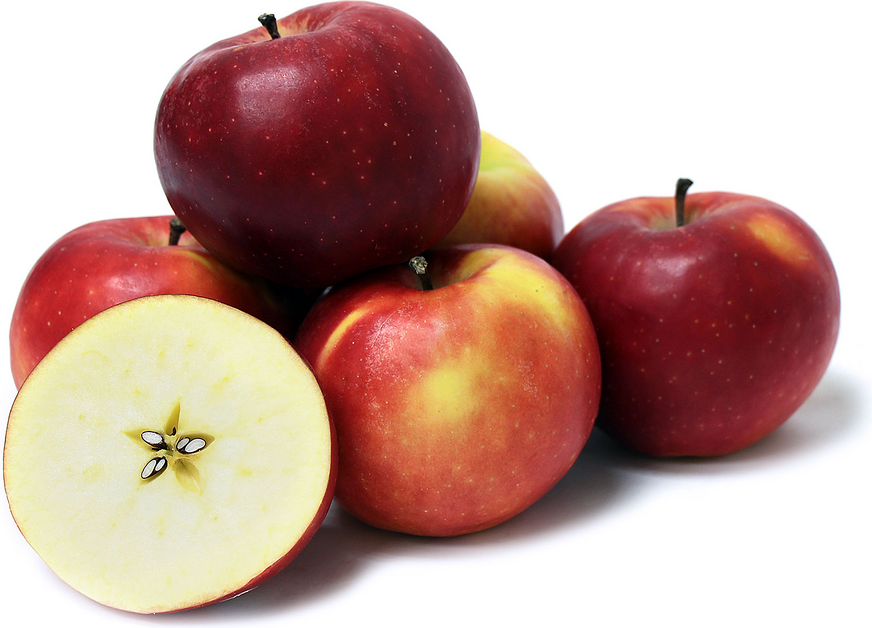 Salish™ Apples
Inventory, lb : 0
Description/Taste
Salish™ apples are medium to large in size and have a round, conical, or oblate shape with flat, broad shoulders, a curved middle, and a narrow base. The apple's stem is dark brown, woody, and slender, connecting into a small cavity often filled with textured russet. Young Salish™ trees may also produce more russet on the fruit's shoulders, but this trait usually disappears with maturity. The skin is semi-thick, smooth, taut, and glossy, eventually becoming slightly waxy. The skin also ripens from green to golden yellow and is almost entirely covered in a burgundy, crimson, to bright red blush. This blush can be solid to faint and is dotted with white lenticels. Underneath the surface, the pale yellow to ivory flesh is firm, aqueous, and moderately coarse with a crunchy, succulent consistency. The flesh also encases a small central core filled with tiny black-brown seeds that are inedible and should be discarded. Salish™ apples are aromatic and edible raw. Ripe Salish™ apples have a characteristically refreshing, sweet, sharp, and tangy taste.
Seasons/Availability
Salish™ apples are available in the late fall through early winter.
Current Facts
Salish™ apples, botanically classified as Malus domestica, are a Canadian variety belonging to the Rosaceae family. The late-season apples were released to commercial markets in 2012 as a new variety promoted as a dessert cultivar, meaning they are best for fresh eating. Salish™ apples were created through an extensive thirty-one-year breeding process and were selected as an apple fit for both growers and consumers. Growers favor Salish™ apples for their high yields, late harvest, and ability to be planted in high-density orchards, while consumers value the variety for its extended storage capabilities, tangy taste, and crisp texture. Salish™ apples were initially known as SPA-493 and were rebranded under Salish™ as a marketing name to increase consumer appeal. In the modern day, Salish™ apples are a popular variety cultivated commercially in Canada and are a seasonal fruit used in sweet or savory preparations.
Nutritional Value
Salish™ apples are a source of potassium to balance fluid levels within the body, vitamin C to boost the immune system, and vitamin E to reduce inflammation. The apples also provide vitamin A to maintain healthy organ functioning, calcium to build strong bones and teeth, fiber to regulate the digestive tract, and other nutrients, including zinc, manganese, copper, and phosphorus. The variety's saturated red hues indicate the presence of anthocyanins, naturally occurring pigments in the skin with antioxidant-like properties to protect the cells against the damage caused by free radicals.
Applications
Salish™ apples have a sweet, tart, and tangy taste suited for fresh and cooked preparations. The variety was initially released as a fresh-eating cultivar and is appreciated for its refreshing nature. Salish™ apples can be sliced and served on charcuterie boards, cut and plunged into dips, or skewered whole and immersed in melted sugar or caramel as a candied treat. The variety can also be tossed into salads, mixed into fruit medleys, layered into paninis and sandwiches, or used as a fresh topping over grain bowls, oatmeal, and parfaits. Try blending the apples into smoothies or pressing them into juice. In addition to fresh preparations, Salish™ apples have evolved to become a cooking apple. The fruits are simmered into jams, jellies, and syrup or cooked into sauces as a sweet addition to roasted meat dishes. Salish™ apples are also incorporated into fritters, pies, dumplings, crisps, crumbles, and cakes. Salish™ apples pair well with nuts such as almonds, pecans, and walnuts, meats including poultry, pork, beef, and turkey, other fruits such as grapes, melon, stone fruit, and strawberries, and spices including cinnamon, ginger, cardamom, nutmeg, and cloves. Whole, unwashed Salish™ apples will keep for 4 to 6 months when stored in a cool, dry, and dark location, such as a cellar or refrigerator crisper drawer.
Ethnic/Cultural Info
Salish™ apples were named after languages spoken by indigenous populations in Canada. Salish is a term for a group of languages spoken by communities in interior and coastal British Columbia, and several of the languages are endangered of becoming extinct. The apple variety was named Salish™ out of respect for its site of origin in British Columbia, and cultivars released from Summerland traditionally have a name that starts with the letter "S." The name Salish™ was unveiled for SPA-493 apples at the 2012 University of British Columbia Botanical Garden's Apple Festival. The first apple festival was held in 1991 at the gardens from the idea of garden staff to promote apples and increase sales. During the first festival, over 3,700 pounds of 26 apple varieties were available for sale. Forty-one varieties were also displayed for sampling among visitors, and sampling the apples became a favorite activity of the event. SPA-493 apples were tested at the 2011 festival, a year before their official release, and consumers appreciated the new variety for its sweet and tangy taste. The UBC Botanical Garden's Apple Festival now attracts over 14,000 people, and 37,000 pounds of apples are sold each year.
Geography/History
Salish™ apples are native to British Columbia and were developed through Agriculture and Agri-Food Canada, also known as AAFC, in partnership with the Okanagan Plant Improvement Corporation or PICO. The goal of the collaboration was to develop new apple varieties with improved flavor, an easy-to-grow nature, and extended storage capabilities. Salish™ apples were created from a traditional cross between Gala and Splendor apples in 1981, conducted by breeders R.A. MacDonald and W.D. Lane in Summerland, British Columbia. In the cross, pollen from Splendor apples, considered the male parent, was applied to the flowers of Gala apples, the female parent. Over 800 seeds were extracted from this cross and were grown in a greenhouse in 1982, later planted in fields. Seedlings were grown for around nine years, and during this time, only selections with the strongest characteristics were chosen for further evaluation. In 1989, selected seedlings were grafted onto rootstock, and the seedlings produced their first fruits in 1992. In 1997, a seedling was chosen and named SPA-493, along with 20 other seedlings. These seedlings entered the tasting phase, meaning the fruits were sampled through panels and test groups to determine optimal flavor. The tasting phase lasted for approximately 7 to 9 years, and the top seedlings were planted on select properties of farmers working with the program to test their real-world survival rates. It took over 31 years for Salish™ apples to be chosen as a new variety. Apple varieties Nicola and Aurora Golden Gala were also selected from this experiment and were marketed as specialty cultivars. Salish™ apples were released to commercial markets in 2012 through the UBC Botanical Garden's Apple Festival and were promoted under the brand known as "Born in BC, Raised in the Okanagan." Today, Salish™ apples are primarily a Canadian variety sold directly through growers, farmer's markets, and specialty grocers in Canada and the United States.
Recipe Ideas
Recipes that include Salish™ Apples. One

is easiest, three is harder.