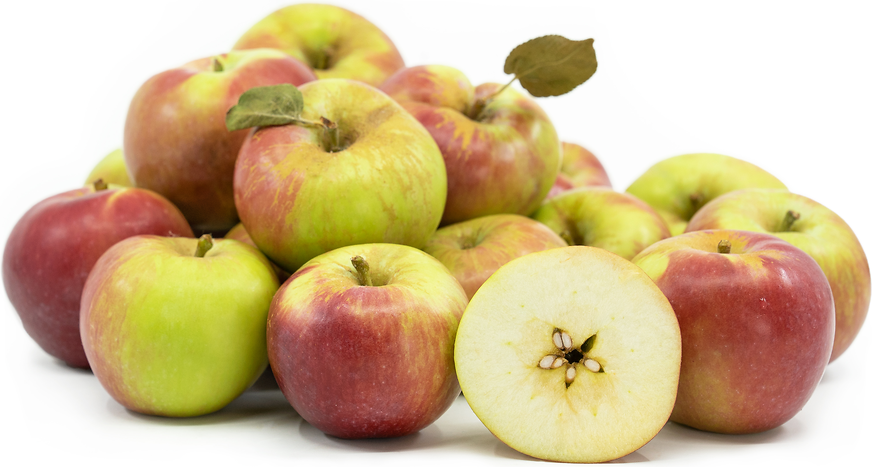 Spartan Apples
Inventory, 88 ct : 0
Description/Taste
Spartan apples are small to medium in size, generally smaller than the commercial varieties offered in present-day markets, but the variety can grow larger when heavily thinned and cultivated in ideal climates. The variety is round, conical, slightly flattened, and has prominent ribbing on the semi-thin, smooth, and taut skin. The skin also has a yellow-green base covered in large patches of dark red to bright red blush and striping. When the variety is left on the tree for extended periods in full sun, the blush will deepen to a characteristic dark purple-red hue reminiscent of plums or red wine. It is important to note that some apples may carry a natural bloom on the surface, giving the fruits a matte, faded appearance. This bloom can be easily wiped from the surface to reveal a more vibrant coloring. Underneath the skin, the apple's white flesh is dense, fine-grained, and aqueous with a crisp, succulent, and tender consistency. The flesh also encases a small central core filled with tiny black-brown seeds. Spartan apples are aromatic and are initially sweet and tart with a slight vinous taste when harvested off the tree. As the apples are kept in storage, their flavor mellows into a light and sweet flavor.
Seasons/Availability
Spartan apples are available in the fall through winter. Once harvested, the fruits can be kept in controlled atmospheric storage for 7 to 10 months.
Current Facts
Spartan apples, botanically classified as Malus domestica, are a North American variety belonging to the Rosaceae family. The mid to late-season apples grow on deciduous trees reaching 2 to 5 meters in height and were developed in Canada in the early to mid-20th century. After their release, Spartan apples were a choice home garden variety throughout the late 20th century in British Columbia. Growers favored the variety for its consistent bearing, productive nature, ability to remain on the tree for up to three weeks without dropping. During this time on the tree, the apples also developed their signature coloring and flavor. Spartan apples were promoted as an all-purpose variety for fresh and cooked preparations, and the cultivar was even introduced to markets in Europe, where it was planted as a home garden variety. Despite their initial popularity, Spartan apples eventually faded from production as they were susceptible to disease. In the modern day, Spartan apples are a rare, specialty cultivar primarily grown in its native region of British Columbia as a home garden novelty.
Nutritional Value
Spartan apples are a source of fiber to regulate the digestive tract, vitamin C to strengthen the immune system, iron to develop the protein hemoglobin to transport oxygen through the bloodstream, and calcium to build strong bones and teeth. The apples also provide potassium to balance fluid levels within the body, copper to develop connective tissues, vitamin K to assist in faster wound healing, vitamin A to maintain healthy organ functioning, and other nutrients, including manganese, zinc, phosphorus, magnesium, and vitamin E. The vibrant red hues within the skin indicate the presence of anthocyanins, pigmented compounds with antioxidant-like properties to protect the cells against the damage and oxidative stress caused by free radicals.
Applications
Spartan apples have a balanced, sweet-tart taste suited for fresh and cooked preparations. The variety is said to have the best flavor when consumed straight off the tree, and in the late 20th century in British Columbia, the apples were often served as a palate cleanser after meals. Spartan apples can also be chopped into salads, grated into slaws, or sliced and served with dips such as nut butter, chocolate, or caramel. The fruits have a firm, crisp consistency allowing them to add crunch to sandwiches and texture to cheese boards. In addition to fresh preparations, Spartan apples are commonly cooked into apple sauce. The fruits are combined with other varieties to create a dynamic flavor, and the sauce is served as an accompaniment to meat and other main dishes. Try simmering Spartan apples to make flavorful jams, jellies, and syrups. Spartan apples hold their shape well and can be incorporated into pies, cakes, crisps, tarts, and turnovers. The variety's sweet taste also complements savory recipes such as fritters, soups, adding to stuffing and cooking into chutney. Beyond culinary recipes, Spartan apples are favored for juicing and are mixed into ciders, fruit punches, smoothies, and cocktails. Spartan apples pair well with cheeses like blue, parmesan, and gruyere, parsnips, potatoes, meats such as pork, poultry, and turkey, and herbs such as mint, basil, and rosemary. Whole, unwashed Spartan apples will keep for several weeks when stored in a cool, dry, and dark place, such as the refrigerator's crisper drawer. In cold storage, the apples can keep for three months or longer.
Ethnic/Cultural Info
The history of the Pacific Agri-Food Research Centre in Summerland can be traced to the Dominion Experimental Farm System, which was established in Canada in 1886. The Dominion of Canada was the country's formal title during this time, a name given in 1867, and Dominion was later applied to these research farms as there were appointed leaders at each site to oversee the work being completed. The Dominion Experimental Farm System was a complex organization rooted in the advancement of the agricultural industry throughout Canada. The program was officially launched in the spring of 1886, and approximately two years later, five experimental farms were constructed in Ottawa, Nova Scotia, Manitoba, the Northwest Territory, and British Columbia. Several years later, the program was expanded again, and the Dominion Experimental Farm-Summerland, also known as the Dominion Experimental Station, was created in 1914 in the Okanagan Valley of British Columbia. The experimental station focused primarily on fruit growing, and in the 1920s and 1930s, the station released Spartan apples as its first variety. The station also became famous for introducing other fruit varieties, including Van cherries, which are cultivated worldwide. In 1959, the Dominion Experimental Station-Summerland was renamed the Summerland Research Station, and in 1996, it was combined with another research center in Agassiz to form the Pacific Agri-Food Research Centre.
Geography/History
Spartan apples are native to Canada and were developed at the Dominion Experimental Station, now a part of the Pacific Agri-Food Research Centre in Summerland, British Columbia. Before their release in the 1930s, apples were only introduced to the region less than a century ago. Apples were introduced into the Okanagan Valley in 1859. Father Pandosy, a priest who settled in the valley to establish a Catholic mission, planted a few apple trees to supply food for use at the mission. Other settlers of the valley primarily started as cattle ranchers, but over time as the railway was introduced to the region in 1892, families began switching to apple cultivation. Twenty-two years later, the Dominion Experimental Station-Summerland was established, and the Spartan apple was their first commercial release in 1936. Spartan apples were developed by the breeder and director of the experimental station Dr. R.C. Palmer. The seedling arose from a series of test crosses to create an apple cultivar with improved flavor and extended storage capabilities. Spartan apples are believed to have McIntosh apples in their parentage, but the other parent variety is unknown. After their release in the late 1930s, Spartan apples were well-received in British Columbia and have remained the third most-grown apple in the Okanagan Valley into the modern day. The original Spartan tree is no longer in existence, but Spartan apples have become an international symbol of the success of the breeding programs in Canada. Today Spartan apples have faded from commercial production due to the influx of improved modern varieties and have become specialty apples grown in home gardens. When in season, the variety is occasionally sold directly from growers or offered through farmer's markets. Outside of Canada, Spartan apples can be found in the Pacific Northwest and California in the United States and are also grown in Poland, Switzerland, and the United Kingdom.
Recipe Ideas
Recipes that include Spartan Apples. One

is easiest, three is harder.