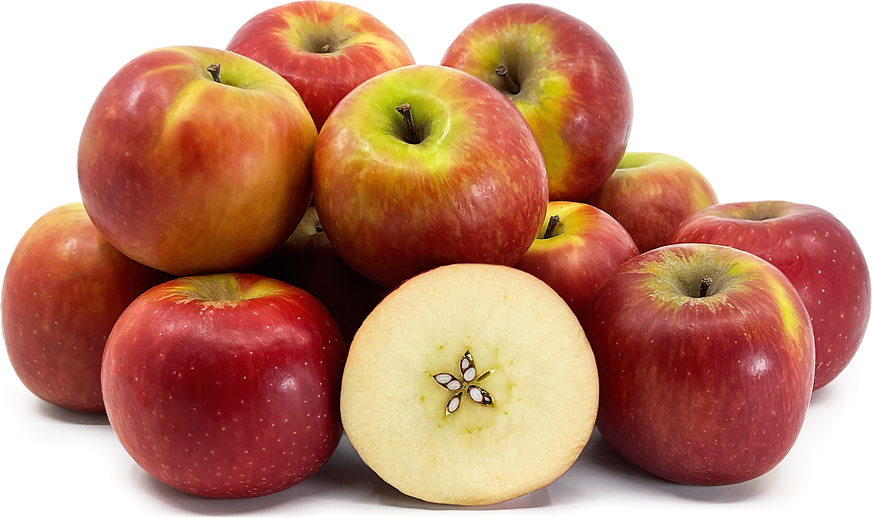 Sundowner® Apples
Inventory, lb : 0
Description/Taste
Sundowner® apples are a small to medium-sized varietal that have a round, conical, to oblong shape with an open basin, flat shoulders, and a slender, brown-green stem. Inside the open basin, there are small patches of russet surrounding the stem, and the russet may extend onto the apple's shoulders, creating a lightly textured patch. The apple's skin has a yellow-green base, covered in spots of dark to light red blushing and striping, giving the fruits a bi-colored appearance. The surface is also dotted with large white lenticels and has a smooth and glossy texture, sometimes coated in a thin layer of wax. Underneath the surface, Sundowner apples® have a pale yellow to ivory flesh lightly tinged with green and a dense, aqueous, and firm nature with a crisp and chewy consistency. The flesh also encases a small central fibrous core filled with tiny, black-brown seeds. Sundowner® apples are aromatic and have a robust sweet-tart flavor. The apples contain high acidity mixed with sugar, averaging 12 to 15 Brix, creating a balanced, tangy, and sugar-like taste with spiced honey and berry nuances. It is important to note that Sundowner® apples may be more tart when first harvested. The apple's flavor will mellow with storage and develops a milder, sweet, and fruity taste.
Seasons/Availability
Sundowner® apples are generally available in the late fall through early winter. The apples are cultivated in both hemispheres, providing year-round availability in some markets.
Current Facts
Sundowner® apples, botanically classified as Malus domestica, are a late-season variety belonging to the Rosaceae family. The sweet-tart apples were developed in the late 20th century by famous apple breeder John Cripps and were created from a cross between golden delicious and lady williams apples. Sundowner® apples were among the first fruits released from the newly established apple breeding program in Western Australia, along with Pink Lady® apples. The apples were selected for their low chill requirements, growing well in warm climates with long, hot summers and small tree size, averaging between 3 to 5 meters in height. Sundowner® apples are also known as Cripps Red, named after their breeder John Cripps, and Cripps II, and Joya®. Both Sundowner® and Joya® are commercial marketing names given to the apples to increase consumer appeal. In the modern-day, most apple enthusiasts enjoy eating Sundowner® apples fresh as a dessert variety, but the cultivar holds its shape well, leading more chefs and home cooks to incorporate the apple into savory sauces, purees, and desserts.
Nutritional Value
Sundowner® apples are a good source of antioxidants to protect the cells against free radical damage and fiber to regulate the digestive tract. The apples also provide potassium to balance fluid levels within the body, vitamins such as vitamin C to strengthen the immune system, vitamin A to maintain healthy organ functioning, and vitamin E to reduce inflammation, and other amounts of zinc, calcium, copper, iron, phosphorus, and magnesium.
Applications
Sundowner® apples are a multi-purpose variety utilized in fresh and cooked preparations. When raw, Sundowner® apples are popularly consumed straight, out of hand, to enjoy their sweet and tangy flavor, or they can be chopped into salads, diced into salsa, shredded into slaws, or mixed into fruit and grain bowls. The apple's crisp nature also contributes added texture to sandwiches, parfaits, toast, and lettuce wraps, or they can be candied whole, sliced and dipped in chocolate, or blended into smoothies. In addition to fresh preparations, Sundowner® apples hold their shape well when cooked and can be baked into tarts, pies, muffins, cakes, cobblers, and crisps. The apples can also be pureed into a flavorful sauce and used to fill turnovers, doughnuts, and cinnamon rolls, prepared with spices as a side dish for roasted meats, or simmered into jellies, jams, and preserves. Sundowner® apples can be diced and sauteed into a caramel and honey sauce to spoon over pancakes and ice cream, stuffed with dried fruits and nuts and baked whole, shredded and fried into fritters, or minced and used as the filling for dumplings and gyoza. Sundowner® apples pair well with spices such as cinnamon, nutmeg, and cloves, nuts including pecans, walnuts, and almonds, cheeses such as goat, brie, and cheddar, meats including beef, poultry, and pork, and dried fruits such as dates, raisins, cherries, and cranberries. Whole, unwashed Sundowner® apples will last 3 to 6 months when kept in professional cold storage. They will also keep for several weeks in the refrigerator's crisper drawer.
Ethnic/Cultural Info
Sundowner® apples are a sibling variety to the famous Pink Lady® apples. Both varieties were bred in Western Australia by John Cripps and share identical parent apples, golden delicious and lady williams. John Cripps was an English professor and horticulturist who relocated to Perth, Australia, in 1955 to work for the Western Australia Department of Agriculture. When Cripps first began his job in Australia, his primary assignment was to improve commercial grapevine rootstocks. Cripps was also allowed to crossbreed apple varieties as a secondary focus, and after several years of breeding new apples, he developed Sundowner® apples and Pink Lady® apples. The name Sundower® and Pink Lady® are marketing labels used for commercial purposes, but the varieties were initially known as Cripps Red and Cripps Pink, named after their breeder and the apple's blush coloring. Pink Lady® apples went on to become one of the most widely grown varieties in Australia and achieved commercial success worldwide, and both Cripps apples are cultivated in home gardens throughout Western Australia. In 2010, John Cripps was inducted into the Agricultural Society of Western Australia's Hall of Fame for his apple breeding research and contributions to kickstarting breeding programs in Western Australia.
Geography/History
Sundowner® apples were developed in the 1970s by horticulturist John Cripps at the Stoneville Research Station in Western Australia. Cripps was working for the Western Australia Department of Agriculture when he created the new apple, and the variety was developed from a cross between lady williams and golden delicious apples. The new apple variety was initially known as Cripps Red apples and was later given the marketing name of Sundowner® apples. In 1989, Sundowner® apples were selected for cultivation at the Manjimup Horticultural Research Center in Western Australia and were one of the first cultivars released commercially from the breeding program. Sundowner® apples were highly favored for their low chill requirements, allowing the variety to be grown in warm regions with long summers and somewhat mild winters. In 2012, Sundowner® apples were planted in South Africa and were eventually sold in Europe in 2012 under the marketing of Joya® apples. Today Sundowner® apples are grown in regions worldwide with a long growing season and are mainly produced in Australia, South Africa, South America, Europe, and North America. When in season, the fruits are sold through local markets and distributors. Sundowner® apples are also planted as a home garden variety in Australia and regions of the United States, including some desert areas such as Phoenix or Las Vegas.
Recipe Ideas
Recipes that include Sundowner® Apples. One

is easiest, three is harder.