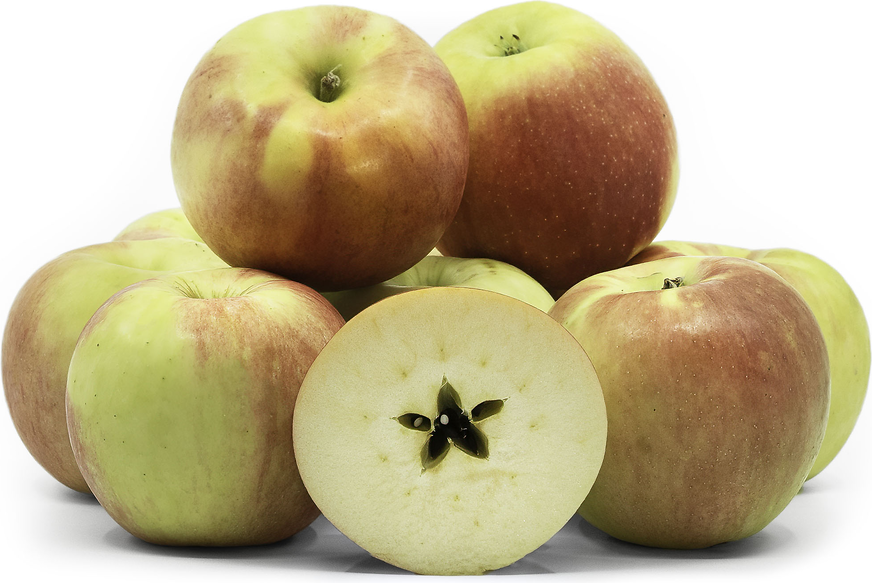 Zestar!® Apples
Inventory, 40 lbs : 0
Description/Taste
Zestar!® apples are medium to large varietal, averaging 7 to 8 centimeters in diameter, and have a round to conical shape with flat, sometimes slanted shoulders tapering to a narrow base. The apple's stem is characteristically thin, short, and fibrous, connected to the fruit through a shallow, often russeted stem cavity. The skin is semi-thick, smooth, taut, and waxy, bruising easily if damaged, bumped, or hit. The surface also showcases a yellow-green hue when ripe, covered in large patches or red-orange blush. The blush can be faded, vibrant, solid, or striped, often covering 60 to 85% of the fruit's surface. The skin is also enveloped in tan to green lenticels and the occasional dusty bloom. Underneath the surface, the white to ivory flesh browns quickly and has a fine-grained, aqueous, succulent texture with a light, crisp consistency. The flesh also encases a medium-sized central fibrous core filled with tiny black-brown seeds that are inedible and should be discarded. Zestar!® apples can be consumed ripe or cooked and have a sprightly sweet-tart flavor with subtle notes of spice, fruits, and brown sugar.
Seasons/Availability
Zestar!® apples are available in late summer through mid-fall.
Current Facts
Zestar!® apples, botanically classified as Malus domestica, are an American variety belonging to the Rutaceae family. The sprightly apples were developed through the University of Minnesota in the late 20th century and were bred to be an early-ripening cultivar with improved flavoring and coloring. Since their release, growers favor Zestar!® apples for their productive nature, cold hardiness, moderate disease resistance, sweet-tart flavor, and bi-coloring. The variety also exhibits extended storage capabilities, an unusual trait among early-season apples. Zestar!® apples are an all-purpose apple commercially cultivated throughout the United States and Canada. The variety is also known as Minnewashta, Flavar, and Zesta and is selected in retail markets for fresh eating and cooking purposes.
Nutritional Value
Zestar!® apples are a source of fiber to regulate the digestive tract, vitamin A to maintain healthy organs, potassium to balance fluid levels within the body, and calcium to protect bones and teeth. The apples also provide vitamin C to boost the immune system, vitamin E to reduce inflammation, iron to develop the protein hemoglobin for oxygen transport through the bloodstream, and other nutrients, including magnesium, boron, zinc, copper, and vitamin K. The vibrant red hues within the skin indicate the presence of anthocyanins, pigmented compounds with antioxidant-like properties to protect the cells against the damage and oxidative stress caused by free radicals.
Applications
Zestar!® apples have a refreshing, sweet-tart taste suited for raw and cooked preparations. The variety is popularly consumed out of hand as a fresh-eating apple, and it is often used raw as it arrives early in the season. Zestar!® apples can also be sliced into salads, served over toast, eaten with cheeses on appetizer platters, or chopped as a fresh topping over oatmeal, parfaits, and other breakfast dishes. It is important to note that the variety oxidizes relatively quickly, leading the flesh to turn brown after exposure to the air. Tossing slices in lemon juice will help slow the oxidization. The apples can also be blended into smoothies, shakes, and fruit juices. In addition to fresh preparations, Zestar!® apples can be simmered into jellies, jams, and syrups, served with caramel or nut butter, or combined into pies, cakes, muffins, and bread. They can also be cooked into applesauce and served as a side dish or accompaniment to roasted meat dishes. Zestar!® apples pair well with cheeses such as cheddar, Roquefort cheese, parmesan, and brie, nuts including walnuts, almonds, and pine, spices such as cloves, nutmeg, ginger, and cinnamon, and herbs including parsley, mint, thyme, and rosemary. Whole, unwashed Zestar!® apples will keep for 6 to 8 weeks when stored in a cool, dry, and dark place such as a cellar or refrigerator's crisper drawer.
Ethnic/Cultural Info
Zestar!® apples earned their trademarked moniker from the apple's sprightly taste. It has been said that when deciding what the apple's brand name should be, staff at the University of Minnesota sought to create a name that would intrigue and entice consumers. The team responsible for Zestar!® initially came up with Zesta as a descriptor to highlight the apple's "zesty" flavor, but unfortunately, they were unable to use the name due to a saltine cracker under the same name owned by Keebler Foods. The name was eventually changed to Zestar!® and was selected as the apple's leading brand name to distinguish the variety from other commercial apples. Zestar!® apples are also known under the name Minnewashta. The name Minnewashta is derived from two words from the Dakota language, a Siouan language spoken by the Dakota people based in Minnesota and the American Midwest. "Minne" translates from the Dakota language to mean "water," and "washta" means "good." Minnewhasta is also the name of a lake and region in Minnesota, settled in the mid-19th century. While less common, Zestar!® apples are occasionally sold in Europe under the name Flavar.
Geography/History
Zestar!® apples are native to the United States and were developed through the University of Minnesota's apple breeding program. The program was established in 1878 and has created and released over twenty-nine apple varieties. Zestar!® apples were created from a cross between State Fair apples and MN 1691 apples in 1972. The cross was performed at the University of Minnesota Horticultural Research Center in Carver County near Excelsior, Minnesota, and seedlings from this cross were planted in 1974. The seedlings were allowed to fruit, and after extensive trials, evaluations, and studies, the program eventually selected a new variety under the name MN 1824 in 1986. MN 1824 was chosen as a new cultivar to fill a market apple gap in the early season. The apples were also selected for their extended storage life, sweet-tart flavor, and light, crisp texture. MN 1824 apples were named Minnewhasta apples, and a United States Plant Patent application was filed for the variety in 1997, later granted in 2000 under USPP 11367P. This patent has since expired in 2017. Minnewhasta apples were officially released in 1999 and were given a trademarked brand name, Zestar!®, to attract consumer attention. Today, Zestar!® apples are a commercial early-season apple grown in the United States, specifically in cooler regions of the Midwest, Canada, and Europe. Outside of the United States, growers are required to obtain a license to cultivate the variety. When in season, Zestar!® apples can be found through select growers, grocers, and distributors.
Recipe Ideas
Recipes that include Zestar!® Apples. One

is easiest, three is harder.