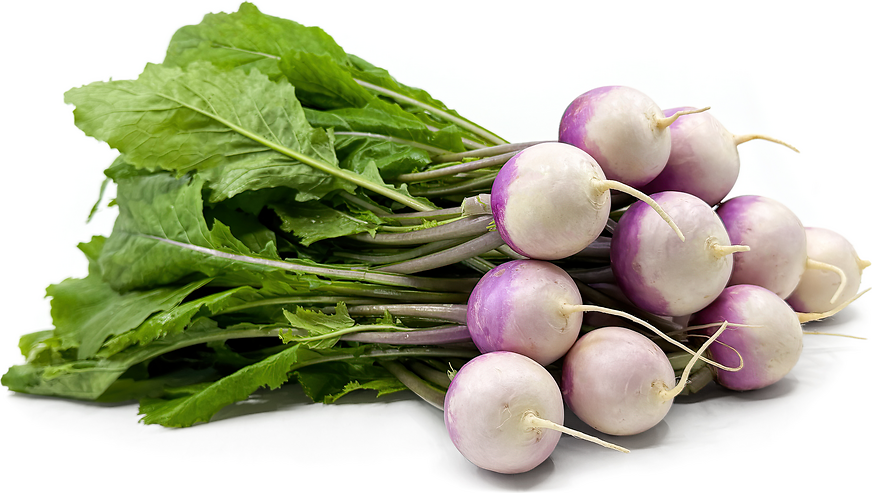 Turnips Ayame Yuki
Inventory, lb : 0
Description/Taste
Ayame Yuki turnips are a small varietal, averaging 5 to 7 centimeters in diameter, and have a uniform, round to slightly oval shape with one prominent taproot extending from the base of the turnip. The variety can also be harvested as a baby turnip, picked when the roots are less than 2 centimeters in diameter. The turnip's flesh is smooth, firm, taut, and semi-thin, showcasing vibrant red-purple, purple, to violet shoulders with a white base. The amount of gradient coloring will vary on each turnip, depending on its exposure to sunlight, creating the pigmented hues. Underneath the surface, the white flesh is solid, dense, and fine-grained with a crisp, succulent, and snappy but tender consistency. Select Ayame Yuki turnips that are plump, fresh, and feel heavy for their size. The turnips are also often sold with long, leafy green attached, and these tops should appear fresh without any trace of wilting. Ayame Yuki turnips and greens are edible raw or cooked. The roots have a mild, peppery, sweet, and subtly bitter flavor when raw, developing nutty, earthy, rich, and sweet notes once cooked. The green tops have a vegetal, peppery, and grassy taste.
Seasons/Availability
Ayame Yuki turnips are available in the late fall through winter, with a peak season in December through January. In some regions of Japan, the variety can be grown in home gardens almost year-round.
Current Facts
Ayame Yuki turnips, botanically classified as Brassica rapa, are a Japanese variety belonging to the Brassicaceae family. The bi-colored turnips are a modern cultivar released in 2006 as an improved turnip for commercial production and home garden cultivation. There are approximately 80 varieties of turnips cultivated in Japan, and Ayame Yuki turnips were developed using traditional and natural crossbreeding techniques to showcase a colorful nature, sweeter flavor, and softer flesh. The variety was chosen specifically for its unique coloring to stand out in commercial markets against common white turnips and for its ability to be consumed raw. Ayame Yuki turnips can be harvested 50 days after sowing in the spring and fall or around 100 days when planted in the winter. Throughout Japan, Ayame Yuki turnips are also known as Ayame Yuki Kabu, Ayame Snow turnips, Ayameyuki, and Ayame Yuki Kabu. Presently in commercial markets, Ayame Yuki turnips are purchased and utilized for everyday fresh and cooked preparations.
Nutritional Value
Ayame Yuki turnips are a source of vitamin C to strengthen the immune system while reducing inflammation, potassium to balance fluid levels within the body, and folate to develop genetic material, including DNA and RNA. Turnips also provide magnesium to control optimal nerve functioning, calcium to build strong bones and teeth, iron to develop the protein hemoglobin for oxygen transport through the bloodstream, and other nutrients, including phosphorus, vitamin E, and vitamin K. The violet-hued shoulders of the roots indicate the presence of anthocyanins, pigmented compounds in the skin that contribute antioxidant-like properties to protect the cells against the damage caused by free radicals. This coloring appears when the root's skin is exposed to sunlight, and ultraviolet light reacts with the anthocyanins to produce purple hues. Ayame Yuki turnips also contain an enzyme known as diastase, which aids in digestion and helps to break down starches.
Applications
Ayame Yuki turnips have a mild, sweet, peppery, and subtly bitter taste suited for fresh and cooked preparations. The variety was bred to have a sweeter and less pungent flavor than other turnip cultivars and is favored for raw applications, where the root's coloring can be showcased. Ayame Yuki turnips can be harvested when young as a baby root or picked at maturity. Baby turnips are generally less than two centimeters in diameter and are often tossed into salads or used as an edible garnish on various dishes. Mature Ayame Yuki turnips can also be chopped into salads, sliced thinly and used to wrap sushi, or cut and added to fresh spring rolls. The turnips can also be pickled in vinegar and served as a condiment. Pickled Ayame Yuki turnips develop a light pink hue and are valued for their sweet, tangy, and peppery taste. Try finely chopping the turnips with fresh herbs and mixing them into softened cream cheese as an appetizer or slicing the roots with apples as a crunchy snack. Ayame Yuki turnips can also be simmered in soups, stir-fried with soy sauce, or sauteed and mixed into rice dishes. It is important to note that the variety's bi-colored nature will be lost in most cooked dishes. Ayame Yuki turnips can also be blanched in dashi to accompany roasted meats. In addition to the roots, Ayame Yuki turnip greens are edible and can be blended into pesto, lightly sauteed as a side, pickled, or added to soups and stews. In Japan, turnip greens are incorporated into the traditional Japanese rice soup, nanakusa gayu, made with seven different herbs known as 'the wild herbs of spring.' The seven herbs include suzuna (turnip), seri (water dropwort), suzushiro (radish), gogyo (cudweed), notokenoza (nipplewort), nazuna (shepherd's purse), and hakobera (chickweed). Nanakusa gayu is customarily served on the 7th of January to allow the stomach to rest after eating rich foods during the holiday celebrations and to pray for good health in the coming year. Whole, unwashed Ayame Yuki turnips will keep for 5 to 7 days when stored in a cool, dry, and dark place. If storing in the refrigerator, place the roots in a bottom drawer to keep them cool. The greens should be separated from the roots, stored in the refrigerator's crisper drawer, and used within 2 to 3 days.
Ethnic/Cultural Info
Ayame Yuki translates from Japanese to mean "Iris snow." The variety received its name from its bi-colored nature, ayame referring to the purple-violet hue on the top of the root, while yuki refers to the snow-white bottom of the turnip. Ayame Yuki was intentionally bred for its gradient coloring, and the team behind the turnip at Sakata Seeds wanted to highlight the variety's unusual coloring in its name. Irises are a symbolic flower in Japan, often representing hope, spring, strength, and happiness in Hanakotoba, the Japanese language of flowers. Ayame is the name of a specific species of Iris grown in Japan, Iris Sanguinea, and these plants are known for their brilliant purple to violet-hued blooms. Yuki, or snow, often symbolizes purity in Japan. Snow is meant to convey the turnip's white hue and evokes a feeling that the turnip has a crisp, clean, and pure nature.
Geography/History
Ayame Yuki turnips were developed and released by Sakata Seeds in Japan. Much of the history of the variety is unknown due to its breeding pedigree being proprietary to the seed company, but Ayame Yuki turnips were officially released to commercial markets in 2006. Ayame Yuki turnips were selected for cultivation for their distinct coloring and were bred to stand out among solid white turnip varieties. Turnips have been grown in Japan since the Yayoi period, spanning 300 BCE to 250 CE, and were carried through Siberia, China, and the Korean Peninsula. Empress Jito, the third female emperor in history, introduced turnips as a crop in rotation with various grains. Despite their ancient introduction, turnips did not become commercially popular in Japan until the 1950s. During this time, the aftermath of World War II caused many villages in Japan to suffer famines, and turnips became a crop valued for their ease of cultivation and extended storage capabilities. Japanese breeders in the late 20th century quickly began creating improved turnips for cultivation, and varieties such as Ayame Yuki represent modern advancements in selective breeding. Today Ayame Yuki turnips are mainly produced in the Kanto region, specifically in the Saitama, Kanagawa, Ibaraki, and Chiba prefectures, and are also planted in the Aomori Prefecture. When harvested, Ayame Yuki turnips are sold through select grocers, fresh markets, and at roadside stands throughout Japan.
Recipe Ideas
Recipes that include Turnips Ayame Yuki. One

is easiest, three is harder.