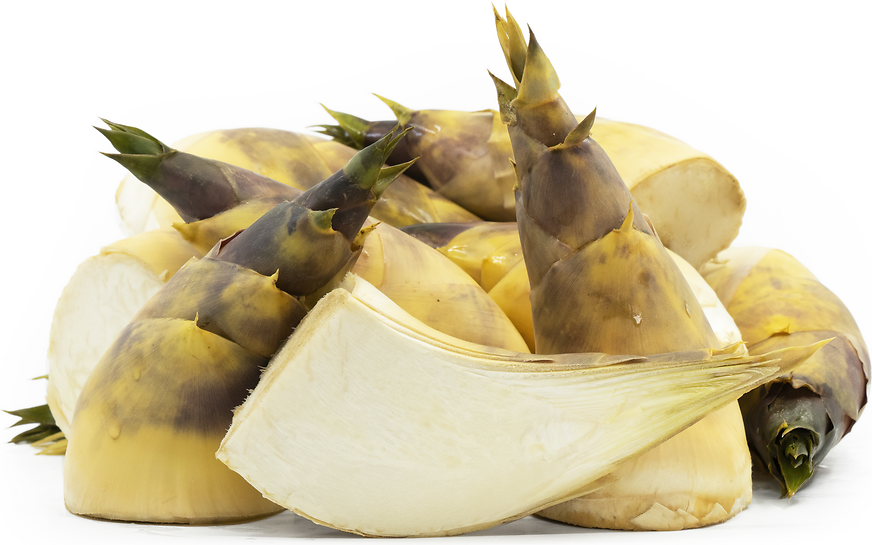 Fresh Bamboo Shoots
Inventory, lb : 1.00
This item was last sold on : 10/19/23
Description/Taste
Fresh Bamboo shoots are generally small to medium in size, averaging 2 to 18 centimeters in diameter, and have a triangular, stubby shape with a broad base tapering to a pointed top. The size of the shoot will vary depending on the age it was harvested, and generally, young shoots are considered the best for culinary use. Each Bamboo shoot is covered in overlapping, tough fibrous layers, ranging in color from green, tan, to dark brown with a matte or glossy finish. The more the shoot is exposed to the sun, the darker the exterior will become and the more bitter the flavor. Fresh Bamboo shoots must be peeled to reveal their edible core. The core showcases shades of ivory to white and has a woody, chewy, and moist consistency when raw, often deemed too tough to digest. Fresh Bamboo shoots are typically parboiled before they are consumed to develop a softer but still crunchy consistency. Select thick and short Bamboo shoots, as they are said to have a better flavor than thin shoots. The shoots should feel heavy for their size and bear yellow tips. Green tips are an indication that the shoots have been exposed to the sun, which creates a harsher flavor. Fresh Bamboo shoots are naturally bitter and difficult to digest when raw. Once parboiled or prepared in various cooked culinary dishes, the shoots develop a mild and sweet taste reminiscent of baby corn.
Seasons/Availability
Fresh Bamboo shoots are available in the late winter through fall. In Japan, fresh shoots will arrive at different times throughout the season, depending on the growing region and the variety of bamboo being cultivated.
Current Facts
Fresh Bamboo Shoots, botanically a part of the Poaceae family, are a culinary delicacy harvested for a limited season. The shoots are harvested young, approximately two weeks old, and emerge from the Earth growing from an underground rhizome. There are many varieties of edible bamboo grown worldwide, and Fresh Bamboo shoots are most commonly used in cooked dishes throughout Asia. Not all varieties of Bamboo are edible, but some of the most popular cultivars in Asia include Meng Zong, Madake, Kanzanchiku, Green Bamboo, Moso, Nemgaritake, and Hachiku. Fresh Bamboo shoots are typically sold in local markets and must be purchased and prepared immediately for the best quality and flavor. The crunchy, slightly chewy, and mildly sweet shoots are favored for a wide array of cooked preparations and are a seasonal delicacy, only able to be consumed fresh for a short season each year. Bamboo shoots are also sold dried and canned when fresh shoots are not in season.
Nutritional Value
Fresh Bamboo shoots are a source of potassium to balance fluid levels within the body, fiber to regulate the digestive tract, calcium to build strong bones and teeth, and vitamin C to strengthen the immune system. The shoots also provide iron to develop the protein hemoglobin for oxygen transport through the bloodstream, magnesium to control nerve functioning, and other nutrients, including phosphorus, vitamins E and K, iron, folate, manganese, amino acids, and B vitamins. In addition to vitamins and minerals, Bamboo is said to contain antiseptic and antibacterial properties. Bamboo skin is used to wrap rice balls as a food preservation method.
Applications
Fresh Bamboo shoots have a mild and sweet taste suited for cooked preparations. The shoots have a tough, woody, and bitter flavor when raw, but once parboiled or cooked, they develop a tender, crunchy, and succulent consistency with a sweeter taste. Before cooking, Bamboo shoots must be peeled, discarding the outer layers, and trimmed of fibrous edges. Once peeled, the shoot's core can be parboiled to reduce bitterness. The longer the shoot is uncooked after harvest, the more bitter it will become. Fresh Bamboo shoots can be boiled and added to stir-fries, cooked into meat main dishes, or thinly sliced and consumed like sashimi with wasabi and soy sauce. The shoots can also be simmered in soy sauce, served with sake, shredded as an edible garnish over salads and noodles, or incorporated into soups and stews. In Japan, boiled, dried, sliced, and fermented Bamboo shoots are famously added to ramen dishes and are known as menma. The shoots can also be cooked into rice-based dishes, grilled over charcoal for a smokey taste, fried into tempura, or added to noodle dishes. Beyond fresh culinary preparations, Bamboo shoots can be fermented or pickled as a condiment. Fresh Bamboo shoots pair well with brown sugar, soy sauce, chili sauces, sesame oil, mushrooms, carrots, bell peppers, broccoli, dried bonito flakes, and meats such as pork, poultry, and beef. Bamboo shoots have a short shelf life and should be immediately consumed after harvest for the best quality and flavor. The shoots will develop a bitter taste the longer they are stored fresh. It is recommended to parboil the shoots and store them in water for two weeks in the fridge. The water should be changed daily to keep the shoots hygienic. Bamboo shoots can also be stored for several weeks in the freezer.
Ethnic/Cultural Info
Fresh Bamboo shoots are known as Takenoko in Japan and are revered as a symbol of spring. When in season, the Bamboo shoots burst from the ground and grow quickly, only making them edible for a few days to weeks. Bamboo shoots are seen as a lucky food, and the young shoots have been referenced throughout history in haikus, linguistic sayings, paintings, and literature. A few of the more used phrases involving Bamboo shoots include: "Takenoko no oyamasari," meaning the "child has become better than their parents." This phrase is used to describe children who grow fast, a characteristic shared with Fresh Bamboo. Another phrase references "Bamboo shoots in the snow." This saying embodies that something is hard to get and dates back to the Three Kingdoms period in China. In the town of Nagara in the Chiba Prefecture, there is an annual Takenoko Festival in mid-April that celebrates the edible shoots. The festival features freshly harvested Bamboo shoots for sale and meals such as miso soup and other Bamboo shoot-filled snacks. In the Kochi prefecture, Tosani, also known as Tosa stew, is a famous regional dish comprised of Fresh Bamboo shoots simmered in a mixture of bonito flakes and a soy sauce-flavored broth.
Geography/History
Bamboo is thought to have originated in China and has been growing wild since ancient times. The plants thrive in tropical, subtropical, to temperate climates and are one of the fastest-growing plants in the world, causing them to quickly spread and naturalize once planted. In the early ages, Bamboo expanded throughout Asia and was mentioned in the Kojiki, one of Japan's oldest written books dating back to the early 8th century. Over time, Bamboo has been introduced worldwide and now grows on at least five continents. There are many species of edible Bamboo, but there are also many species of inedible Bamboo, so caution and research should be done before harvesting shoots in the wild. In most fresh markets, the shoots will generally be labeled rather than listed by their specific varietal name. Today Fresh Bamboo shoots are seasonally sold and are only available in select fresh markets worldwide as a culinary delicacy. In Japan, the shoots are mainly grown in the Fukuoka prefecture, followed by Kagoshima, Kyushu, Kumamoto, and Kyoto. Fresh Bamboo shoots are also harvested and sold throughout China, Taiwan, and regions of Southeast Asia.
Recipe Ideas
Recipes that include Fresh Bamboo Shoots. One

is easiest, three is harder.
the other 2...