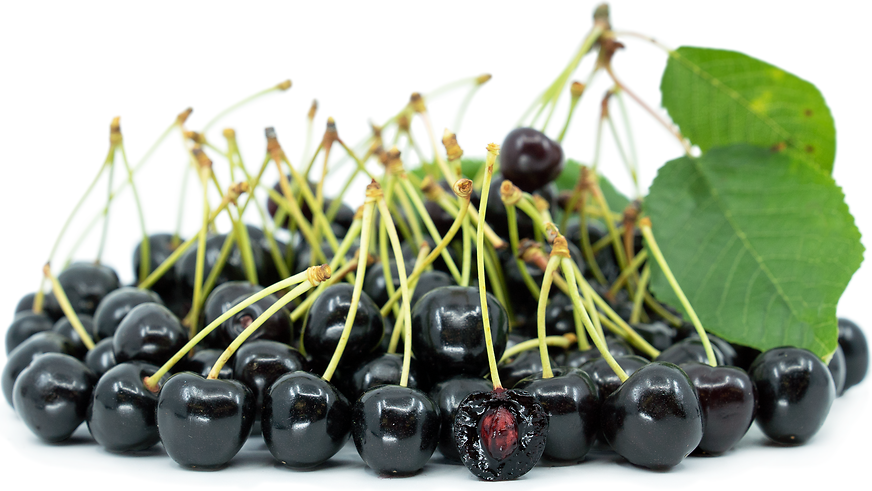 Polstead Black Cherries
Inventory, lb : 0
Description/Taste

Polstead Black cherries are a small varietal, averaging 1.5 to 2 centimeters in diameter, and have an oval to cordate shape with flat shoulders tapering to a round to slightly pointed base. The cherries are attached to slender, fibrous light green stems extending 2.5 to 3 centimeters in length. The fruit's surface is soft to the touch, thin, glossy, and smooth, showcasing dark purple-red hues, almost appearing black. Underneath the surface, the dark purple flesh is thinner compared to modern cherry varieties and has a sizeable oval to round brown stone. Despite the small amount of flesh, Polstead Black cherries are aqueous, tender, and succulent. The juice is highly pigmented and will stain fabric, skin, and the tongue. Polstead Black cherries have a bright, rich, and distinct sweet-tart flavor with a lingering, tangy sweetness.


Seasons/Availability

Polstead Black cherries are available in the summer, ripening around mid-July.


Current Facts

Polstead Black cherries, botanically classified as Prunus avium, are an ancient variety belonging to the Rosaceae family. The tiny fruits grow on deciduous trees reaching 3 to 6 meters in height and were a prevalent variety in home gardens in southern England from the 15th to 19th centuries. The moniker Polstead was given to the cherries after the village of Polstead in Suffolk, England. The name Polstead means "place of pools," a descriptor of the prominent ponds in the English village. Polstead Black cherries are one of the few cherry varietals in England believed to be closely related to the wild cherry, also known as mazzard-type cherries. The cherries are smaller than the average modern cultivar but were once highly favored for their pigmented, juicy flesh. Polstead Black cherries are a rare variety in the present day and are grown as a novel dessert cherry.


Nutritional Value

Polstead Black cherries are a source of potassium to balance fluid levels within the body, fiber to regulate the digestive tract, and vitamin C to strengthen the immune system. The cherries also provide manganese to build connective tissues, copper to develop red blood cells, and other nutrients, including iron, zinc, magnesium, and calcium. The dark pigments in the skin and flesh signify the presence of anthocyanins, compounds with antioxidant properties to reduce inflammation while protecting cells from free radical damage.


Applications

Polstead Black cherries have a sweet and tangy flavor suited for fresh and cooked preparations. Caution should be taken when handling the cherries as their pigmented juice will stain clothing, fabrics, skin, and the tongue. Polstead Black cherries can be consumed straight out of hand, or they can be sliced and tossed into salads, mixed into fruit bowls, or used as a fresh topping over yogurt and parfaits. The variety can also be incorporated into any recipe calling for sweet cherries but do note that the cherries only have a small amount of flesh, requiring more fruits than the recipe may call for. In addition to consuming the cherries whole, the fruits can be combined into chilled summer soups, infused into syrups and dressings, or pressed into juice and incorporated into cocktails, fruit punches, coolers, and sparkling beverages. Polstead Black cherries can also be baked into cakes, bread pudding, crumbles, crisps, pies, pavlova, and tarts. Try mixing Polstead Black cherries with other sweet varieties to create a cherry clafoutis. The cherry's dark red-purple juice also allows them to be simmered into jams, jellies, and preserves or cooked into sweet-tart sauces for roasted meat. Polstead Black cherries pair well with pistachios, almonds, and pecans, vanilla, brown sugar, chocolate, spices including cinnamon, nutmeg, and cloves, meats such as duck, pork, and beef, and cheeses including blue, brie, mozzarella, and camembert. Whole, unwashed cherries should be immediately consumed for the best quality and flavor. The small fruits are soft and highly perishable, only lasting in the refrigerator for a few days.


Ethnic/Cultural Info

Polstead Black cherries were traditionally used as a textile dye before they were consumed as a dessert variety. Experts believe the Romans introduced cherries and sheep into southern England as a food and fabric source to protect their armies from the seasonal cold weather. Around 409 CE, the Romans withdrew from England, leaving the planted cherry trees and sheep. English landowners took control of the sheep herds and eventually began trading and selling wool, leading to one of the most profitable trades during Medieval Times. By the 15th century, wool was exported to Belgium and Italy and became a commodity often regarded as valuable as a precious metal. As the industry evolved, English weavers began to transform wool into blankets, jackets, and fabrics. Polstead Black cherries contained a pigmented, saturated juice often used as a natural dye. The cherry trees were planted around woolen-based towns and villages, and the variety was also planted in home gardens, used as a coloring in baked goods, desserts, and other recipes. British wool remained one of the top industries in southern England for several generations, but in the 18th and 19th centuries, the Industrial Revolution and the development of wool spinning machinery in the 1840s reduced the need for specific types of wool, leading to an oversaturated market throughout Europe. By the 20th century, the British woolen industry had pretty much disappeared, leading residents to no longer use Polstead Black cherries for fabric dying. The cherry variety transitioned into an obscure dessert variety and was slowly forgotten as newer, fleshier cherries were introduced.


Geography/History

Polstead Black cherries are an ancient variety that was thought to have been introduced into England through the Romans. The Romans would carry preserved cherries as a food source and sow various varieties along their routes to provide trees that would offer seasonal fresh fruits. After their withdrawal from England in the early 5th century, the small black cherry trees were adopted by the English and were named Polstead Black, after the southern England village in Suffolk, England. Polstead Black cherries were widely planted in home gardens in southwestern and southeastern England in the 15th through 19th centuries. In 1815, Polstead Black cherries were listed in nurseryman George Lindley's catalog, and the fruits were seasonally sold in markets in southeastern England in the mid-20th century. Over time, Polstead Black cherries faded from commercial popularity as newer, more modern cultivars were released with a higher flesh-to-pit ratio. Around ninety percent of England's cherry orchards were also lost in the 20th century as international cherry imports offered the fruits at low prices, leading English farmers to shut down their cherry orchards. Today Polstead Black cherries are an unusual variety primarily found in home gardens and preservation orchards in England. The Polstead Black cherries featured in the photograph above were sourced from the National Fruit Collection at Brogdale Farm in Faversham, England.