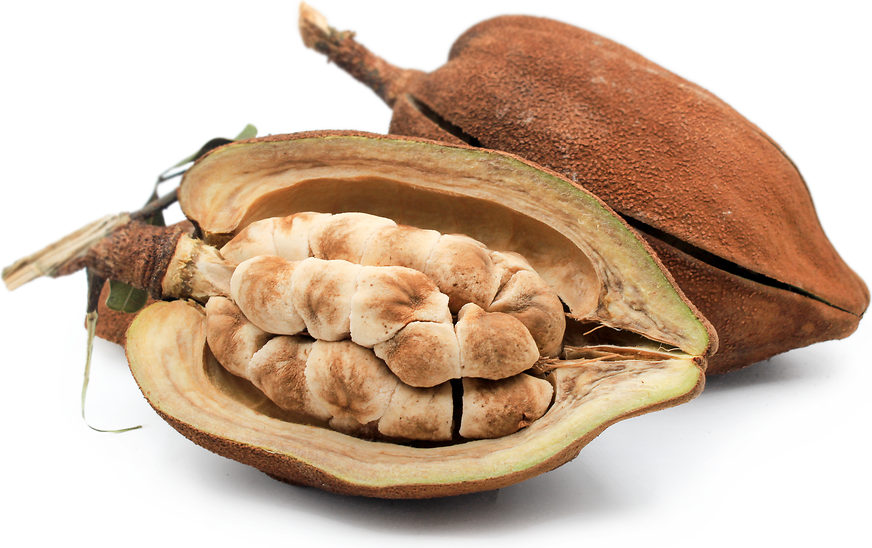 Malabar Chestnuts
Inventory, lb : 0
Description/Taste
Malabar chestnuts are the nuts of a large, woody, football-shaped pod, averaging 5 to 7 centimeters in diameter and 10 to 30 centimeters in length. The pod's exterior is tough, woody, rough, and fibrous, showcasing longitudinal ridges extending the capsule's length. As the pods ripen from green to dark brown, almost black, they swell and split at these longitudinal seams to expel the nuts. Inside the pods, there is a thick protective layer encasing five valves with tightly packed nuts, and each pod generally holds 10 to 25 nuts. The nuts are enveloped in a white, fleshy, and spongy coating that is discarded to reveal a textured, light brown protective layer with faint white stripes. This layer is tightly adhered to the nut and must be peeled before consumption. Underneath the brown coating, the nut is ivory to white, ranging from 1 to 3 centimeters in diameter, and is semi-soft, chewy, and crunchy. Raw Malabar chestnuts have a mild nutty taste reminiscent of peanuts and almonds. When cooked, the nuts develop a crunchier texture and a roasted, sweet, and nutty flavor with macadamia and chestnut undertones.
Seasons/Availability
Malabar chestnuts are available for multiple harvests throughout the year, depending on their growing environment, with peak seasons in the spring through summer.
Current Facts
Malabar chestnuts, botanically classified as Pachira aquatica, are the nuts of an evergreen tree belonging to the Malvaceae family. The species is native to tropical and subtropical regions of Mexico, Central America, and South America and grows upright and spreading, sometimes reaching over 20 meters in height. Outside their native habitat, Pachira aquatica trees generally reach up to 3 meters in height and can also be grown as a potted bonsai tree. Once planted, larger Pachira aquatica trees bear fruit after 5 to 6 years and produce approximately 50 to 80 pods per year. Fruiting only occurs in tropical climates, rarely in temperate zones, and when the pods are ripe, they naturally split open and fall to the ground, expelling the small nuts. Malabar chestnuts are traditionally gathered as a culinary ingredient consumed raw or cooked, but despite their versatility, the nuts are mainly secondary to the trees being used as an ornamental for their glossy leaves, soft bark, and fragrant, showy flowers. The tree is known by regional names worldwide, including Money tree, Money plant, Guiana chestnut, Saba nut, Apompo, Zapote de Agua, Provision tree, Ceibo de Agua, and many others. In the modern day, Pachira aquatica trees are grown as ornamental outdoor landscape trees, or they are planted in pots and sold as an indoor decorative plant. The nuts are primarily gathered from wild or home garden trees and are sometimes sold in fresh markets as a culinary ingredient in Asia, South America, Mexico, and Central America.
Nutritional Value
Malabar chestnuts are a source of fiber to regulate the digestive tract and amino acids, including tryptophan, threonine, and phenylalanine. In South American natural medicines, the nuts are used as an anesthetic, and the oil from the flesh is processed into soaps and cooking oils. The pods are also said to repel sand fleas, the leaves are crushed and used as a topical to soothe skin irritations, and the bark is boiled into a tea to reduce headaches.
Applications
Malabar chestnuts have a sweet and nutty taste suited for fresh or cooked preparations. The easiest way to prepare the nuts is to remove the white porous coating and soak the brown nuts overnight to soften the tough skin. Once soaked, the brown exterior shell can be peeled away to reveal the white, edible nut. Malabar chestnuts can be eaten fresh as a snack, or they can be tossed into grain bowls and salads. The nuts can also be smashed and sprinkled over ice cream, smoothie bowls, and yogurt, or they can be used as a topping on brownies. In addition to raw preparations, Malabar chestnuts develop rich, roasted nuances when cooked. The nuts can be roasted and sprinkled with salt, cooked in a frying pan with coconut oil and salt, or added to stir-fries. The nuts can also be ground into flour and used to bake bread, cookies, and cakes or ground into a powder and mixed into hot water to make a drink. Try substituting Malabar chestnuts for cashews in various recipes. Beyond the nuts, the young leaves and flowers are edible and can be cooked as a vegetable. The leaves and blooms have a green, subtly nutty, and sweet, lettuce-like flavor and are added to stir-fries, curries, salads, and soups. Malabar chestnuts pair well with aromatics such as garlic, ginger, onions, and chile peppers, herbs including cilantro, basil, lemongrass, and coriander, coconut, tomatoes, bell peppers, and peas. Raw Malabar chestnuts will keep for several months when stored in a cool and dark place, but it is recommended to immediately consume the nuts for the best quality and flavor.
Ethnic/Cultural Info
In Asia, Pachira aquatica is commonly known as the Money tree or Braided Money tree. This monetary moniker was given to the tree when news spread of the plant's ability to bring wealth into the home. Legend has it that a Taiwanese farmer discovered the trees growing in his field. The farmer had been struggling financially and was praying for help, so when he discovered the trees, he was certain they were a gift from above. The farmer began cultivating the trees and braiding their trunks into an attractive, intertwined design, and the unusual-looking trees became widely popular across Asia, allowing the farmer to become prosperous from his sales. While the legend of the Money tree has been proven to be more whimsical folklore than fact, Pachira aquatica was thought to have been introduced to Asian markets around 1986 when a Taiwanese grower planted five small trees in a pot and braided their trunks. The braided trees quickly became an in-demand houseplant in Japan, and their popularity spread throughout East Asia as a symbol of good fortune, success, and wealth. The trees are mostly grown as bonsai trees and are placed in an area with indirect sunlight, used to decorate living rooms, offices, and business storefronts, traditionally by a cash register. The small trees are also decorated with ribbons and decorations to enhance their prosperity. According to Fen Shui masters, the braided trunk is a visual representation of balanced Yin and Yang energies, and the leaves grow in groupings of five, symbolizing the elements of earth, water, wood, metal, and fire. The five elements are believed to attract positive energy, and trees that are taken care of will bring continued luck and success to their owner.
Geography/History
Malabar chestnuts are the nuts of the Pachira aquatica tree, a species native from southern Mexico to South America, where it has been growing wild since ancient times. The tree thrives in tropical to subtropical regions and was originally found in swampy areas, marshes, lowland rainforests, and flood plains in Mexico, Central America, and northern Brazil. In fact, the species' scientific name, Pachira aquatica, was given to the species to highlight the tree's tendency towards the water. Malabar chestnuts remained primarily localized to the Americas until the late 20th century when the species was introduced to Asia. Experts believe the species was first planted in Taiwan and was slowly spread throughout East Asia and Southeast Asia as an ornamental. Today Pachira aquatica trees are found in tropical to subtropical regions worldwide and are cultivated mostly as a landscape species. The trees can also be kept small and grown in some temperate climates as an indoor houseplant. The nuts are a secondary crop harvested from the ground beneath outdoor trees and are valued as a culinary ingredient and medicinal aid. When in season, Malabar chestnuts are sold through fresh markets, direct from growers, or through select distributors in Asia, Australia, Africa, Central America, South America, Mexico, and the United States.
Recipe Ideas
Recipes that include Malabar Chestnuts. One

is easiest, three is harder.