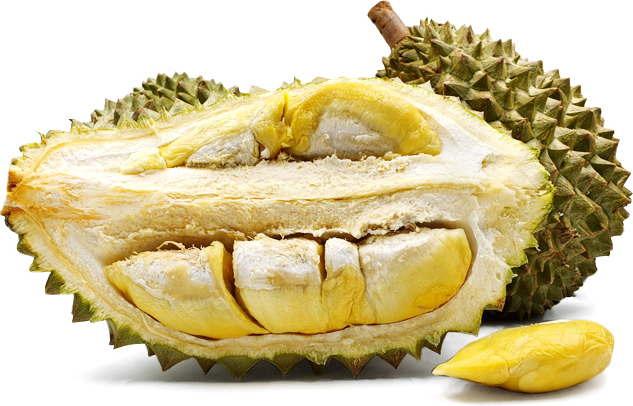 Chanee Durian
Inventory, lb : 0
Description/Taste
Chanee durians are a small to medium-sized varietal, averaging 20 to 25 centimeters in length and 18 to 22 centimeters in width, and have an oval appearance, being broadest in the center and tapering to the tips with a thick, fibrous brown stem. The durians generally weigh 2.8 to 3 kilograms and have a sharp exterior covered in rough, widely spaced, large triangular spines. The spiny husk ranges in color from green, yellow-brown, to grey-brown and encases the flesh in a spongy and dry, white to ivory interior. The flesh is encapsulated in several chambers, and there are 3 to 4 lobes of flesh, also known as arils, in each chamber. The flesh is also bright yellow, sometimes blushed with orange tones, and has a thick, smooth, buttery, and creamy consistency, containing a large seed. Chanee durians sometimes have a strong odor with garlic, sulfur, and onion nuances. The flesh has a sweet, slightly savory flavor and contains pungent, subtly bitter undertones.
Seasons/Availability
Chanee durians are available at different points throughout the year in Thailand. In central, northern, and eastern Thailand, the fruits generally appear in late April through May, while in southern Thailand, the equatorial rainforests produce multiple harvests from July through January.
Current Facts
Chanee durians, botanically classified as Durio zibethibus, are a Thai variety belonging to the Malvaceae family. The name Chanee translates from Thai to mean "gibbon" or "monkey," and the variety is a part of the Luang group, one of five families of durians in Thailand. There are approximately ten varieties of durian classified within the Luang grouping, and this classification system was created in Thailand to categorize the 234 varieties of Thai durians into smaller groups with similar characteristics. Chanee durians are one of the most cultivated varieties in Thailand and are favored by locals and durian enthusiasts for their sweet, subtly bitter flavor. They are also a common variety found in markets in Singapore and Malaysia, as the variety often appears in the off-season, providing retailers an extended fresh durian season. Chanee durians are an early cultivar, ready for harvest around 90 to 100 days. When in season, Chanee durians are widely available and are traditionally consumed fresh to appreciate the variety's sweet and bitter flavor.
Nutritional Value
Chanee durians are a source of potassium to balance fluid levels within the body, fiber to regulate the digestive tract, and vitamin C to strengthen the immune system, boost collagen production, and reduce inflammation. The fruits also provide magnesium to regulate blood pressure, vitamin E to protect the cells against free radical damage, manganese to assist with protein digestion, and lower amounts of phosphorus, calcium, iron, copper, and zinc.
Applications
Chanee durians have a sweet, sometimes bitter flavor suited for fresh and cooked preparations. The variety's taste is often varied, depending on maturity and cultivation, and is savored by durian enthusiasts when consumed straight out of hand. Chanee durians can also be eaten when slightly underripe, tossed into salads, sliced and fried into chips, or stirred into soups and curries. In addition to younger Chanee durians, mature fruits are popularly used to flavor desserts, including puff pastries, cakes, puddings, cheesecakes, candies, sticky rice, and ice cream. In Thailand, Chanee durians are made into a sticky, thick, and sweet paste-like candy known as durian guan. It is typical for fresh durians that have not been sold in markets to be made into guan, and the candy is considered a delicacy in many villages in Thailand. Chanee durians pair well with chocolate, vanilla, heavy cream, condensed milk, mint, and fruits like banana, pineapple, mangosteens, coconut, and lychees. Whole, unopened Chanee durians will keep up to 1 to 3 days at room temperature, but the length of time will vary depending on the fruit's maturity when harvested. Once ripe, the fruits should be immediately consumed for the best flavor and texture.
Ethnic/Cultural Info
Chanee durians are the most popular variety grown and sold in the Thai province of Trat. The eastern province borders the Chanthaburi province, a region famous for its durian production, and is situated between the Cambodian border and the Gulf of Thailand. Within Trat, the island of Koh Chang is a popular durian destination as the island is comprised of picturesque beaches and coastal durian orchards. Chanee durians are cultivated on the island and are valued for their sweet, slightly bitter taste. It is also rumored that the island's durians have a unique flavor, attributed to the combination of salty air and rich soil. Koh Chang translates to "elephant island" and earned its pachyderm moniker from the island's shape, rumored to resemble an elephant. Despite its name, elephants were not common on the island until Koh Chang became a popular tourist destination for travelers passing between Thailand and Cambodia. With the influx of tourism, elephant camps were created on the island to attract visitors. Similar to the tourists seeking out the pungent fruits, elephants naturally consume durians in the wild, but the animals tend to eat the durians whole. Elephants on Koh Chang Island are sometimes fed durians as a treat.
Geography/History
Chanee durians are native to Thailand, specifically Thonburi, a region along the western side of the Chao Phraya River near modern-day Bangkok. Experts believe Chanee durians were one of the first commercial durians in Thailand, appearing in records as early as 1687. The variety is also known as D123 and was later introduced and registered by the Malaysian Department of Agriculture in 1971. Today Chanee durians are cultivated across Thailand, including the major-growing regions of Chanthaburi, Chumphon, Rayong, and Nakhon Nayok. The variety is also grown through smaller farms in other regions of Thailand and is cultivated through a few farms in Malaysia. Chanee durians are sold domestically in local markets in Thailand and are exported to neighboring countries such as Singapore, Malaysia, and China.
Recipe Ideas
Recipes that include Chanee Durian. One

is easiest, three is harder.