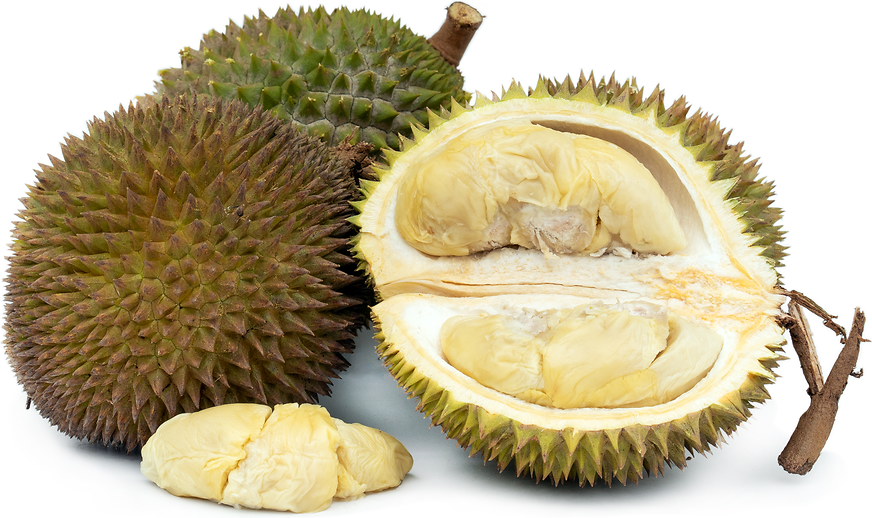 Golden Phoenix Durian
Inventory, ea : 0
Description/Taste

Golden Phoenix durians are a small varietal, averaging no more than 1.5 kilograms in weight, and has a round to oval appearance, sometimes being able to fit in the palm of a hand. The durian's shell is thin, showcasing five seams at the fruit's base, and the stem is dark brown, fibrous, long, and thick. The exterior ranges in color from green to green-brown, depending on the durian's growing environment and is covered in concentrated, pyramidal spines. The spines are very sharp, growing thicker in the middle of the fruit and pointing straight out, while at the top and bottom, the spines become slender and more concentrated, bending toward the stem and base. The thin husk can be broken apart by hand, revealing several chambers of pale yellow to white flesh encased in a spongy-white husk. The flesh lobes are generally smaller, but the seeds inside are flat, brown, and thin, creating a higher flesh ratio despite its petite appearance. The flesh is enveloped in a thin membrane and has a velvety, smooth, soft, and watery consistency. Golden Phoenix durians release a pungent aroma with sweet, onion, and garlic-like undertones. The flesh is known for having a mild but complex flavor, layered with notes of floral sweetness, followed by a slight alcoholic bitterness.


Seasons/Availability

Golden Phoenix durians are generally available during the southwest monsoon season in Malaysia, spanning from May through early August.


Current Facts

Golden Phoenix durians, botanically classified as Durio zibethinus, are a rare Malaysian variety belonging to the Malvaceae family. The small durians are only found growing in select regions of Malaysia and are an older durian variety cultivated for decades on mature trees. Initially, sales of the variety were localized to Johor, but as durians grew in popularity throughout Southeast Asia, the cultivar became a favorite in Singapore, now exported to the country each season. Golden Phoenix durians are also known as D198 and are valued for their sweet, subtly bitter taste and affordability. The variety is not considered the most aesthetically beautiful durian, but the durian's thin husk and thick flesh make it a popular alternative to more expensive, premium varieties. Durian enthusiasts have nicknamed Golden Phoenix durians the "poor man's Mao Shan Wang," as the variety contains a similar complex flavoring to the famous durian without the high price tag. Golden Phoenix durians are available in limited quantities each year and are a favored but uncommon variety, primarily consumed fresh to savor the sweet, floral, and bitter flavor.


Nutritional Value

Golden Phoenix durians are a source of vitamin C to strengthen the immune system while reducing inflammation, fiber to regulate the digestive tract, and vitamin A to maintain healthy organ functioning. The durians also provide calcium to build strong bones and teeth, magnesium to control nerves and muscles, potassium to balance fluid levels within the body, and other nutrients, including manganese, zinc, copper, B vitamins, phosphorus, and iron.


Applications

Golden Phoenix durians have a sweet, floral, and bitter flavor suited for fresh preparations. The variety is customarily consumed straight out of hand, as most consumers purchase the fruit to savor the durian's actual texture and flavor. Golden Phoenix durians have a soft, watery texture and are rarely used in culinary preparations. The durian may sometimes be incorporated into smoothies, shakes, or other creamy beverages, or it can be made into ice cream. Golden Phoenix durians pair well with condensed milk, vanilla, caramel, and fruits such as mango, coconut, jackfruit, and mangosteen. Whole, unopened Golden Phoenix durians should be immediately consumed when ripe for the best quality and flavor.


Ethnic/Cultural Info

Golden Phoenix durians are also known as Jin Feng durians, translating to "Golden Phoenix." Local folklore traces this moniker to the names of the couple who originally grew the variety. Legend has it that the farmer's wife had the Chinese characters that stood for Feng in her name, and the farmer incorporated that into the durian's name as a tribute to his love for her. Despite the variety's Malaysian origins, Golden Phoenix durians are one of the most popular seasonal durians in Singapore. The variety is considered a "pure" durian, meaning it was raised from natural, old trees rather than bred for commercial production. Golden Phoenix durians are favored in Singapore for their thick flesh and bittersweet flavoring. One of the unique features of this variety is the ability to pry open the husk by hand. This variety's petite size also appeals to smaller parties who want to enjoy durian without wasting or eating excessive amounts. In Singapore, it is common for families and friends to visit a local durian stall to share a Golden Phoenix durian. The durians are selected from a pile, cracked open, and artfully arranged in the center of the table to be consumed. Some durian enthusiasts wear plastic gloves to prevent the durian's smell from penetrating their skin, while others enjoy the tangible experience of eating with bare hands. Eating durian is as common as going out to dinner in Singapore. A freshly cut open coconut is also often shared during the experience to provide a cooling reprieve from the heat of the durian.


Geography/History

Golden Phoenix durians are native to Malaysia and are an older durian variety that has been grown for many years. The exact date of origin is unknown, but the variety is primarily localized to Johor, a Malaysian state on the southern tip of the Malay Peninsula. Golden Phoenix durian trees have acquired a reputation of being difficult to grow as the trees were not developed for commercial production. The trees are descendants of wild durian trees and are only produced in small quantities, restricting the amount of Golden Phoenix durians each season. The variety was officially registered by the Malaysian Government in 2013, but the durian is much older than this registration date. Today Golden Phoenix durians are mainly produced in Johor and are sometimes found growing in the Cameron Highlands in Pahang, Malaysia. The durians are sold domestically throughout Malaysia but are mainly exported to Singapore. The Golden Phoenix durians featured in the photograph above were sourced from the Wonderful Durian Shop in the Geylang Serai district of Singapore.