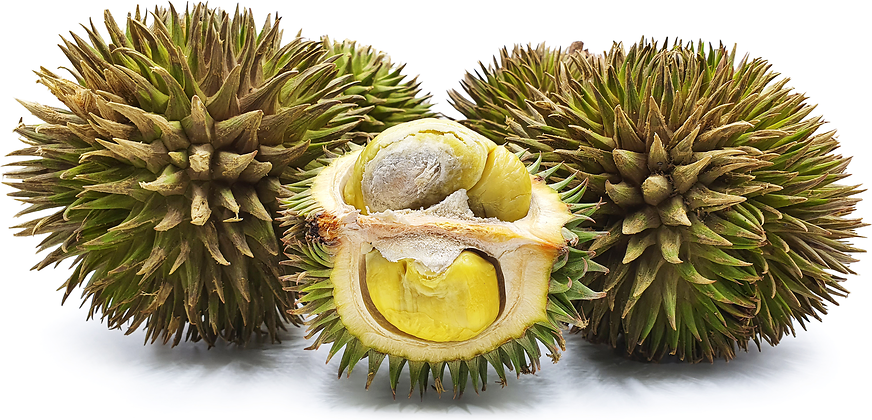 Wild Kerantungan Durain
Inventory, lb : 0
Description/Taste

Kerantungan durians are small fruits, averaging 10 to 18 centimeters in length and 15 to 20 centimeters in diameter, and generally have a round to oval shape. The fruits rarely grow larger than 1 to 2 pounds, and the durian's surface is covered in long and stiff, pyramidal spikes. Each spine showcases variegated hues of green, light brown, to yellow and has a broad, curved appearance with blunt to slightly pointed tips. Underneath the spiky surface, the yellow flesh is encased in four chambers formed by a thick white spongy layer. The four chambers are a distinguishing feature of the wild durians, as cultivated durian varieties traditionally have five chambers. There are 1 to 2 lobes of flesh within each chamber that are typically thinner than other durian varieties, and each lobe contains a brown, ellipsoidal seed. Kerantungan durians have a soft, creamy, and sticky consistency and a nearly odorless flesh, highly favored for lacking the stinky, musky aroma that durian is known for. The flesh is also sweet with sugary and milky undertones mixed with subtly fruity nuances reminiscent of bananas and grapes.


Seasons/Availability

Kerantungan durians are available in the wet season in Malaysia and Indonesia, typically spanning from October through January.


Current Facts

Kerantungan durians, botanically classified as Durio oxleyanus, are a rare wild species belonging to the Malvaceae family. The jungle durians are one of the smaller varieties, often fitting into the palm of a hand, and are found growing wild throughout humid rainforests of Malaysia and Indonesia. Unlike the fruit's petite size, Kerantungan durian trees are one of the tallest within the Durio genus, reaching 40 to 50 meters in height. Kerantungan durians are not commercially cultivated and are challenging to find in local markets. Foragers seasonally harvest the fruits, and once gathered, the durians are frequently sold within a couple of hours of arriving at the market. Kerantungan durians are also known by many regional names, including Kerantongan, Keranatangon, Durian Beludu, Durian Isu, Sukang, Tungen, Surian Daun, Lai Bengong, Yang Luang, and Ladyin Tedak. Throughout Malaysia and Indonesia, Kerantungan durians are consumed among indigenous populations as a food source, while the seeds are used medicinally and the tree's wood as construction material. Recently, the wild species has also attracted attention among traveling durian enthusiasts. The wild durians are prized for their sweet flavor and mild aroma, lacking the musky, pungent scent of cultivated durian varieties, and are primarily consumed fresh.


Nutritional Value

Kerantungan durians are a source of fiber to regulate the digestive tract and potassium to balance fluid levels within the body. The durians also provide some thiamine to convert food into energy, vitamin C to strengthen the immune system, and contain copper, iron, magnesium, folate, and manganese. In natural medicines, the seed is grated and applied topically to wounds, and the bark of the tree is made into an extract and ingested as a method to protect against malaria.


Applications

Kerantungan durians have a sweet flavor that is showcased when consumed fresh, out of hand. The durians are also typically small and only contain four chambers of flesh, making them impractical for use in baked goods and recipes. Kerantungan durians need to be cracked open, and once halved, the flesh lobes can be immediately consumed, discarding the seeds. Durian enthusiasts enjoy eating Kerantungan durians in their natural state to appreciate the rare fruit's flavor and texture, and the durians can be consumed as a snack at any time during the day. While uncommon, Kerantungan durians are sometimes used in home recipes, mixed with coconut milk or shaved ice into a simple dessert, served over sticky rice, or blended into shakes and smoothies. Kerantungan durians should be immediately consumed after harvest for the best quality and flavor. Once opened, the durian flesh can be stored in a sealed container or wrapped in plastic wrap for 1 to 2 days. It can also be frozen for extended use.


Ethnic/Cultural Info

Kerantungan durians are a food source for the critically endangered Sumatran Orangutan, scientifically known as Pongo abelii. In 2015, less than 7,000 Sumatran Orangutans were left in the wild, and the primates live throughout the Gunung Leuser National Park in Sumatra, frequently seen near Ketambe, a remote jungle village in the Aceh Regency. Several scientists have studied the eating habits and diet of the Orangutans and have found that wild Kerantungan durians are consumed as a food source in both their unripe and ripe stages. After opening the spiny durians, Orangutans sometimes consume the seeds or simply throw them to the ground after removing the soft flesh. This cycle of consumption and expelling has contributed to the spread of Kerantungan durian trees throughout the jungles of Sumatra, as the seeds naturally germinate and take root where they are left. In the modern-day, Kerantungan durian trees are scattered throughout Sumatra, and the fruits are gathered from the wild trees for sale in local markets.


Geography/History

Kerantungan durians are native to lowland rainforests and humid, tropical jungles of Borneo, Sumatra, and Peninsular Malaysia. The fruits have been growing wild since ancient times and were first collected on Penang Island off the Eastern Coast of Malaysia. Danish physician Dr. Johann Voight was on a plant collection excursion when he encountered the wild fruit and gathered the first sample of Kerantungan durians in Penang. Dr. Voight later sent the sample to fellow physician Dr. Thomas Oxley in Singapore but died soon after in 1843. Dr. Oxley then sent the durian to English Botanist William Griffith in 1844, who studied the durians and named the species Durio oxleyanus. Durio is derived from the Malay word "duri," meaning "thorn," and "oxleyanus" is Latin for "concerning Oxley," named in honor of Dr. Thomas Oxley. Today Kerantungan durians thrive in flooded or wet lowlands and have remained localized to their native growing regions. Despite their favor among indigenous populations, many trees have been destroyed due to increased deforestation, causing the fruits to become a rare species. The wild durians are not commercially cultivated, and when in season, the fruits are gathered from the jungles for sale in fresh markets. Kerantungan durians are found in Sumatra, Peninsular Malaysia, and Borneo, including Kalimantan, Sabah, and Sarawak.