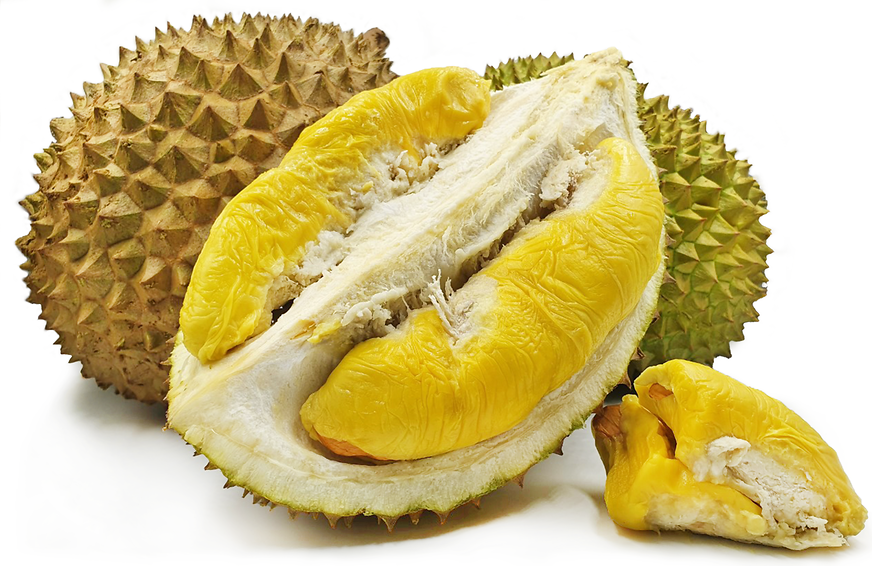 Musang King Durian
Inventory, lb : 0
Description/Taste
Musang King durians are medium to large fruits, averaging 2 to 4 kilograms, and generally have an oval to slightly lopsided shape with a long stem. The surface is covered in large, pyramidal spikes that are wide and spaced apart, and the spikes range in variegated hues of yellow, brown, tan, to green. Musang King durians also have visible, vertical seams connecting a flat crown surrounding the stem to a distinct five-point, brown star on the bottom of the fruit. The spikes typically point away from the seams, and the star, seams, and angular spikes are distinguishing features of the variety as Musang King is often counterfeited. Underneath the surface, the husk can be cut and torn open to reveal a white, spongy interior, encasing multiple thick lobes of flesh in chambers. Each bright yellow lobe has a wrinkled appearance with a semi-firm skin, containing a soft, creamy, dense, and smooth, paste-like consistency. Within the flesh, there are also narrow and flat, small red-brown seeds. Musang King durians have a sulfuric-sweet scent, considered less pungent than other durian varieties, and a rich, candy-sweet flavor with hints of ginger, tropical fruits, and garlic.
Seasons/Availability
Musang King durians are available during the southwest monsoon season in Malaysia, with a peak harvest from June through August. It is important to note that the availability and season will annually change depending on the weather.
Current Facts
Musang King durians, botanically classified as Durio ziberthinus, are a famous Malaysian variety belonging to the Malvaceae family. The sweet, subtly bitter fruits were developed in the 20th century and are highly favored for their unusual, golden yellow flesh and creamy, silky consistency. Musang King durians are also known as D197, Rajah Kunyit, and Mao Shan Wang in China and are one of the top exported varieties worldwide. In 1993, the Malaysian Ministry of Agriculture began documenting durian cultivars throughout the country and deemed 13 varieties suitable for commercial cultivation, including Musang King durians. Despite the ministry's official approval, many commercial durian varieties were only sold domestically and were unable to compete with Thailand's booming durian export market. In 2010, Musang King durians were purchased by a few wealthy Chinese businessmen and were heavily promoted throughout China, sparking widespread demand for the yellow-fleshed fruits. Musang King quickly became the dominant cultivar in Malaysia, and in the modern-day, the fruits are exported in mass quantities to China. Musang King is also one of the most expensive varieties due to its limited availability and increasing demand. Musang King durians are favored for fresh consumption and are also commonly incorporated into commercial baked goods, candies, and desserts.
Nutritional Value
Musang King durians are an excellent source of vitamin C, an antioxidant that strengthens the immune system, boosts collagen production, and reduces inflammation. The fruits are also a good source of potassium to balance fluid levels within the body, magnesium to regulate blood pressure, fiber to stimulate the digestive tract, manganese to assist with protein digestion, and contain lower amounts of phosphorus, iron, copper, and zinc.
Applications
Musang King durians are best suited for fresh applications as their soft flesh and bittersweet flavor are showcased when consumed fresh, out-of-hand. The fruits can be cut along their seams and torn open to reveal the flesh, and the flesh can be eaten raw, removing the seeds. Durian seeds are edible once cooked and are popularly roasted or boiled. Musang King durian flesh can also be blended into smoothies, coffee, and other beverages, or it can be added in segments to sticky rice as a sweet dessert. Beyond fresh applications, the flesh can be incorporated into curries and soups, cooked with syrup and used as filling for cakes, tarts, crème puffs, rolls, and bars, or mixed into ice cream. Musang King durians are also being used to flavor wine in some areas of Malaysia. Musang King durians pair well with coconut, mangosteen, bananas, whipped cream, brown sugar, and vanilla. Whole and fresh, unopened Musang King durians should be immediately consumed for the best flavor and texture. Once the flesh is removed from the husk, it can be stored in an airtight container for up to five days. Musang King durians are also frequently sold frozen whole. If it is a smaller frozen durian, the fruits should be defrosted at room temperature, but if it is a larger fruit, it should be defrosted in the refrigerator to prevent the flesh from absorbing too much water. It can take anywhere between 8 to 24 hours to defrost durians depending on their size, and once defrosted, the fruits should be immediately consumed.
Ethnic/Cultural Info
In October 2020, Musang King durians were marketed and sold through the first-ever online China-Malaysia Durian Festival. The three-day event was created to promote agricultural trade between China and Malaysia after the Chinese government approved the import of frozen whole durians from Malaysia in 2019. During the first day of the festival, over 300,000 Musang King durians were sold in 50 minutes, and the record sales solidified the budding partnership between China and Malaysia. The online event featured videos about the durian growing process, interviews with the farmers, hosts who sampled the Musang King and described the fruit's flavor, and brief snippets to educate the Chinese market about the benefits of Malaysian durians. The festival also filmed an opening ceremony at the Qinzhou Port Pilot Free Trade Zone in Guangxi, China. Despite the festival taking place during the coronavirus pandemic, the marketing of Musang King durians resulted in millions of dollars in sales, and the online event is just one of many future online promotions to continue trade between Malaysia and China.
Geography/History
Musang King durians were developed in Malaysia in the 1990s and have a somewhat unusual history as several farmers claimed to have created the variety. The original Musang King tree was believed to have been located in the district of Gua Musang in Kelantan, Malaysia, but it was eventually cut down to create room for farming other crops, making the variety challenging to trace. Before the tree's demise, many of its fruits were sold locally under various names, including Mao Shan Wang, Rajah Kunyit, and Musang durians. The yellow-fleshed variety quickly increased in popularity across Malaysia, favored for its soft texture and bittersweet flavor, and many durian farmers began using the seeds to propagate their own versions of the variety, claiming they were the creators. One durian farmer, Tan Eow Chong of Penang Island, was rumored to have visited the original tree with an armed accomplice and shot a branch off of the tree, returning home with the new variety to cultivate. Musang durians were officially registered in 1993 as a recognized commercial cultivar by farmer Wee Chong Beng of Tanah Merah, Kelantan. The durian variety remained mostly domestic until it received worldwide fame in the early 21st century, earning the fruits their "king" title. In 2010, well-known Macau casino owner Stanley Ho purchased 88 Musang King durians, and news of his purchase spread across China, sparking a demand to try the Malaysian fruit. Stanley also gave 10 of his 88 fruits to Hong Kong developer Li Kashing, further increasing demand and awareness of the variety. Today Musang King durians are considered the most famous Malaysian durian variety and are grown across Malaysia for local and international sale. The fruits are also grown on a small scale in other regions of Southeast Asia, including the Philippines, for domestic use.
Recipe Ideas
Recipes that include Musang King Durian. One

is easiest, three is harder.