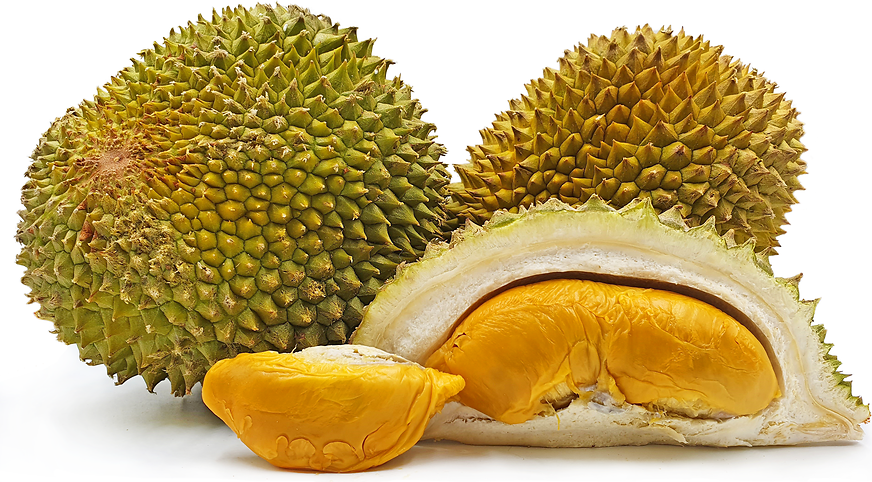 Red Prawn Durian
Inventory, lb : 0
Description/Taste
Red Prawn durians are a smaller variety that has an oval to oblong, elongated shape with curved edges, sometimes tapering at both ends. The surface of the fruit's shell is generally covered in thick, short, and sharp spikes that are widely spaced, but depending on the climate, the fruits may vary slightly in appearance. The shell is also a distinct pale brown, often displaying a dusting of light gray and faint lavender overtones. In regions outside of its native climate, the shell will turn greener. The shell is very thick and difficult to open, but encased in the spongy, dense core are multiple lobes of aromatic flesh. The pieces of flesh are nestled into tightly packed chambers, displaying a slight curve, and the membranes covering the flesh are smooth and thin. The flesh ranges from light orange, pale pink, cream-colored to salmon and often showcases mottling of pink, light orange, and cream hues. Red Prawn durians are known for their creamy, sticky, smooth, and fibreless flesh, encasing small to medium-sized seeds. The flesh has a sweet, fruity, and subtly bitter, fermented taste with red wine, berry, and chocolate-like nuances.
Seasons/Availability
Red Prawn durians are generally available in the summer in Malaysia.
Current Facts
Red Prawn durians, botanically classified as Durio zibenthinus, are a late-season Malaysian variety belonging to the Malvaceae family. The thick-shelled, smaller fruits are considered one of the most recognizable durians in Penang and have become an icon of the Malaysian state. Red Prawn durians were named after the flesh's curved shape and light pink hue, reminiscent of a cooked red prawn. Around the same time as the Red Prawn durian's rise to fame in the 1980s, freshwater prawn farming had also become a booming business in Penang, resulting in the fruit being named after a shrimp. Red Prawn durians are favored by durian connoisseurs for their sweet, subtly bitter flavor and melting, paste-like flesh. Despite the variety's popularity, Red Prawn durians are incredibly fragile and cannot be shipped. The grafted fruits remain localized to their growing regions and depending on where they are grown, their shell color and flavor may change slightly due to climate and terroir. It is also important to note in Singapore, D13 durians are often sold under the name Singapore Red Prawn. These fruits are not the same variety and will have a different appearance, texture, and flavor.
Nutritional Value
Red Prawn durians, like other durians in general, are an excellent source of potassium to balance fluid levels within the body and a rich source of phosphorus to develop strong bones and teeth. The fruits are also a good source of magnesium to regulate blood pressure, vitamin C to boost the immune system and reduce inflammation, fiber to stimulate the digestive tract, and contain other minerals, including calcium, zinc, and iron.
Applications
Red Prawn durians have a distinct, berry-like sweetness and tannic red wine taste well suited for eating straight, out-of-hand to savor the flavor. The fruits are difficult to open due to their thick shell, and once opened, the delicate flesh must be handled with care as it bears a soft and sticky, creamy consistency. When consumed fresh, the seeds are removed as they are inedible raw, but they can be roasted or boiled to become an edible snack. Beyond fresh eating, Red Prawn durians are sometimes incorporated into desserts and beverages throughout Penang, Malaysia. The flesh can be blended into coffee, shakes, and smoothies, or it can be mixed into custards, tarts, cream puffs, and cakes. Red Prawn durian can also be folded into fillings for crepe-like pancakes, blended into ice cream, or used to flavor other pastries. Red Prawn durians pair well with tropical fruits such as coconut, pineapple, mango, and rambutan, cream, vanilla, chocolate, and mint. Fresh, unopened Red Prawn durians should be immediately consumed for the best flavor and texture. The variety is notorious for having a short shelf life, and the flesh cannot withstand regular transport. Oftentimes Red Prawn durians are consumed at the markets they are purchased.
Ethnic/Cultural Info
In Balik Pulau, a town on Penang Island, visitors can experience life on durian farms by participating in overnight stays at the Bao Sheng Durian Farm. The 4th generation farm was established in 1959 and features over 50 different durian varieties spread across 6.7 acres. When Chang Teik Seng inherited the farm from his father, he decided to switch the farm to only using organic methods. Each year, Seng painstakingly measures, tests, and samples his durian varieties throughout the season to note the flavor changes depending on the tree's maturity, the weather, and soil composition. On the property, guests can stay in treehouse-like accommodations and even listen to durians dropping from the trees at night. Seng originally designed these overnight stays as an opportunity to educate and teach visitors about durian cultivation. Seng also shares the sustainable practices he uses to create quality flavored durians. During the stay, guests can tour the property and sample many freshly gathered durian varieties, including Red Prawn, a popular, local delicacy. The Bao Sheng Durian Farm also occasionally hosts special durian events, including a durian festival, to bring enthusiasts together for a luxury, durian-centric experience.
Geography/History
Red Prawn durians are native to Penang, Malaysia, and the mother tree was believed to have been grown by a farmer named Mr. Loh in Pondol Upeh in the 19th century. Mr. Loh sold his durians at a roadside stand in the nearby town of Balik Pulau, and one day in the early 1960s, a man named Lee Tek Hin sampled Red Prawn durian, forever changing the cultivar's fate. Before this day, Lee Tek Hin grew up cultivating durians on his family's property and grafted durian trees since he was 16 years old. Lee Tek Hin would then sell the trees, creating a small nursery, and would also gather durian seeds on properties where he worked to expand his collection. When Lee Tek Hin sampled Red Prawn durian at Mr. Loh's fruit stand, he became enamored with the variety and began grafting the durian to develop his own trees. Lee Tek Hin continued to nurture his Red Prawn durian trees for 25 years before entering the variety into a durian contest at the 1989 Penang Durian & Fruit Festival. The Red Prawn durian won first prize, and shortly after the contest, the variety was featured in a newspaper story, sparking a durian frenzy. Red Prawn durian quickly became a desired cultivar, and Lee Tek Hin began grafting trees for sale and sold the seedling to farmers and families across Malaysia. Today Red Prawn durians are primarily grown and sold through local markets in Penang, Johor, and Pahang of Malaysia. The variety has also occasionally been seen at fruit stands in the Philippines.
Recipe Ideas
Recipes that include Red Prawn Durian. One

is easiest, three is harder.