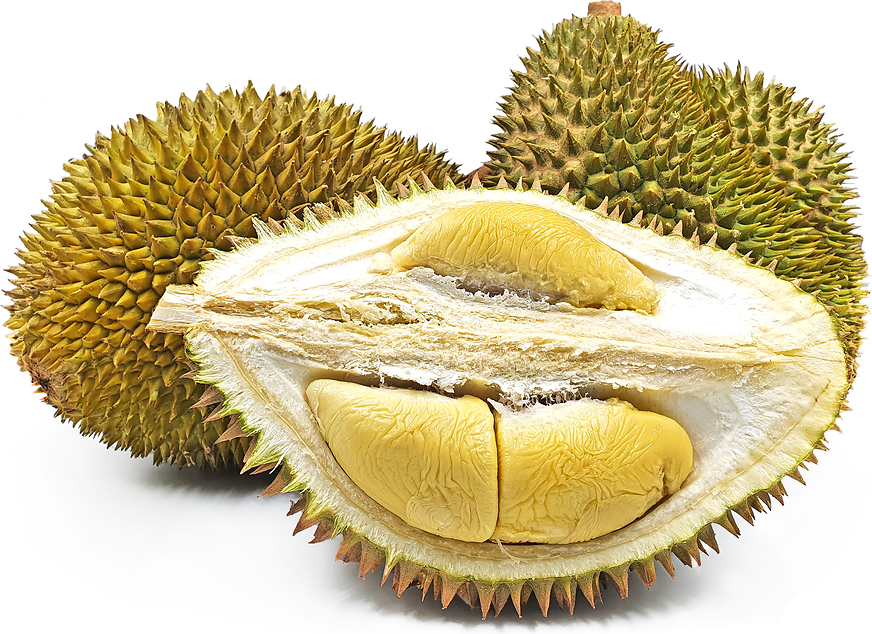 Sultan Durian
Inventory, lb : 0
Description/Taste
D24 durians are small to medium fruits, averaging 1.5 to 2 kilograms, and generally have an ellipsoidal, lopsided, to heart-shape with a short stem. It is common to see bulbous, curved bumps on one side of the fruit, giving it an uneven appearance. The surface is covered in thin and sharp spikes, clustering in tight groupings. The pointed, round spikes range in color from green, brown, to yellow and grow in overlapping patterns, masking the vertical seams extending the length of the fruit. The spikes also cover portions of the crown surrounding the stem, and at the bottom of the fruit, there is a small brown ring approximately the size of a nickel. Underneath the sharp exterior, the husk can be cut and torn open to reveal a white, spongy interior, encasing multiple thick lobes of yellow to white flesh. Each plump lobe has a wrinkled appearance with semi-firm skin, containing a sticky, soft, creamy, and dense consistency. Within the flesh, there are also moderately sized seeds, and the number of seeds and maturity of the fruit may affect the quality of the flesh. Unevenly ripened durians will have patches of tough, hard flesh. D24 durians have a strong, sulfuric aroma and a high-fat content, contributing to a pungent, complex blend of bitter-sweet, fruity, onion, and garlic flavors mixed with an alcohol-forward aftertaste and notes of candy-like sweetness.
Seasons/Availability
D24 durians are available for a limited season and are generally found throughout December through February in Malaysia. The season often changes, depending on the climate and growing conditions, and each region will have a slightly different season depending on its geographical location within Malaysia.
Current Facts
D24 durians, also known as Sultan durians, are a famous Malaysian variety a part of the Durio genus, belonging to the Malvaceae family. When the variety was first discovered, D24 durians were initially known as Sultan durians and were favored for their thick, soft flesh with a bitter-sweet flavor. Historically, D24 durian trees were notoriously low producers, and the fruits were only available for a short season, leading the variety to become a valued and somewhat rare luxury fruit. With its limited availability, the variety was traditionally reserved for Malaysian state rulers, officially known as sultans, giving the durian its royal title. As more Sultan durian trees were cultivated and introduced into Malaysian markets, Sultan durians became more well-known under their variety's registration number, D24, through the Malaysian Department of Agriculture. D24 marks the fruits being the 24th durian variety officially recognized by the government in the early 20th century. In the 1980s and 1990s, farmers continued to expand D24 durian cultivation, leading the fruits to become the most popular durian variety in the late 20th century. In modern-day, D24 durians have been overshadowed by the newer musang king durian. Despite their decline in fame and cultivation, D24 durians are still widely available across Malaysia and are frequently processed into fillings, syrups, and pastes for desserts.
Nutritional Value
D24 durians are an excellent source of potassium to balance fluid levels within the body and a rich source of phosphorus to develop strong bones and teeth. The fruits are also a good source of magnesium to regulate blood pressure, vitamin C to boost the immune system and reduce inflammation, fiber to stimulate the digestive tract, and contain other minerals, including calcium, zinc, and iron.
Applications
D24 durians have a balanced, bitter-sweet flavor that is well-suited for fresh eating and cooked preparations. The fruits can be cut along their seams and torn open to reveal the flesh, and the flesh can be eaten raw, removing the seeds. Durian seeds are edible once cooked and are popularly roasted or boiled. Beyond fresh eating, D24 durians can be blended into coffee, shakes, and smoothies, fried into lumpia, incorporated into soups and curries, or added in segments to sticky rice as a sweet dessert. D24 durians are also frequently whipped with heavy cream and incorporated into cream puffs, baked into pancakes, used as a filling in tambun biscuits, tarts, mooncakes, and layer cakes, or used to flavor popsicles, ice cream, and mochi. In Malaysia, D24 durians are topped over cendol, a cold mixture of shaved ice, pandan-leaf dyed noodles, coconut milk, and palm syrup. D24 durians pair well with green tea, mint tea, coconut water, tropical fruits such as mango, coconut, mangosteen, pineapple, and bananas, heavy cream, whipped cream, brown sugar, vanilla, and chocolate. Fresh, unopened D24 durians should be immediately consumed for the best flavor and texture. Once the flesh is removed from the husk, it can be stored in an airtight container for 3 to 5 days. D24 durian flesh is also sometimes sold frozen. Once defrosted, the fruits should be immediately consumed.
Ethnic/Cultural Info
D24 durians have a sticky, thick flesh and balanced flavor popularly incorporated into unique entrees and desserts at durian-focused restaurants in Singapore. One of the most well-known durian-themed restaurants is Four Season Durians. Baking instructor Victor Chan purchased a small fruit stand in the early 2000s along Singapore's Thomson Road and decided to rebrand the stand to focus on the increasingly popular durian fruit. Chan spent many years infusing innovative desserts with durian, including durian puffs, mochi, and pancakes, and he eventually purchased retail space in a Takashimaya Department store for his restaurant after amassing a following for his baked goods. In the present-day, Four Season Durians has maintained its cult following and offers a wide selection of fresh durian, desserts, and souvenirs. The restaurant also features durian in savory-sweet hot pot and fried rice dishes. D24 is frequently used to flavor pastes and fillings as the variety is one of the most cultivated durians in Malaysia and is an affordable variety with a neutral, bitter-sweet flavor. This balanced flavor complements sweeter ingredients in desserts and does not vary in taste, providing the same flavor experience for each restaurant guest.
Geography/History
D24 durians were discovered in Bukit Merah, a town situated along the border of Penang and Perak. The variety was registered with the Department of Malaysian Agriculture in 1934 and quickly became the premier cultivar commercially produced in Malaysia in the 1980s and 1990s. Today D24 durians are still grown in Malaysia, especially in Johor and Pahang. The fruits are also exported to neighboring countries, including Singapore, Thailand, China, and Indonesia.
Recipe Ideas
Recipes that include Sultan Durian. One

is easiest, three is harder.