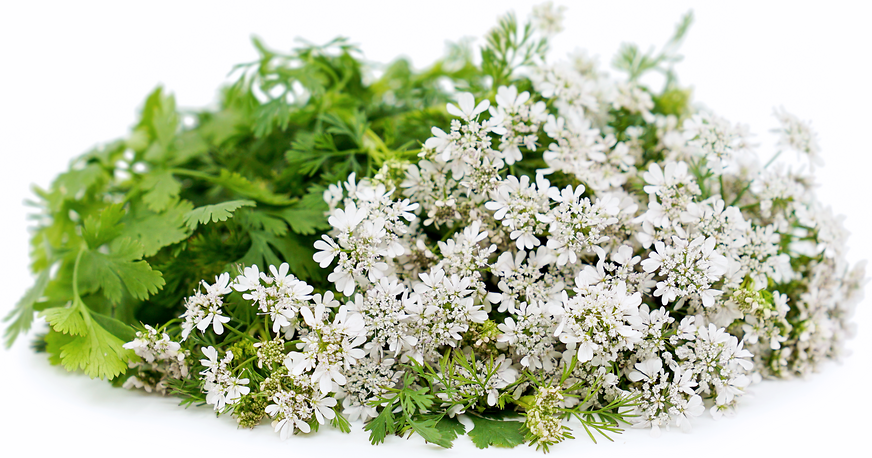 Cilantro Flowers
Inventory, bunch : 0
Description/Taste
Coriander flowers are small in size, with each flower measuring only a few millimeters. The flowers grow in delicate, lacy clusters arranged in an umbel shape and can bloom in varying white, lavender, and deep purple hues. The flower clusters extend from the ends of deep green, delicate stems scattered with wispy, feather-like leaves. The entire stalk is edible and has a crispy and juicy texture. The flowers have a sweet, vegetal, and pungent aroma. Their flavor is bright and grassy with citrusy nuances and a peppery finish that, for some, bears an acrid and unpleasant smell and taste likened to soap.
Seasons/Availability
Coriander flowers are available in the late spring through summer.
Current Facts
Coriander flowers bloom from a delicate and feathery herbaceous plant, commonly called cilantro, Chinese parsley, Mexican parsley, or coriander. The plant is a member of the Apiaceae family and is botanically classified as Coriandrum sativum. The bright and citrusy leaves of the plant are used in the cuisine of many different cultures. The herb is referred to as cilantro in Latin cuisine and coriander in European and Asian cuisines. The seeds of the plant, however, are always referred to as coriander seeds. Coriander is a fast-growing annual that will bolt and seed six to eight weeks after planting. This process can be quicker in warmer climates since cilantro will bolt to seed quickly before dying back in the heat. In commercial farming, bolted cilantro is removed or left to seed but rarely harvested as a crop. However, as more chefs and home cooks push for sustainable farming and unique ingredients, the presence of bolted crops at farmer's markets has increased.
Nutritional Value
Coriander flowers are a significant source of vitamin A, which helps to maintain healthy organ functioning, vitamin C to strengthen the immune system, and vitamin K, which aids in wound healing. The blossoms also contain high levels of antioxidants to reduce inflammation and protect cells from free radical damage, iron for hemoglobin production, and manganese, a compound that helps the body form connective tissue and bones.
Applications
Coriander flowers are well suited as an edible garnish or finishing flavor in savory dishes. The flowers can be used whole, or the petals can be separated and added at the end of cooking to retain the herb's bright and fresh flavor. Coriander flowers can be widely incorporated into many cuisines, including Indian, North African, Mexican, Latin American, Middle Eastern, Caribbean, Greek, and Asian. The flowers can be sprinkled over soups, curries, and stews, tossed into stir-fries, cooked into omelets, or stirred into rice and noodle-based dishes. Coriander flowers can also be blended into sauces such as pesto, hot sauce, chopped into salsa, folded into creamy dips, or used as a flavoring in marinades, brines, and salad dressings. The fragrant flowers can be used in Mexican cuisine as a topping over tacos, enchiladas, and bean dips, and in Vietnamese cuisine, the flowers can be combined into fried egg rolls and tossed over pho. Indian cuisine can use Coriander flowers in samosas, vegetable side dishes, and chana masala, a chickpea curry. Beyond using the fresh leaves, Coriander flowers can be mixed into salt and served as a flavor enhancer. Coriander flowers pair well with meats such as poultry, duck, lamb, beef, and fish, tofu, scallions, red bell peppers, corn, tomatoes, ginger, mushrooms, jicama, potatoes, other herbs including mint, parsley, and basil, legumes, and yogurt. Whole Coriander flowers will keep 5 to 7 days when stored upright in a glass of water and covered loosely with a plastic bag in the refrigerator. The blossoms have a delicate nature and are recommended for immediate use to capture the best texture and flavor.
Ethnic/Cultural Info
Coriander is used in the cuisine of many different cultures across the globe, but for approximately 10% of the population, this popular herb has a familiar yet unpalatable flavor. The leaves and flowers of the herb contain aldehydes, a substance created when alcohols within the plant oxidize. For most of the population, these compounds are barely detected. They are usually overpowered by other flavor and aroma-creating substances. Still, for a select few in the population, a variation in a group of olfactory-receptor genes allows them to perceive the aldehydes more strongly in cilantro. Many with this genetic mutation liken the flavor of cilantro to that of soap. Some even compare the taste to the smell emitted by stink bugs. Further scientific study has shown that this genetic mutation is more pronounced in populations that do not regularly use the herb, with the highest recorded mutation in those of East Asian, Caucasian, and African descent. In contrast, Hispanic, South Asian, and Middle Eastern populations with the lowest recorded mutation originate in regions that regularly use the plant's leaves and seeds. This has led scientists to believe that the dislike of coriander is a combination of nature and nurture and that exposure to the herb can, over time, build up a tolerance to the presence of aldehydes within the plant.
Geography/History
Coriander is an ancient herbaceous plant believed to be native to Southern Europe and Asia Minor. Seeds from the plant discovered in Israeli caves have been dated to be over 8,000 years old. In the early ages, coriander plants and seeds were spread to Southwestern Europe, Eastern Asia, and Egypt, where the earliest documented uses of cilantro were recorded as early as 2500 BCE. Coriander was used extensively in ancient Greece and Rome, as well as in early Chinese dynasties. By the 16th century, the herb was naturalized in many parts of Europe. Spanish colonists brought coriander seeds to North and South America, where the herb grew in popularity, becoming a key ingredient in Latin American cuisine. Today, Coriander is cultivated worldwide as an herb and as a spice. Coriander flowers are not cultivated on a large scale, but they can be found harvested by small-scale farmers that sell to specialty stores and at farmer's markets.
Recipe Ideas
Recipes that include Cilantro Flowers. One

is easiest, three is harder.