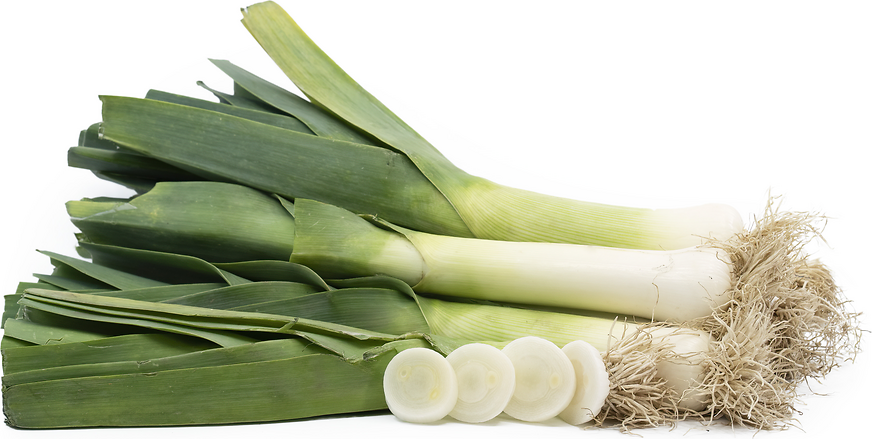 Leeks
Inventory, 12 ct : 39.34
This item was last sold on : 12/05/23
Description/Taste
Leeks grow straight up from the ground, the flat leaves growing up from a cylindrical, rounded bulb, overlapping each other in a concentric pattern. Many growers pile dirt around the nearly one-inch base bulb, to lengthen the white portion of the bulb by limiting sunlight and therefore chlorophyll production. Because of this practice, Leeks collect a lot of dirt between their leaves. The tops of the leaves, referred to as 'flags,' are dark green with a bluish tint, and tough. They fan out at the top of the stalk, like the fronds of a palm tree. The flat Leek leaves can grow up to nearly a meter in height, the bulb sitting shallow in the dirt, around 8 centimeters (3 to 4 inches) long. The edible part of the leaf stalk averages of 30 to 35 centimeters (13 inches) in height, up to 5 centimeters in diameter, and is a light green color. Leeks have a flavor that is milder than an onion, with a slight sweetness.
Seasons/Availability
Leeks are available year-round with a peak season in the fall and through the spring.
Current Facts
Leeks are large members of the Allium family related to garlic and onions, and are botanically classified as Allium ampeloprasum, and sometimes Allium porrum. They are biennial plants (requiring two growing seasons) but are typically grown and harvested as an annual. Leeks are known around the world as English Leeks, European Leeks, Kurrat Leek and Wild Leek. The Leek has been used for thousands of years for both culinary and medicinal purposes. They are often used as a herb or flavoring agent, but can also be served whole as a vegetable.
Nutritional Value
Leeks are a rich source of vitamins B6 and K, as well as iron, manganese and dietary fiber. Leeks are high in the nutrient folate, which is beneficial for women, especially during pregnancy. The highest concentration of folate can be found in the white parts of the Leek. Leeks also contain insulin and sulfur which help protect cells and reduce bad cholesterol respectively. Leeks contain prebiotics, which helps regulate healthy gut bacteria and helps digestion.
Applications
Leeks have been an important part of the cuisine in Europe and the British Isles for centuries. Leek is the main ingredient in two well-known soups: Scotland's cock-a-leekie soup and France's crème vichyssoise. From these well-regarded recipes, we know that Leeks pair well with lemon, cream, poultry and bacon. Leeks are also often found paired with cream and potatoes in the classic, potato Leek soup. Leeks can be eaten raw on salads or mixed into a chicken or tuna salad. Leeks are generally sautéed in oil or butter to soften or "sweat" before adding to pizzas, pastas, egg dishes, risotto, or served on their own as a side. Chopped Leeks are used in soups, stir-frys, or braised with carrots and celery. Leeks are also a popular tart or pastry filling. The darker, top section of the leaves is not eaten; this section of the leaf is usually discarded or kept for use in stocks. The very base of the bulb is cut off, just above the small fringe of roots. Cleaning is important, whether preparing Leeks whole or chopped. The easiest way to clean Leeks is to cut in half lengthwise and chop thinly. Put chopped Leeks in a bowl and rinse with fresh, cool water, changing out the water until no debris remains. Dry the Leeks well before preparing. To use the Leek whole, insert the tip of a knife just above the last leaf margin and cut straight through lengthwise, fanning the Leek open to expose the spaces between the layers. A second cut can be made crosswise, to expose more layers if necessary. To store, chopped Leeks can be blanched and frozen. Whole Leeks will store in the refrigerator for up to a week, wrapped well to keep the aroma at bay.
Ethnic/Cultural Info
In Cornwall, England, Leeks are paired with chicken inside a pocket of dough known as a "pasty." Pasties are considered Cornwall's "national" dish, and the chicken and Leek combination is a popular light filling also used in a variety of savory pastries and pies. A Leek is the national symbol of Wales, in the United Kingdom, and is worn by the people and by every soldier in the Welsh regiment on St. David's Day celebrated annually on March 1st. The legend says that during the 6th century, St. David told his soldiers to wear a Leek on their helmets ahead of a successful battle against the invading Saxons. Wearing a Leek was considered a symbol of luck. Others believe the lore behind the Leek as the national emblem dates back to the early Druids who used the Leek as a cure for the common cold, as an antibacterial and diuretic, and for relief from the pains of childbirth. It is also an ingredient in the traditional Welsh broth, cawl. In 1984, British authorities featured a Leek on the reverse side of the British pound coin, which represented the Welsh part of the United Kingdom. It is represented on patches, posters and other items depicting Welsh pride as well.
Geography/History
Leeks are native to the eastern Mediterranean and the Middle East and have been used for food and medicine for over 3,000 years. The ancient Egyptians first cultivated Leeks and ate them during great feasts. The Romans were believed to have brought Leeks to Europe and then to Britain. Today they are cultivated in many regions around the world with cool temperate climates, including North America, Asia, and from the British Isles through Europe and into northern China. In France, Leeks are readily available and inexpensive (and used much like green onion in the United States). There are many different varieties of Leeks; the Scottish, Giant Musselburgh, the French Otina, and Pancho are a few named varieties. The cultivars differ in seasonal availability and growth habit, some displaying more narrow stalks or wider leaves. Western European varieties are typical of the ones found in the United States, at most grocery stores and farmer's markets. Bulgarian and Turkish varieties, with longer, thinner stalks are not typically found in the United States.
Featured Restaurants
Restaurants currently purchasing this product as an ingredient for their menu.
the other 135...
Recipe Ideas
Recipes that include Leeks. One

is easiest, three is harder.
the other 56...
| | | |
| --- | --- | --- |
| Rawmazing | | Leek Polenta with Roasted Chanterelle Mushrooms |
| Yay For Food | | One Hour Leek and Mushroom Mozzarella Pizza |
| From A Chef's Kitchen | | Cream of Asparagus and Leek Soup with Curry |
| Red and Honey | | Gratineed Leeks |
| Sprinkles and Sprouts | | Saffron and Leek Risotto – Served 2 Ways |
| The Harvest Kitchen | | French Potage |
| 101 Cookbooks | | Leek Soup with Dill Oil |
| Baked Greens | | Curry Roasted Carnival Squash, Carrots & Leeks |
| Yes, More Please | | Leek, Potato & Goat Cheese Tarte Tatin |
| My Kids Lick The Bowl | | Wholemeal Yoghurt Dough Scrolls |
| Bowl of Delicious | | Leek and Gruyere Grilled Cheese |
| Cilantro & Citronella | | Vegan Vichyssoise |
| Taste and Tell | | Alsatian Potato Pie |
| Just a Little Bit of Bacon | | Orecchiette Pasta With Leeks, Pancetta, And Corn Crema |
| 80 Breakfasts | | Pan Seared Salmon with Creamy Leeks |
| Ahead of Thyme | | Skinny Creamy Artichoke Soup |
| Sprouted Kitchen | | Scallops On Creamy Leeks |
| My Kids Lick The Bowl | | Chicken and Leek Baked Risotto |
| Contentedness Cooking | | Leek & Potato Soup |
| Tasty Yummies | | Sautéed Green Beans with Mushrooms and Caramelized Leeks |
| Give Recipe | | Oven-Baked Leek Frittata |
| My New Roots | | Lemony Leeks with Chickpeas and Feta |
| An Opera Singer in the Kitchen | | Sun-dried Tomato and Leek Quiche |
| The Harvest Kitchen | | Simple Spinach, Leek & Onion Frittata |
| Our Salty Kitchen | | Braised Leeks with Poached Eggs |
| Life Made Simple | | Spring Pea Soup with Leeks and Lentils |
| Feasting at Home | | TARRAGON CHICKEN WITH ASPARAGUS, LEMON AND LEEKS |
| Wall Flower Kitchen | | Creamy Leek & Mushroom Pie |
| A Beautiful Plate | | Creamy Leek & Pancetta Pappardelle |
| Umami Girl | | Braised Chicken Thighs with White Wine, Leeks and Mushrooms |
| Nyssa's Kitchen | | Creamy Potato and Parsley Soup |
| Little Broken | | Creamy Roasted Tomato and Basil Soup |
| My Kids Lick The Bowl | | Chicken and Leek Baked Risotto |
| Honest Food dot Net | | Dai Lime Quail |
| Honest Food dot Net | | Sichuan Stir-Fried Puffballs |
| Pinch My Salt | | K's Potato Leek Soup |
| I'd Rather Be A Chef | | Creamed Leeks |
| Simply So Healthy | | Low-Carb "Potato" Leek Soup |
| Minimalist Baker | | Mushroom & Leek Risotto |
| Our Salty Kitchen | | Ricotta Pasta with Peas and Leeks |
| Garlic & Zest | | Fennel and Leek Soup with Mushrooms |
| Almond To Zest | | Caramelized Leek, Brie & Ham Quiche |
| White on Rice Couple | | Broiled Leeks with Fresh Apple Vinaigrette for Fall Fest |
| The Wooden Skillet | | Creamy Leeks Recipe + Black Trumpet Mushrooms |
| nodesserts | | Leek, Potato and Zucchini Hot Cakes |
| Contentedness Cooking | | Leek and Potato Soup |
| Baking Me Crazy | | Paleo Creamy Potato Leek Soup |
| Salt and Pepper Skillet | | Braised Leeks with Tomato Vinaigrette |
| Diary of a Tomato | | Porri al Forno (Leeks Baked in Cream) |
| Life Made Simple | | Leek and Potato Gratin |
| The Foodie Physician | | Mini Spring Vegetable Quiches |
| Sprouted Kitchen | | Strawberry & Leek Quesadillas |
| From A Chef's Kitchen | | Green Minestrone with Radish Greens Pesto |
| Foodie Crush | | Creamy Mushroom and Leek Chicken |
| Porcini Chronicles | | Minestrone With Fresh Borlotti Beans and Farro |
| The Clever Carrot | | Carrot and Leek Soup |