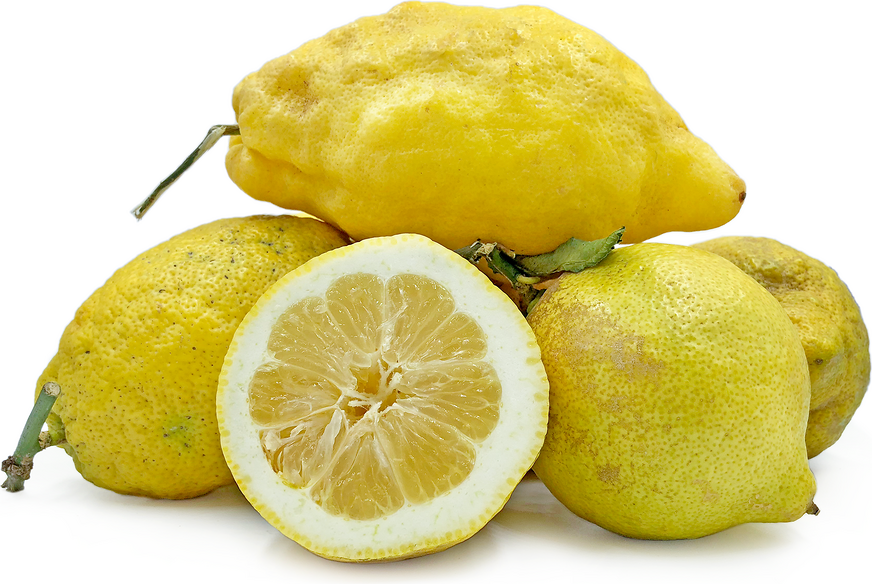 Zest Lemons
Inventory, lb : 0
Description/Taste
Zest lemons varieties are larger than common lemons and have an elongated shape. Some varieties, like the cedro, can be more round or asymmetrical. Their size can range anywhere from 10 to 30 centimeters long and up to 10 centimeters wide. Zest lemons have bright yellow rinds with the occasional remnants of green. The medium-thick skin is often bumpy or knobby and may have vertical ridges running down the length of the fruit. The oil glands, known as lenticels, are deep and emit a very intense citrus aroma. Beneath the zest is a soft, spongy, white pith called albedo. In lemons, this is bitter and is generally removed before using. In Zest lemons, it has a delicately sweet flavor and is one of the main portions of the fruit used. This section makes up 70% or more of the fruit. In the case of the fingered citron, or buddha's hand, it makes up most of the fruit. The small amount of pulp present in most varieties is relatively dry, providing little juice. Almost all varieties have a few seeds. In terms of flavor, there are both acidic and sweet, or sub-acid cultivars, some offering a very small amount of juice.
Seasons/Availability
Zest lemons are available year-round in some climates, with a peak season in the fall through winter months.
Current Facts
Zest lemons aren't "true" lemons, they are citrons, one of the four original varieties of citrus along with pomelos, mandarins, and the little known papeda (yuzu and kaffir are varieties). Though Zest lemons are not a specific named variety, the term is typically used to describe varieties of Citrus medica. Cultivars include the fingered 'buddha's hand', the Italian 'cedri' or 'cedro', 'florentine', or the popular 'diamante'. Zest lemons refer to any citron or lemon that has an extremely thick rind and very little usable pulp. As the name suggests, Zest lemons are primarily used for their zest and thick white pith.
Nutritional Value
The benefits of Zest lemons are well-documented and date back to antiquity. They are rich in vitamin C, potassium, and magnesium and offer immune boosting antioxidants and beneficial dietary fiber. The volatile oils in the rind contain limonene and other terpenes (strong smelling organic compounds) which offer potent antimicrobial and antibiotic properties.
Applications
Zest lemons are primarily used for their zest and spongy white pith, though the more visually appealing Buddha's hand is sometimes used as a table centerpiece or put on display. The zest is removed with a knife or peeler, and the fruit cut into sections. The pith can be grated and added to salads or baked goods. Some recipes will call for cutting the pith into long, julienned slices. The most popular use for Zest lemons is for making candied citron. The rind and pith are removed from the pulp and soaked in a sugar water and then dried. Candied Zest lemon is an important ingredient in the holiday panettone cake and other desserts. Zest lemons are also used to flavor liqueurs like limoncello. In northern Italy, Zest lemons are used to make a famous soda called cedrata. Its zest and thick pith is used to make a wheatberry and ricotta cake called pizza grana, often made around Eastertime. Store Zest lemons at room temperature for up to a week. Refrigerate for up to three weeks.
Ethnic/Cultural Info
Zest lemons like the 'etrog' are used during Jewish holidays and festivals. Etrog citrons are grown specifically for the October Jewish holiday of Sukkot. The very aromatic citrons are given as gifts, considered to be symbols of the heart. used in the waving rituals during the Feast of the Tabernacles. Stories from the Torah refer to the etrog as the "forbidden fruit" from the Garden of Eden. Early Greeks referred to the citron as the "Persian apple" or "golden pommes" were speaking of may have in fact been citrons. In both Hinduism and Buddhism, figures of worship are depicted holding a citron. One is Kubera, the lord of treasures, who is often holding a citron in one of his up to 6 arms. To ancient Hindus, the citron was a symbol of prosperity.
Geography/History
Zest lemon varieties date back to at least 4000 BC. It is believed that the citron was originally from an area in Central Asia that makes up present day Saudi Arabia, Iraq, and Yemen. It was likely spread to the surrounding regions by the Persians. In Egypt, citrons were discovered in wall paintings in the tombs of the pharaohs. They were likely brought to Greece by the armies of Alexander the Great, and from there to Italy. Roman sculptures, paintings, and even remnants of a mosaic in Pompeii depict citrons. The fruit was first named in the mid-1700s, and given the species epithet "medica" to indicate its powerful medicinal properties. Zest lemons are most commonly found in the Mediterranean region, primarily in Italy. They are grown in Calabria in the south and along the Italian Riveria in the north. Some Zest lemon varieties are grown in Southern California and Florida; however, most are commercially grown in Southeast Asia, the Mediterranean region, and Israel.
Recipe Ideas
Recipes that include Zest Lemons. One

is easiest, three is harder.
the other 18...