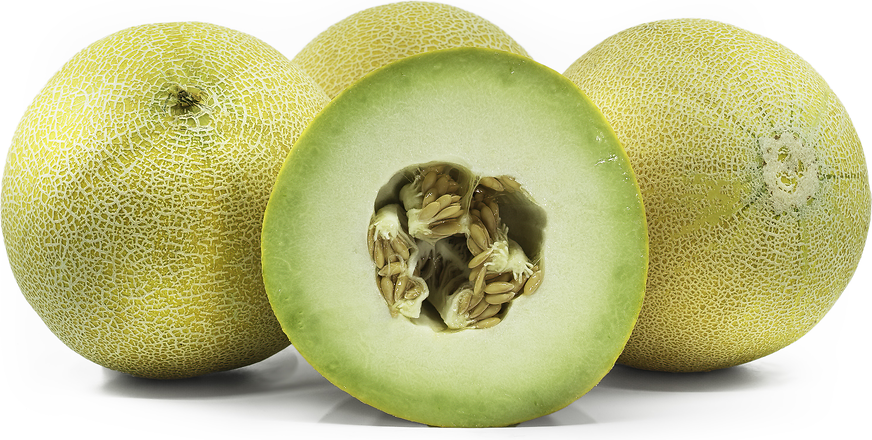 Arava Melon
Inventory, ea : 0
Description/Taste
Arava melons are a small to medium-sized varietal, averaging 12 to 20 centimeters in diameter and 48 to 64 ounces in weight, and have a uniform, round to oblate appearance with curved, even edges. The melon's rind is thin but tough, ripening from green to golden yellow with maturity. The surface is also covered in a raised, corky netting with a pale yellow to tan hue, giving the rind a textured, slightly rough feel. Underneath the rind, the pale green flesh is thick, smooth, fine-grained, and aqueous with a firm but succulent, tender consistency. Depending on the melon's growing conditions, the flesh may exhibit more concentrated green hues just below the surface, fading into a light green, almost white shade around the cavity. The flesh also encases a central hollow cavity filled with clusters of tapered, tan seeds suspended between stringy white fibers. Arava melons release a musky, perfumed aroma when ripe, and their scent can fill an entire room with honeyed nuances. The melon's flesh contains a high sugar content, creating a sweet, almost candy-like taste with tropical, floral, and nectar-like undertones.
Seasons/Availability
Arava melons are grown in the southern and northern hemispheres, providing year-round availability through export. The melons have a peak season in the spring through mid-fall.
Current Facts
Arava melons, botanically classified as Cucumis melo var. reticulatus, are a fragrant Israeli variety belonging to the Cucurbitaceae family. The mid to late-season cultivar grows on sprawling, trailing vines extending over 1.5 meters in length and is a type of Galia melon favored for its sugary-sweet taste and soft, tender flesh. Since their release in the late 20th century, Arava melons have become a popular variety in their native Israel and have expanded commercial cultivation to regions worldwide. Arava melons are sometimes sold under general descriptors, including Middle Eastern melons, Passport melons, Mediterranean melons, Israeli honeydew, and Israeli melons, and the variety is an F1 hybrid that grows well in various climates, maturing in 75 to 80 days and slipping from the vine when ripe. Growers value Arava melons for their high yields, uniform shape and size, perfumed nature, and resistance to powdery mildew. In the modern day, the variety is sold as a specialty melon and is typically consumed fresh out of hand or incorporated as a flavorful raw ingredient.
Nutritional Value
Arava melons are a source of vitamin C to strengthen the immune system while reducing inflammation, potassium to balance fluid levels within the body, and fiber to regulate the digestive tract. The variety also provides vitamin A to maintain healthy organ functioning, calcium to build strong bones and teeth, iron to develop the protein hemoglobin for oxygen transport through the bloodstream, and other nutrients, including magnesium, manganese, zinc, vitamin K, and copper.
Applications
Arava melons have a sweet, tropical, and floral flavor suited for fresh preparations. The variety is traditionally consumed straight out of hand and is savored for its juicy, tender nature. When serving slices of the melon, additional seasonings such as salt, chile powder, ginger, black pepper, lime, or lemon juice can be sprinkled for added flavor. Arava melons can also be cubed, scooped, or sliced and mixed into fruit medleys, tossed into green salads, or served as a topping over breakfast dishes such as oats, porridge, parfaits, and granola. The melon's refreshing nature lends itself to chilled dishes, and the flesh can be frozen and blended into sorbet, pureed into shaved ice, juiced into cocktails, added to smoothies, or frozen into popsicles. Try pickling the flesh for a salty-sweet combination. The sweetness of Arava melons complements both savory and sweet dishes, and one of the most popular appetizers uses the saltiness of prosciutto and the sweetness of the melon to create a balanced dish. Arava melons pair well with tart, spicy, and salty ingredients, including cheeses such as blue, feta, mozzarella, and goat and nuts such as pine, almonds, and cashews. The melons also enhance the flavor of dishes infused with mint, basil, and cilantro and are often mixed with ginger, honey, citrus, raspberries, coconut, figs, or grapes for enhanced flavoring. Whole, unwashed, unopened Arava melons should be ripened at room temperature in a cool and dark place. The variety has a short shelf life, only lasting for 1 to 2 weeks, and once opened, it is recommended to immediately consume the flesh for the best quality and flavor. Store any remaining pieces of flesh in a sealed container in the refrigerator for up to three days.
Ethnic/Cultural Info
Arava melons were named for a valley in Southern Israel that runs through the Negev desert. The word Arava translates to mean "desolate and dry area" and has Arabic and Hebrew origins. The Arava desert is approximately 112 miles long and is considered one of the harshest regions in Israel, receiving less than one to two inches of rainfall annually. The area was viewed for centuries as uninhabitable, but in the early 1950s, an idealistic group desired to claim the land and settle. Israel's prime minister at the time, David Ben-Gurion, granted the group the rights to develop the land, and soon after their arrival, farmers established modern drip irrigation and greenhouses to grow produce such as melons, berries, tomatoes, and peppers. Growers would also use saline water collected from underground wells and nearby towns to irrigate their crops. Locally, it was believed that the use of saline water helped the plants produce sweeter fruits and vegetables. As word of the area's success spread, more farmers moved into the desert, and today there are over four thousand inhabitants in the valley. Presently, the Arava desert region supplies over sixty percent of the fresh produce exported from Israel. Within the country, Arava melons are esteemed as one of the best melon varieties found in local markets, and the variety is sold as a hydration and food source.
Geography/History
Arava melons are native to Israel and were developed by Genesis Seeds, an international seed breeder located in the Negev desert. Genesis Seeds is a family-owned and operated company since 1994 and is one of the largest organic seed producers in Israel. Arava melons were created through the company as a type of Galia melon, another hybrid melon native to Israel developed in 1973. Galia melons were the first Israeli hybrid melon and were made from a cross between the smooth-skinned melon, Ha'Ogen, and a netted Russian variety known as Krymka. Since their commercial release, Arava melons have grown in popularity outside of Israel and have become specialty melons cultivated worldwide. Today Arava melons are produced in the southern and northern hemispheres for year-round availability. The melons are frequently exported and sold in fresh markets, and several global seed companies promote the variety as an easy-to-grow home garden melon. In the United States, Arava melons are primarily grown in California and Arizona and are found through farmer's markets, distributors, and select retailers.
Recipe Ideas
Recipes that include Arava Melon. One

is easiest, three is harder.