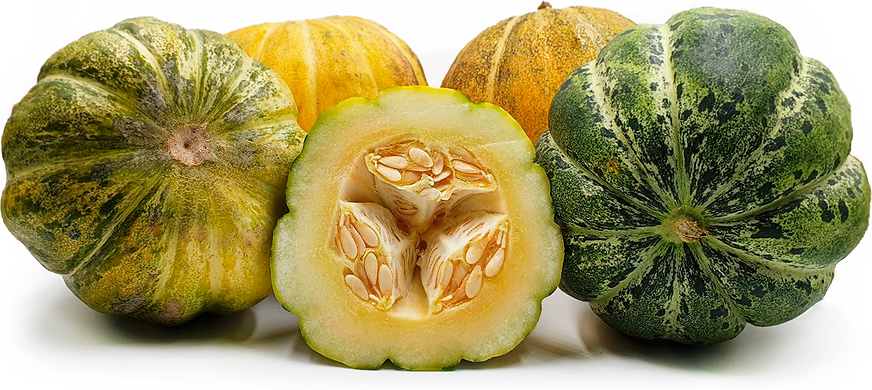 Blewah Melon
Inventory, lb : 0
Description/Taste

Blewah melons vary in size, shape, and appearance, depending on the variety, and the small to medium-sized melons typically have a round to ovate shape. Each melon is unique, and the most common Blewah melons have prominent ribs or suture lines extending the length of the fruit, giving the melons a lightly ridged look. The rind is semi-thin, smooth, dense, and firm, showcasing mottled or spotted shades of dark green, yellow-green, and orange-yellow. Underneath the surface, the pale yellow-green to orange-yellow flesh is soft, aqueous, tender, and succulent when ripe. The flesh also encases a hollow, central cavity filled with cream-colored, flat, oval seeds suspended in a gelatinous coating between stringy ivory fibers. Blewah melons should be eaten ripe and emit a fragrant, sweet, fruity, and floral aroma. When pressed at the blossom end, ripe melons will feel heavy for their size and yield slightly to pressure. The flesh is refreshing and bears a sweet taste combined with musky, floral, and honeyed nuances.


Seasons/Availability

Blewah melons are available year-round in Indonesia, with a peak season at the end of the rainy season and at the beginning of the dry season, sometime around March or April.


Current Facts

Blewah melon, botanically classified as Cucumis melo var. cantalupensis, is a general descriptor for several varieties of melon belonging to the Cucurbitaceae family. These melons are localized to Indonesia, and the term Blewah translates from Indonesian to mean "cantaloupe." Blewah melons vary in size, shape, and appearance, but they are a part of the same species as European cantaloupes. There are several varieties of Blewah melons, including Bisma, Kretek, Garbis, and Salvo. Kretek is the most popular Blewah variety and is favored for its permeating, sweet, fruity fragrance. Bisma melons are the second most cultivated and sold in fresh markets for their mild sweetness. In the modern day, Blewah melons are viewed as a seasonal delicacy favored as a refreshing, hydrating, and nutritious culinary ingredient.


Nutritional Value

Blewah melons are a source of potassium to balance fluid levels within the body, vitamin C to strengthen the immune system, and fiber to regulate the digestive tract. The melons also provide beta-carotene, which is converted into vitamin A in the body to maintain healthy organ functioning, magnesium to control optimal nerve functioning, and other nutrients, including vitamins B6, K, and E, folate, niacin, zinc, and thiamine. In addition to vitamins and minerals, Blewah melons have high water content, acting as a source of natural hydration.


Applications

Blewah melons generally have a sweet, subtly floral flavor suited for fresh and cooked preparations. The melon's rind should be scrubbed and washed with soap and water to remove harmful bacteria, and once cleaned, the melon can be sliced into wedges, cubes, and pieces. The seeds are also removed from the center cavity and can be discarded or set aside for different recipes. Blewah melons can be used in any recipe calling for cantaloupe and are popularly cut fresh and added to green salads, fruit medleys, and various slaws, dips, and sides. In Indonesia, Blewah melons are traditionally incorporated into smoothies, milkshakes, and fruit juices. The melons are especially favored for beverages and raw dishes as they have a refreshing nature and high water content. Blewah melons are also used to flavor puddings, cakes, sorbets, and ice cream. Beyond the tender flesh, Blewah melon seeds can be cleaned, roasted, and dried as a crunchy snack. Blewah melons pair well with other fruits, including kiwis, citrus, strawberries, and pineapples, herbs such as mint, basil, and cilantro, honey, brown sugar, and vanilla. Whole, unwashed Blewah melons can ripen at room temperature for several days. Once mature, the melons should be immediately consumed for the best quality and flavor. Blewah melons can also be kept in the fridge for two weeks when unopened, and once sliced, they can be stored in the refrigerator in a sealed container for 1 to 3 days.


Ethnic/Cultural Info

In Indonesia, Blewah melons are an essential culinary ingredient to break fasts during Ramadan. From sunrise to sunset for a month, devote Muslims abstain from food and drink and focus their thoughts on various spiritual disciplines. Ramadan occurs in the ninth month of the Islamic calendar and is a sacred time of reflection, spiritual growth, and cleansing. At sunset, fasting Muslims in Indonesia select small dishes or snacks to help break their fasts and ease their body into eating food again. These small snacks are locally known as takjil, a word derived from Arabic meaning "to speed up," essentially referring to the process of speeding up breaking the fast. Several popular takjil dishes are served in markets throughout Indonesia, and Blewah melons are an ingredient specifically grown for the Ramadan season. The melons are often called "the fruit of Ramadan" and are most famously used in refreshing beverages and chilled desserts. Es Blewah, also known as Es Buah, is a customary recipe comprised of diced or shredded Blewah melons soaked in a syrup or sugar mixture. This dessert has several variations, incorporating pineapples, pears, jellies, basil seeds, mint, and coconuts, and the fruits are suspended in a sweet, transparent liquid, distinguishing it from another popular fruit-based dessert known as fruit soup.


Geography/History

Blewah melon is a general descriptor for cantaloupe varieties grown in Indonesia. Indonesian cantaloupe varieties are descendants of melons native to Persia and Western Asia that have been cultivated since ancient times. Cantaloupes were later spread to Southeast Asia and were introduced into Indonesia. Original Cantaloupes were smaller and not quite as sweet as modern cultivars, but over time; the melons were naturally bred to exhibit a uniform size, improved flavor, and disease resistance. In Indonesia, Blewah melons are extensively cultivated on the island of Java, specifically in the province of East Java. Today Blewah melons are a seasonal item sold through fresh markets throughout Indonesia. The melons are most likely spotted in Jakarta, Semarang, or Surabaya markets.