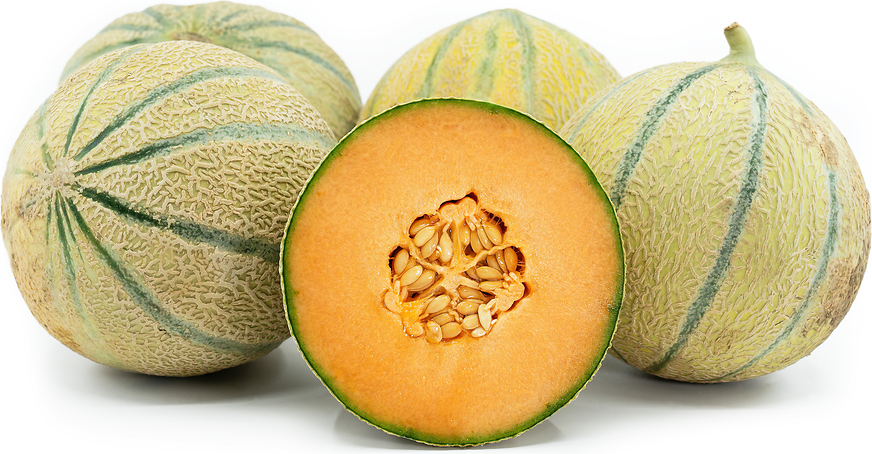 Cavaillon Melon
Inventory, ea : 0
Description/Taste
Cavaillon melons are small in size, averaging 7 to 10 centimeters in diameter and .9 to 1.3 kilograms in weight, and have a round to oval shape with a uniform, curved nature. The variety is slightly smaller than a standard cantaloupe sold in commercial markets and may be sold with a small portion of the stem still attached or stemless. Cavaillon melons have thin rinds that can be smooth, known as lisse in French, or covered in raised netting, known as brodé, giving the surface a textured, somewhat rough feel. The rind is also hard, taut, and occasionally ribbed, ripening from green to pale golden with muted, dark green vertical striping. Underneath the surface, the bright, saturated orange flesh is dense, aqueous, and tender with a succulent, melting consistency. Cavaillon melons grown in open fields generally have a softer texture than melons grown earlier in the season in greenhouses. The flesh also has a central cavity filled with tan, flat, tear-drop-shaped seeds suspended between stringy orange fibers. Cavaillon melons release an intense, floral, tropical, and honeyed aroma with nuances of almonds, jasmine, apricots, and bananas as they ripen. When selecting ripe Cavaillon melons, they should feel heavy for their size and often exhibit small cracks in the surface around the stem. Some ripe Cavaillon melons will also have drops of crystallized sugar released from the surface cracks, and the stem can occasionally be pulled off completely when ripe. In France, melon enthusiasts claim that perfectly ripe Cavaillon melons will exhibit ten stripes on their rind. If the melon has nine stripes, the melons are still young, if the melons have eleven stripes, they may be overripe. Cavaillon melons have a high sugar content, creating a sweet, mildly acidic, fruity, floral, and honeyed taste.
Seasons/Availability
Greenhouse-grown Cavaillon melons in France are released to markets in the late spring through early summer. Open-field Cavaillon melons are available in the summer through fall.
Current Facts
Cavaillon melons, botanically classified as Cucumis melo var. cantalupensis, are a specialty French melon belonging to the Cucurbitaceae family. The heirloom variety is an open-pollinated type of cantaloupe initially grown in France as a fresh-eating melon. Cavaillon melons mature approximately 75 to 80 days after planting, and the name Cavaillon is traditionally used to describe a Charentais melon only grown in the Provence region of France. Melons grown outside of France are generally referred to as Charentais melons. Cavaillon melons are also known as French cantaloupes and Melons de Cavaillon and must be hand-harvested and sold within its local growing region as it does not ship well. Due to their delicate nature, Cavaillon melons are mainly found in farmer's markets, but the variety has acquired a following of many enthusiasts who value the melons for their aromatic nature and sweet, juicy taste. Cavaillon melons are synonymous with the town of Cavaillon, the self-proclaimed "Melon Capital of Provence." An annual melon festival known as Feria du Melon a Cavaillon honors the Cavaillon melon through parades, cooking demonstrations, live music, and dancing. The town also features a permanent nine-ton sculpture of the melon at the town's entrance.
Nutritional Value
Cavaillon melons are a source of fiber to regulate the digestive tract, potassium to balance fluid levels within the body, and vitamin C to strengthen the immune system while reducing inflammation. The melons also provide vitamin A to maintain healthy organ functioning, B vitamins to convert food into energy, magnesium to regulate nerve functioning, and other nutrients, including zinc, calcium, magnesium, copper, and iron.
Applications
Cavaillon melons have a sweet, floral, and honeyed flavor suited for fresh and cooked preparations. The melons are popularly consumed straight out of hand and are traditionally eaten as a refreshing snack or healthy dessert. In France, Cavaillon melon slices are wrapped in cured meats as an appetizer, sliced and served in parfaits, or blended and chilled into a version of gazpacho. The melons are also sliced or scooped into bite-sized pieces and served with a shot of sweet wine such as muscat de Beaumes de Venise or port as an afternoon beverage or evening dessert. Another French Cavaillon recipe involves mixing the flesh into a puree of melon juice, basil, red peppercorn, salt, and oil. Cavaillon melons can also be added to a fruit paste in the favorite baked good calisson d'aix. One of the most famous culinary stories involving Cavaillon melons was when chef Jean-Jacques Prévôt had his car break down near Cavaillon in 1978. While he was in town waiting for his car to be fixed, local lore states that he met his wife, and she introduced him to the Cavaillon melon. Prévôt became obsessed with the melon and created a restaurant in Cavaillon centered around the variety. In 2013, the restaurant earned a Michelin star. Cavaillon melons pair well with herbs such as basil, mint, and rosemary, vanilla, ginger, lime, and cheeses such as feta and goat. Whole, unwashed Cavaillon melons should be stored at room temperature, away from direct sunlight, until ripe. Once the melons are fragrant and mature, they become highly perishable and will keep for 2 to 4 days when stored in the refrigerator.
Ethnic/Cultural Info
Cavaillon melons were a favorite variety of famed author and playwright Alexandre Dumas, whose notable works include The Count of Monte Cristo and The Three Musketeers. Legend has it that Dumas donated one copy of each of his works in 1864 to the Cavaillon library in exchange for Cavaillon melons. The newly constructed library contacted French novelists for book donations to help fill their shelves. Dumas donated over 194 pieces and promised to donate future works to the library. As payment, Cavaillon city officials agreed that Dumas would be paid in 12 Cavaillon melons per year. Dumas proposed this agreement and enjoyed over 72 Cavaillon melons before his passing in 1870.
Geography/History
Cavaillon melons are native to Southeastern France, specifically the fields around Cavaillon. The exact date of origin of the melons is unknown, as experts believe there could be two possible introduction theories. The first theory notes that melon seeds were brought from Avignon to Cavaillon sometime during the 14th century. Avignon was home to the official residence of the popes, known melon purveyors, and within the town, the popes influenced the agricultural trends of the community. The second origin story points to the late 15th century, when Charles VIII brought melon seeds back from Cantelupo, Italy, and planted them near Cavaillon. Cavaillon melons were bred from selective cultivation of cantaloupe varieties. The melons remained localized to their native growing region until the mid-19th century, but with the establishment of railways to Paris, Cavaillon melons became famous throughout France for their sweet, honeyed nature. In the 1980s, a brotherhood known as the Confrerie des Chevaliers de l'Ordre du Melon de Cavaillon, meaning the Knights of the Order of the Melon, was established to protect the quality of the Cavaillon melons while also promoting and encouraging the melon's cultivation. Today Cavaillon melons are still widely grown in Provence, France, and are sold through local markets, roadside stalls, and direct from growers. The melons are also produced in other regions of Europe, North Africa, the United States, and Mexico, but these crops are generally called Charentais melons when produced outside of Provence.
Recipe Ideas
Recipes that include Cavaillon Melon. One

is easiest, three is harder.