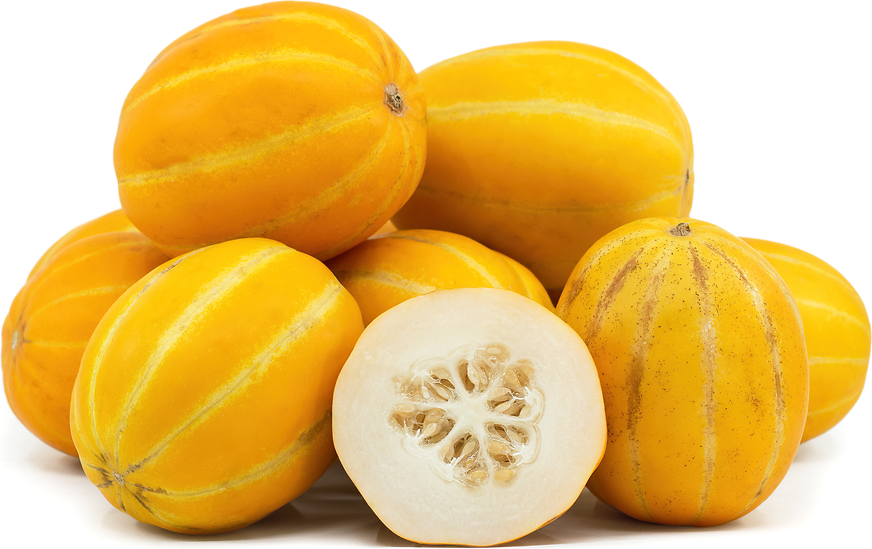 Korean Melon
Inventory, 16 ct : 2.52
This item was last sold on : 10/14/23
Description/Taste
Korean melons are small to medium fruits, averaging 10 to 20 centimeters in length, and have an oval to oblong, uniform shape with blunt, curved ends. The melon's rind is thin, smooth, waxy, and matte, bright yellow, showcasing evenly spaced, linear white sutures extending the length of the fruit. There are also other varieties of Korean melon that can be found in ivory to green shades, but the bright yellow and white striped cultivars are the most common. Underneath the rind, the white flesh is crisp, firm, and aqueous, encasing three cavities filled with small, semi-soft ivory seeds suspended in a gelatinous liquid in between strings of white fibers. When ripe, Korean melons will have a subtle aroma, feel heavy for their size, and will yield slightly when pressure is applied. The entire melon is edible, including the rind, flesh, and seeds. The rind bears a somewhat bitter taste, and the seeds and fibers are often considered the sweetest portion of the melon. The flesh has a crunchy, succulent texture with a mild, subtly sweet, and floral flavor with banana, cantaloupe, cucumber, and honeydew nuances.
Seasons/Availability
Korean melons are available in the summer through early fall.
Current Facts
Korean melon, botanically classified as Cucumis melo var. Makuwa, is a general descriptor used to encompass several varieties of small edible melons belonging to the Cucurbitaceae family. The melons grow on trailing, herbaceous plants and are favored for their easy-to-grow nature and drought tolerance. There are many different varieties of Korean melons grown worldwide that share a similar flavor and textural profile. In Korea, the melons are broadly known as Chamoe or Chameh, in China as Huangjingua and Tian Gua, and as Makuwa in Japan. The name Korean melon is primarily used in the United States, and the melons are also sometimes labeled as Oriental melon, Sun Jewel, Golden melon, or Japanese Cantaloupe in American markets. Korean melons are a symbol of summer in Korea and are mainly eaten chilled as a cooling dish. The melons are favored for their compact, portable size, edible hydrating nature, neutral flavor, and firm, crisp flesh.
Nutritional Value
Korean melons are an excellent source of vitamins A and C to reduce inflammation, boost collagen production to improve skin complexion, and strengthen the immune system. The melons are also a good source of potassium to balance fluid levels within the body, fiber to regulate the digestive tract, and contain lower amounts of vitamin K and calcium. In Korea, the melon's flesh is viewed as a source of hydration, and the seeds were traditionally consumed as a remedy for indigestion.
Applications
Korean melons have a delicate floral, sweet, and subtly vegetal flavor well suited for chilled, fresh preparations. The entire melon is edible, including the rind and seeds, but some consumers choose to discard the skin due to its bitter nature. Korean melons are most popularly peeled, chilled, and cut into pieces for consumption as a refreshing snack. The flesh can be tossed into green salads, mixed into fruit bowls, or stirred into yogurt as a filling breakfast dish. Korean melons can also be halved and topped with soft cheeses, used as an edible serving bowl, or sliced and wrapped in prosciutto as a savory-sweet appetizer. The neutral-flavored flesh can be combined with other fruits into smoothies, cocktails, and fruit punches, or it can be blended with sweeteners to make popsicles or ice cream. In addition to fresh preparations, Korean melons can be simmered into jams for filling in pastries, or they can be quick pickled and fermented as a tangy condiment and side dish. Korean melons pair well with fruits such as pears, watermelon, apples, berries, lychee, cantaloupe, honeydew, and citrus, cucumbers, ginger, mint, coconut milk, and soft cheeses such as feta, mascarpone, and ricotta. Whole, uncut Korean melons will keep up to one week when stored in the refrigerator. Once sliced, the melon pieces should be wrapped in plastic and stored for 2 to 3 days in the fridge.
Ethnic/Cultural Info
Korean melons are known as Chamoe in South Korea and are one of the most popular summer fruits, sold in brightly colored piles throughout local markets, supermarkets, and grocery stores in both villages and metropolitan cities. Approximately 70% of Chamoe in Korea is cultivated in Seongju County, an agricultural region located within the North Gyeongsang Province. Chamoe is so deeply intertwined within the region's culture that a Korean Melon Ecology Center was established to educate consumers on the importance of the melons. The center features cultivation practices, shares the history of the fruit, and even hosts events to promote the compact melons. In Seongju, Chamoe is most popularly eaten fresh, or slices of the flesh are pickled, known as jangajji. Chamoe jangajji is a favored summer ingredient for its cooling, tangy, and salty-sweet flavor traditionally consumed cold. The pickled melon pieces can also be served as a side dish, or they can be preserved for extended use into the fall and winter season.
Geography/History
Korean melons are believed by experts to have been descendants of melon varieties native to India. The ancient melons were spread throughout Asia along the Silk Road, eventually arriving in China, where they were cultivated and bred with wild melons from China. Korean melons were later introduced to Japan and arrived in Korea sometime during the Three Kingdoms Period, spanning 220 to 280 CE. In Japan, the melons were extensively cultivated and became one of the most common melon varieties in local markets. The melons were also recognized as a traditional vegetable, which is a grouping of fruits and vegetables that are preserved and promoted in Japan. Later in 1925, the melons began to fall out of favor throughout Japan with the introduction of sweeter western melon varieties. Korean melons became regarded as peasant food, so in 1957, the melons were bred to showcase improved flavor, appearance, and texture, creating the Euncheon chamoe. The Euncheon chamoe quickly grew in popularity for its improved qualities, and many cultivars were bred from the original melon, still found in commercial markets in the present day. The variety was also introduced into Korea in the 1950s, where it became the most popular type of commercially cultivated Korean melon. Today Korean melons are primarily grown in the North Gyeongsang Province in Korea. The melons are also produced in China, Japan, Vietnam, and other regions of Southeast Asia, sold domestically and imported into Europe, and grown in California and Hawaii of the United States.
Recipe Ideas
Recipes that include Korean Melon. One

is easiest, three is harder.