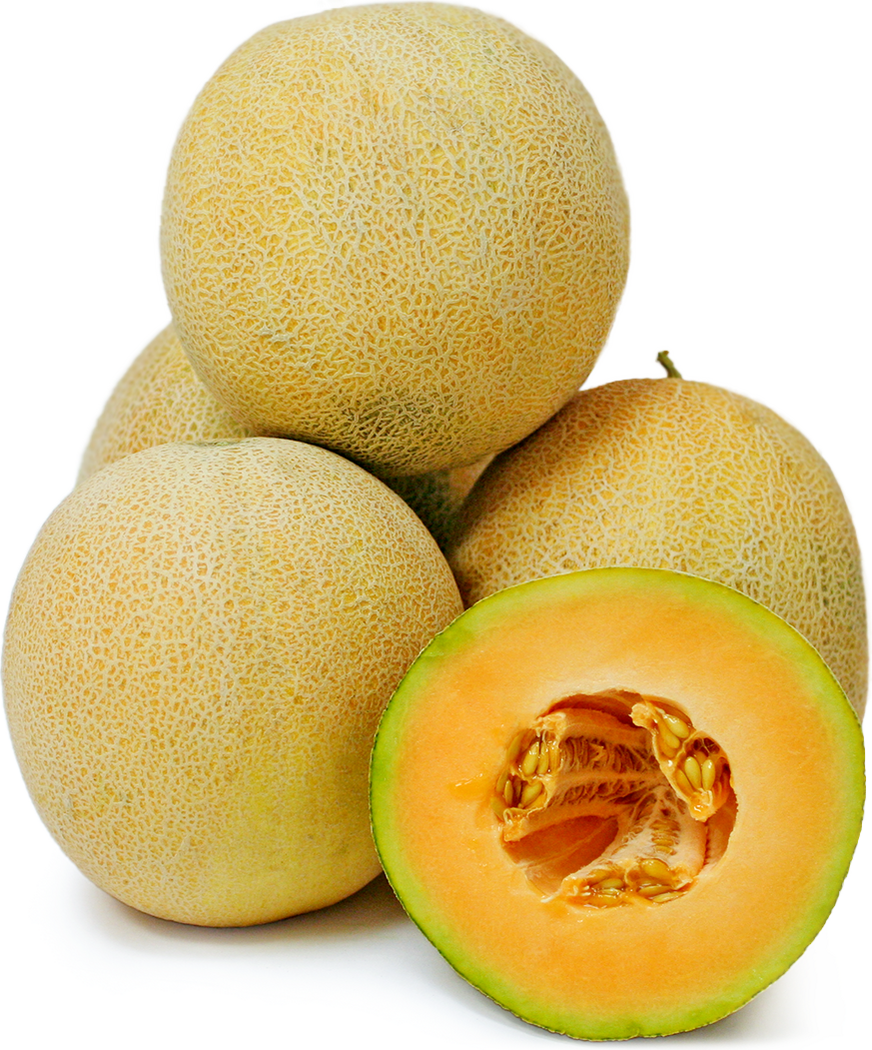 Persian Melon
Inventory, 18 lbs : 0
Description/Taste
Persian melons widely range in appearance, found in small to large sizes with round, oval, to elongated and tapered shapes. The melon's rind is generally semi-thin to thick and showcases ripe hues of golden yellow, bright yellow, green, to green-gray, depending on the variety. Persian melons can also be smooth to covered in raised, textured, and rough tan netting. Underneath the surface, the flesh appears in shades of bright orange, salmon, pale yellow, ivory, to green and can be aqueous, tender, and dense with a soft and succulent to firm and crisp consistency. Each melon will encase a central cavity filled with many oval to tear-drop-shaped seeds suspended in a gelatinous liquid between stringy pale orange to white fibers. Persian melons often release a sweet, floral, and musky aroma and will feel heavy for their size when ripe. The flesh varies in taste from mild, neutral, and subtly sweet to refreshing and honeyed with concentrated sugar levels.
Seasons/Availability
Persian melons are available in the summer.
Current Facts
Persian melons, botanically classified as Cucumis melo, are a category of melon varieties belonging to the Cucurbitaceae family. The term Persian is a blanket descriptor used for any muskmelon grown in modern-day Iran and its surrounding regions. There are many types of Persian melons, widely ranging in size, appearance, aroma, and flavor, and some of the major kinds of melons include honeydew melons, cantaloupes, green melons, and yellow melons. Casaba and Kharbozeh are two very well-known Persian melons, along with several netted cultivars. In the present day, Persian melons are commercially cultivated worldwide and are sold as a fresh-eating variety for their juicy flesh and aromatic, musky flavor. Some varieties are also grown in home gardens or through specialty farms, offered as seasonal novelties for melon enthusiasts.
Nutritional Value
Persian melons are a source of beta-carotene, a natural compound that is converted into vitamin A in the body the maintain healthy organ functioning and help improve skin complexion. The melons also provide vitamin C to strengthen the immune system while reducing inflammation, potassium to balance fluid levels within the body, and other nutrients, including folic acid, fiber, magnesium, calcium, vitamin K, copper, zinc, and phosphorus. In the Middle East, melons are considered a source of hydration due to their high water content. The melons are also consumed as a natural digestive aid and laxative to cleanse the body.
Applications
Persian melons generally have a mild to honeyed, sweet taste for fresh or cooked preparations. Regardless of the type of Persian melon, the rind should be thoroughly washed with soap and water to remove any lingering bacteria that may be found on the surface. The melon's neutral nature allows it to be incorporated into sweet and savory dishes, and the sweetness enhances fresh herbs and spices. Persian melons are traditionally consumed straight out of hand, and the flesh can be sprinkled with salt or sugar for enhanced flavoring. The flesh can also be tossed into green salads, mixed into fruit bowls, stirred into grains, or wrapped in salty cured meats as an appetizer. Try pureeing Persian melons into chilled soups or blending and freezing them into sorbet, popsicles, and other chilled desserts. The melons can also be incorporated into smoothies, cocktails, and fruit juices. In Iran, melons are sometimes used as a variation of sharbat, a drink comprised of blended fruit, water, sugar, and aromatics such as ginger or mint. The beverage is often consumed on hot days as a refreshment from the heat and is viewed as a source of hydration. Beyond sweet preparations, Persian melons can be grilled for added smokey flavors or seared to caramelize the melon's natural sugars. The melons can also be simmered into chutney, jams, jellies, and preserves. Persian melons pair well with fruits such as citrus, berries, stone fruits, and avocado, herbs including mint, tarragon, basil, and cilantro, and spices such as ginger, cinnamon, curry powder, and cayenne pepper. Whole, unopened Persian melons should be ripened at room temperature for 1 to 2 weeks, depending on when the melon was harvested. Once mature, the melons can be kept in the refrigerator and immediately consumed for the best quality and flavor. Sliced Persian melons should be stored in a sealed container in the fridge for 1 to 3 days.
Ethnic/Cultural Info
Persian melons are incorporated into the festive fruit spread served at Shabe Yalda, also known as Yalda night. The annual celebration occurs on the longest night of the year and is a night of recognizing the goodness of light over darkness. Yalda is one of the most ancient festivals still practiced in Iran and other nearby countries. The word Yalda roughly translates to mean "rebirth" and is associated with the rise of days with longer hours of sunlight. During Yalda night, family and friends gather around a table filled with food and drink to share stories, read poems, and sing songs. Many of the items featured on the table have symbolic meanings and are thought to bring cleansing and immunity for the winter season. Fruits such as pomegranates, persimmons, apples, and pears are decoratively spread across the table, and large melons are cut open in elaborate designs. Watermelons are the primarily melon consumed during Yalda, but other types of muskmelons are also eaten to cleanse the body of impurities, welcome fertility, and strengthen the immune system. In addition to eating the flesh out of hand, melons are sometimes blended into drinks with syrup as a refreshing and hydrating beverage during the celebration.
Geography/History
Persian melons are native to the land that once formed the Persian Empire, now modern-day Iran. The Persian Empire spanned from the 6th century BCE to the 20th century CE and was established by semi-nomadic tribes under the leadership of Cyrus the Great around 550 BCE. Cyrus the Great defeated several powerful neighboring kingdoms and established rule over the regions. At the height of the Persian Empire, the kingdom spanned the Balkan Peninsula, now modern-day Ukraine, Bulgaria, and Romania, extended south to Egypt, and east to the Indus River Valley in northwestern India. With the massive kingdom stretching across three continents, the Persian Empire developed roads and trade routes to transport goods between the areas of the empire, thus spreading agricultural products, including melons. Persian melons have been produced in Persia since ancient times. Most of the melons are types of muskmelons, and the fragrant, juicy varieties were extensively bred throughout history, valued for their water content as a natural canteen. Over time, many varieties of melons were selectively bred and generally labeled as Persian melons, sent to Central Asia and Europe along trade routes. The Romans and the Greeks knew Persian melons by the 3rd century BCE, and by the 15th century CE, melons were being grown in Spain. Spanish explorers carried melons to the New World and planted varieties on Isabela Island in 1494. Melons were also introduced to the colonies in America in the late 16th century. Today Persian melons are still widely cultivated in Iran and surrounding regions and are sold domestically and exported as a seasonal delicacy. The melons are also grown in melon-production regions worldwide and sold through online seed catalogs for home gardeners.
Recipe Ideas
Recipes that include Persian Melon. One

is easiest, three is harder.