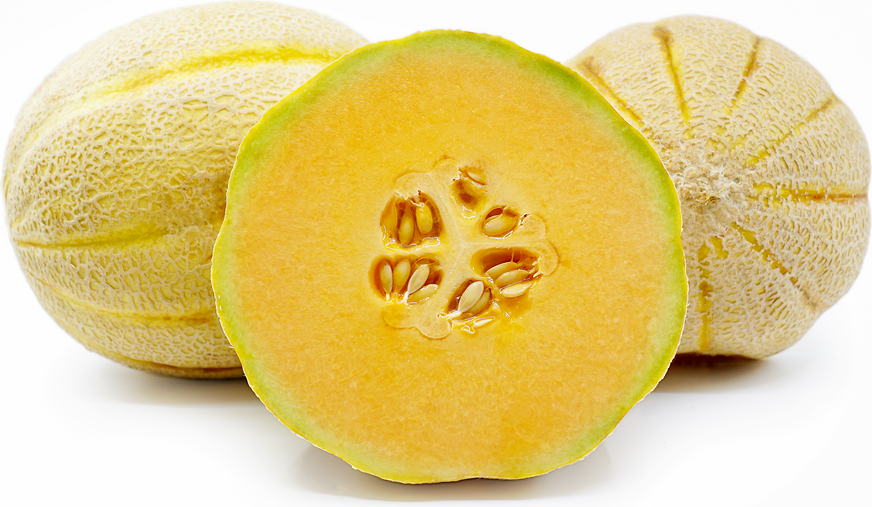 Tirreno Melon
Inventory, ea : 0
Description/Taste

Tirreno melons are oval to round, medium-sized fruits, averaging 15 to 17 centimeters in diameter. The rind is pale green and firm when immature, covered in a rough, tan netting and prominent, dark green, vertical sutures or ribs. As the melon matures, the sutures will transition from green to yellow, acting as a visual cue for ripeness. Underneath the thick rind, the flesh is dense, bright orange, and crisp, encasing a small cavity filled with cream-colored, flat seeds. Tirreno melons are aromatic and are known for their consistent, exceptionally sweet flavor.


Seasons/Availability

Tirreno melons are available in the summer through early fall.


Current Facts

Tirreno melons, botanically classified as Cucurbita melo, are a hybrid variety belonging to the Cucurbitaceae family. Also known as Tuscan melons and Italian Netted cantaloupes, Tirreno melons were developed and cross-bred as a variety with improved resistance to disease, thicker flesh, high-yields, and a sweeter flavor. Tirreno melons are favored by growers for organic farming and are also a popular variety for home cultivation.


Nutritional Value

Tirreno melons are an excellent source of vitamin C, which is an antioxidant that can help strengthen the body against environmental aggressors, and are a good source of folate, vitamin K, beta-carotene, and phosphorus. The fruits also contain potassium, fiber, and manganese.


Applications

Tirreno melons are best suited for raw applications as the sweet, juicy flesh is showcased when consumed fresh, out-of-hand. The melon can be sliced, deseeded, and served as a snack, thinly sliced and layered over bread, chopped and tossed into fruit or green salads, or paired with cheeses on appetizer plates. It can also be used as a topping over ice cream, blended into smoothies or sorbets, or incorporated into cold soups. In addition to fresh applications, Tirreno melons can be reduced with sugar to make a jam, or it can be lightly grilled and topped with honey for added sweet and savory flavors. Tirreno melons pair well with vanilla, cinnamon, herbs such as basil and mint, dates, figs, citrus, strawberries, blueberries, yogurt, and nut butter. Whole melons can be stored for two weeks in the refrigerator, while sliced pieces should be kept in a sealed container in the fridge for up to four days.


Ethnic/Cultural Info

Tirreno melons are frequently used in the Italian appetizer of prosciutto and cantaloupe. This famous appetizer dates back to the 2nd century and was created by a doctor known as Galeno. During ancient times, many doctors believed that the body was made up of a delicate balance between wet, dry, warm, and cold elements. Galeno actively practiced this methodology and considered melons to be a cold food that could throw the body's equilibrium out-of-balance if it was not paired with a warm counterpart. To counteract the cold and wet nature of the melon, Galeno wrapped the fruit slice in prosciutto, which was considered a warm and dry food. The balanced snack was quickly adopted among Italian households, loved for its sweet and salty flavor, and has continued to remain a favorite dish served at family gatherings, parties, and special occasions in both the United States and Europe.


Geography/History

The origin of Tirreno melons is mostly unknown, but some experts believe the hybrid variety is related to melons that have been widely cultivated in Italy and throughout the Mediterranean. Today Tirreno melons are grown through specialty farms and can be found at local markets across the United States, Europe, and the Middle East.