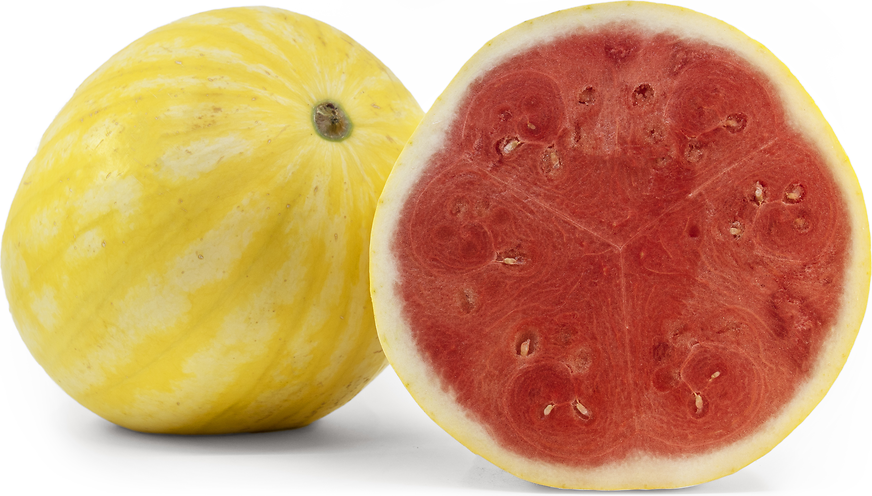 Red Flesh Sunshine Watermelon
Inventory, lb : 0
Description/Taste

Sunshine watermelons are a small varietal, averaging around four pounds, and have an oval to oblong appearance with blunt, curved ends. The rind is smooth, hard, and thin, with a pale yellow to a canary yellow variegated base hue. The entire watermelon is covered in a darker yellow broken striping, often referred to as tiger stripes. Underneath the surface, a thin layer of white rind encases the dense, aqueous, and crisp but not overly crunchy flesh. The flesh ranges in shades from red-pink to ruby red and is seedless, sometimes containing a few underdeveloped ivory seeds. These immature seeds are edible and unnoticeable. Sunshine watermelons are mild, sweet, and refreshing with honeyed, sugary undertones combined with subtle vegetal nuances, giving the flesh a sweet but natural taste.


Seasons/Availability

Sunshine watermelons are available in the summer through early fall.


Current Facts

Sunshine watermelons, botanically classified as Citrus lanatus, are a modern American variety belonging to the Cucurbitaceae family. The small, sweet cultivar was developed in Bakersfield, California, in the early 21st century and was selected as a new variety for its unexpected coloring. Sunshine watermelons are named for their yellow-striped rind and are individually-sized watermelons sometimes known as Sunshine Seedless watermelons. The variety offers the familiar, classic taste of red-fleshed watermelon in a compact, brightly colored form. It is important to note that another type of watermelon with yellow flesh is also known as Sunshine, but these two varieties are distinct and separate cultivars. Sunshine watermelons are still somewhat rare and are only found through a few select distributors in commercial markets. The entire melon is edible and is typically consumed fresh to showcase the contrasting nature between the rind and flesh. Sunshine watermelons can also be incorporated into a wide array of beverages and lightly cooked preparations.


Nutritional Value

Sunshine watermelons, like other red-fleshed watermelons, are a source of vitamin C to strengthen the immune system, boost collagen production, and reduce inflammation. The watermelons also provide potassium to balance fluid levels within the body, vitamin A to maintain healthy organ functioning, vitamin B5, also known as pantothenic acid, and copper to help generate red blood cells. Beyond vitamins and minerals, Sunshine watermelons contain water for added hydration and lycopene, a pigment that gives the flesh its signature, red-pink hue. Lycopene has antioxidant-like properties to protect the cells from damage caused by free radicals.


Applications

Sunshine watermelons are a specialty variety suited for fresh preparations to showcase the melon's unique rind and flesh coloring. The yellow-striped cultivar can be used in any recipe calling for standard watermelons and has a sweet, juicy, and crisp consistency. Sunshine watermelons are popularly washed and sliced into wedges, circles, and other formations to ensure the rind is still attached to the flesh. The color contrast between the red-pink flesh and the yellow skin creates a striking visual, and all parts of the watermelon are edible. Sunshine watermelons can also be cut and tossed into salads, mixed with fresh herbs and cheeses as a side dish, sliced and displayed on appetizer platters, or incorporated into chilled soups such as gazpacho. The watermelon's sweet flesh can be blended into smoothies, fruit juices, or slushies, or the juice can be mixed into cocktails as a summer refreshment. Try blending and freezing Sunshine watermelon flesh into popsicles, sorbet, or granita as a light, cooling treat. Sunshine watermelons can also be trimmed from their rind and topped with chocolate frosting, fruits, herbs, or edible flowers to create an unusual cake-like dessert. In addition to fresh preparations, Sunshine watermelons can be lightly grilled to create a smoky-sweet flavor or sauteed in a hot pan to create a tender but slightly chewier consistency, utilized as a tuna replacement in salads and main dishes. The rind can also be pickled, roasted, or simmered into curries as a crunchy, vegetal flavoring. Sunshine watermelons pair well with cheeses such as feta, goat, and blue, herbs including cilantro, basil, and mint, lime, pomegranate seeds, raspberries, passion fruit, coconut, cucumber, and rose. Whole, unopened Sunshine watermelons can be left at room temperature for a couple of days or stored in the refrigerator for 1 to 2 weeks. Once sliced, the flesh should be kept in a sealed container in the fridge and consumed within 3 to 4 days for the best quality and flavor.


Ethnic/Cultural Info

Sunshine watermelons are one of several seedless cultivars that have been bred for improved texture, flavor, and appearance in the United States in the 21st century. Growers are switching from cultivating large, seeded red-fleshed watermelons to producing smaller watermelons with unique rind coloring, striping, and flesh tones in orange, yellow, and red-pink hues. Developing smaller watermelons also allows growers to plant more vines, creating higher, transportable, and stackable yields. In addition to the growers, consumers are seeking out the small triploid varieties as they are able to fit into all sizes of refrigerators and can be easily cut into slices, cubes, and wedges. Sunshine watermelons were bred to showcase their unusual yellow rind and ruby-red flesh. The striped, yellow skin is uncommon among the typical dark green and light green-striped watermelons and offers a visually appealing alternative to standard seedless cultivars in culinary preparations.


Geography/History

Sunshine watermelons were developed by Thomson International, a family-owned and operated farm in Bakersfield, California. Thomson International was established in 1971 and is currently run by a brother and sister team, Jeff Thomson and Annie Baisden. The siblings come from a family specializing in breeding watermelons and onions for several generations, and the farm partners with companies and growers throughout California and the Pacific Northwest. Sunshine watermelons are a modern cultivar that began to appear in commercial markets around 2021. Today the watermelons are a boutique, seasonal variety offered through select retailers and distributors throughout the United States.