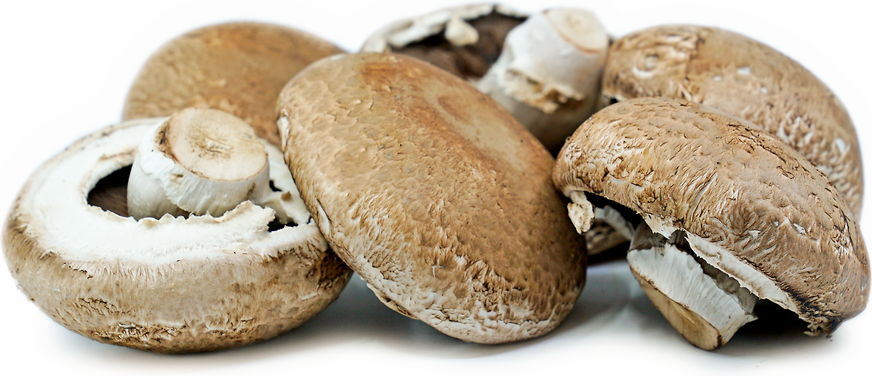 Portobello Mushrooms
Inventory, 5 lbs : 71.07
This item was last sold on : 12/10/23
Description/Taste
Portobello mushrooms are medium to large in size, averaging 10 to 15 centimeters in diameter, and will vary in appearance from convex to broad and flat, depending on maturity. The caps are generally plump, ranging in color from tan to dark brown, and have a smooth to slightly wrinkled nature. The cap's surface is also sometimes covered in small flaky scales and is firm, spongy but delicate, being easily punctured or scratched, occasionally creating spots of pink-red bruising. Underneath the cap, fully developed dark brown gills are crowded, narrow, and free-standing. Some Portobello mushrooms are also sold with their stems partially intact. The stems can be 2 to 7 centimeters in length and 1 to 3 centimeters in diameter and have an ivory to white hue with a fibrous consistency. Portobello mushrooms are known for their dense, meaty, sturdy, thick, and hearty texture and can be eaten raw or cooked. When cooked, the mushrooms intensify in flavor and develop an earthy, savory, rich, subtly smoky, and umami-filled taste.
Seasons/Availability
Portobello mushrooms are available year-round, with a peak season in December through March.
Current Facts
Portobello mushrooms, botanically classified as Agaricus bisporus, are the larger, earthier, and more mature versions of a common mushroom belonging to the Agaricaceae family. Agaricus bisporus is one of the most popular species commercially produced worldwide, and the mushrooms are consumed at multiple stages of maturity. When the mushrooms are harvested in their immature brown stage, they are commonly known as Cremini, Crimini, Baby Bella, and Chesnut mushrooms. They are also cultivated to produce an immature white variation known as White mushrooms, Button mushrooms, Table mushrooms, and Common mushrooms. Portobello mushroom is the descriptor for Agaricus bisporus mushrooms that have matured and grown full-size. The caps are the largest of all cultivated mushrooms and are favored for their rich, savory, and earthy taste and dense, meaty texture. Portobello mushrooms are one of the top cultivated varieties in the United States, but despite their popularity in the modern day, the mushrooms only achieved commercial success once they were rebranded in the 1980s. Prior to the 80s, Portobello mushrooms were an undesired variation of Agaricus bisporus commonly discarded. Portobello mushrooms now account for around ninety percent of the mushroom production in the United States and are utilized by chefs and home cooks in a wide variety of raw and cooked culinary preparations. The large caps are also famously known as a meat substitute.
Nutritional Value
Portobello mushrooms are a source of potassium to balance fluid levels within the body, copper to develop connective tissues, fiber to regulate the digestive tract, and selenium to produce DNA. The mushrooms also provide vitamin D to assist the body in absorbing calcium, phosphorus to repair tissues, and other nutrients such as niacin and vitamin B6.
Applications
Portobello mushrooms have a savory, earthy, subtly smoky, and umami-packed taste suited for fresh and cooked preparations. The mushrooms should be cleaned before use and wiped with a damp cloth or lightly rinsed and dried. Portobello mushrooms can be finely chopped and added to salads or tossed in oils and herbs as a topping over crostini. The mushrooms can also be cooked as heating the fungi intensifies their flavor. Portobello mushrooms are popularly broiled, grilled, or sauteed and are famously used as a bun replacement for burgers. Portobello mushrooms can also be hollowed and used as a pizza crust, stuffed with grains and cheeses, or grilled and used as a savory base for open-faced sandwiches. Try chopping Portobello mushrooms and adding them to pasta or rice dishes, slice into salads, stir into stews, curries, and soups, or mix into rice and noodle dishes. The mushrooms can also be combined into egg-based dishes such as frittatas and omelets. Portobello mushrooms pair well with fresh herbs such as oregano, rosemary, thyme, or cilantro, cheeses including goat, mozzarella, and parmesan, aromatics such as garlic, onions, ginger, and shallots, tomatoes, spinach, and other leafy greens. Whole, unwashed Portobello mushrooms should be stored in a paper bag in the refrigerator for up to one week. The mushrooms can also be cooked and stored in the freezer for several months.
Ethnic/Cultural Info
In the United States, the origins and spelling of Portobello mushroom is a name heavily debated. Portobello mushrooms are known as Portobello, Portabello, and Portabella, and it is generally accepted that any of these spellings are correct. The vast number of spellings is attributed to the fact that Portobello was a name selected as a part of a marketing rebranding of the mushrooms in the 1980s. Multiple spellings were adapted throughout the marketing campaign among growers, retailers, and consumers, creating confusion around the correct name. There are also several legends about the origins of the name Portobello. One story claims that Portobello is derived from the Italian words "porto," meaning "port" or "porta," meaning "door," and "bello," translating to "handsome" or "bella," meaning "beautiful." Legend states that the name was generated from an unknown site in Italy, explaining why the mushroom developed its Italian-born "handsome" or "beautiful" name. Another theory points to London, where Portobello Road is a famous shopping district where the mushrooms may have been once sold.
Geography/History
Agaricus bisporus is native to Europe and has been growing wild since ancient times. Wild versions of this species were commonly found growing individually in grasslands, temperate forests, warm, humid regions with leaf litter, near conifers, in areas with soil rich in humus, and on land near human dwellings such as fields, animal pastures, and gardens. Much of the species' history in the wild is unknown, but academic studies have hypothesized that the mushrooms were carried from Europe to East Asia and were later spread to North America in the early ages. Agaricus bisporus was first cultivated in the early 1700s in France and is one of the only mushroom species that has acquired worldwide popularity with a relatively short history of cultivation, having been produced for a little over 300 years. Commercially grown Agaricus bisporus was initially planted in tunnels, caves, and quarries to control humidity and temperature, and the first record of the mushroom was documented by French botanist Joseph Pitton de Tournefort in 1707. Later in 1893, the Pasteur Institute in Paris created sterilized spawn, also known as pure culture spawn, a discovery that allowed mushroom growers to consistently produce white mushrooms. In Europe and the United States, commercial Agaricus bisporus mushrooms were traditionally small and brown. In 1926, Pennsylvania mycologist Louis Ferdinand Lambert isolated the genes for pure white mushrooms and was able to create a consistent, scalable variation of the common brown fungi. White Agaricus bisporus quickly became the most desired version of the produced mushroom in American commercial markets. During this time, brown Agaricus bisporus mushrooms faded from commercial sales, and larger versions of the brown mushrooms were mostly discarded or taken home by the growers as a culinary ingredient. It wasn't until the 1980s that large brown mushrooms were rebranded into a trendy commercial item under the name Portobello. Throughout the 80s, natural grocery stores were being constructed across the United States, and with the trends of healthy foods rising in popularity, large brown Agaricus bisporus was reborn into the Portobello mushroom. The name Portobello was the brainchild of a marketing group working on rebranding the mushroom. Portobello mushrooms were advertised as a premium cultivar used as a flavorful and dense meat substitute. The hearty mushrooms were heavily promoted through restaurants, media outlets, food writers, and chefs to consumers, creating demand for the once-disregarded mushroom. Today Portobello mushrooms are primarily produced in specially designed warehouses and are harvested by hand. It is rare for the mushrooms to be found in the wild. When available, Portobello mushrooms are sold through select grocers, fresh markets, and distributors worldwide.
Featured Restaurants
Restaurants currently purchasing this product as an ingredient for their menu.
the other 101...
Recipe Ideas
Recipes that include Portobello Mushrooms. One

is easiest, three is harder.
the other 24...
Podcast