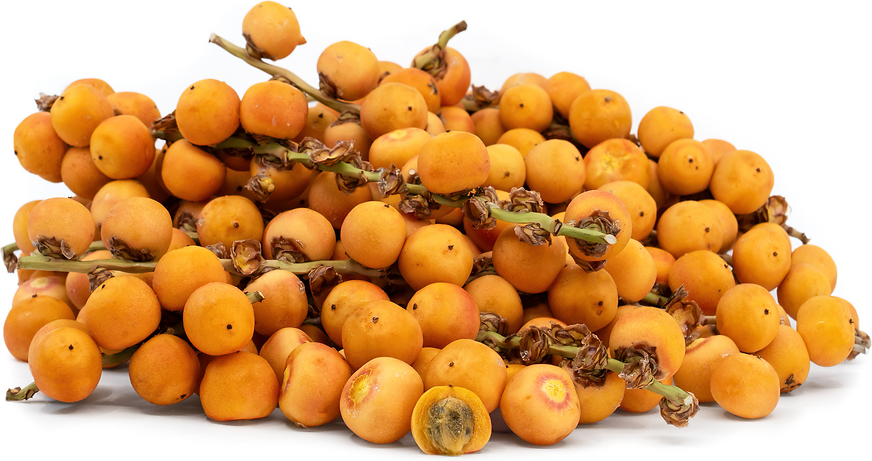 Jelly Palm Fruit
Inventory, lb : 0
Description/Taste

Jelly palm fruits are small, averaging 1 to 3 centimeters in diameter, and grow in large clusters of oval, ovate, to round, edible fruits. Each palm fruit has thin, smooth, and taut skin, showcasing vibrant shades of golden yellow, sometimes blushed with an orange-red hue. Underneath the surface, the yellow flesh is succulent, chewy, and semi-aqueous with a somewhat fibrous nature. Many consumers choose to discard the fibers within the flesh after sucking out the juice, as the fibers can be tough and unpleasant to digest. In the center of the flesh, there is also a large, black seed that is inedible when raw. Jelly palm fruits should feel soft to the touch when ripe and have a tropical, subtly nutty, sweet-tart flavor with pronounced fruity nuances of pineapple, followed by hints of apricot, banana, and coconut.


Seasons/Availability

Jelly palm fruits are available in the summer through early winter.


Current Facts

Jelly palm fruits, botanically classified as Butia capitata, are a sweet-tart, South American species belonging to the Arecaceae family. The small fruits grow in clusters on the Pindo palm, a compact, evergreen tree reaching 4.5 to 6 meters in height. Pindo palms are known for their hardiness, bearing feathered blue-green fronds, a thick trunk, and small stature, making them a favored tree for landscape design. They are also valued for their heat tolerance, high yields, and soil adaptability. When the palms are fruiting, they produce large, cascading clusters of bright yellow fruits that create a visually stunning display down the side of the tree. The fruits drop to the ground when ripe and are a local delicacy, chewed for their nectar-like, tropical juice. Jelly palm fruits are also known as Pindo palm fruits, Wine palm fruits, Piña Colada fruits, and South American Jelly palms. The fruits received their jammy moniker from being used to flavor and thicken homemade jams and jellies. While Jelly palm fruits are prevalent throughout landscapes, the fruits are not commercially cultivated and are sold on a small scale as a novelty. Most Jelly palm fruits are harvested from wild or home garden trees and are collected to make jams, sauces, syrups, and wine.


Nutritional Value

Jelly palm fruits have not been extensively studied for their nutritional content. The fruits are said to be a good source of beta-carotene, a red-orange pigment found within the flesh that is converted into vitamin A in the body to maintain healthy organ functioning. Jelly palm fruits also provide fiber to stimulate the digestive tract and vitamin C to strengthen the immune system while reducing inflammation.


Applications

Jelly palm fruits have a tropical, sweet, and tangy flavor well suited for fresh and cooked preparations. The fruits can be consumed straight out of hand, but the flesh has a fibrous nature that some find unpleasant to swallow. Most palm fruit enthusiasts chew the flesh to extract the flavorful juice and then spit out the remaining fibers and central seed. Jelly palm fruits are also popularly cooked into syrups, jams, and sauces. The fruits are cooked with sugar and water to create a tangy, fruity syrup, which can be incorporated into cocktails, carbonated beverages, or drizzled over pancakes. The palm fruits can also be simmered into a jelly or jam as the flesh is naturally high in pectin. Chefs still recommend adding an extra solidifier into the mixture to develop a sturdier jam, but little is required. In addition to syrups and jams, Jelly palm fruits can be cooked into sauces for poultry and seafood, blended and juiced into sorbet or ice cream, or added as flavoring to other baked goods and desserts. In South America, Jelly palm fruits are fermented into a heady, tropical wine. Beyond the flesh, Jelly palm fruit seeds contain approximately 45% oil and are sometimes used to make margarine. The seeds are also roasted in some cultures and ground into a warm beverage similar to coffee. Jelly palm fruit pairs well with other fruits such as coconut, pineapple, strawberry, and citrus, vanilla, and herbs including basil, lemongrass, rosemary, and mint. Whole, unwashed Jelly palm fruits are highly perishable and should be immediately consumed for the best quality and flavor. The fruits can be stored in the refrigerator for 1 to 2 days after harvest. The fruits can also be pitted and frozen for extended use.


Ethnic/Cultural Info

Pindo palm trees were named after Pindo, a town in Southern Brazil. The palms were initially taken from the wild and domesticated for their easy-to-maintain nature, small size, and abundant fruit production. As the Pindo palm became recognized as a potential tree for landscapes and home gardens, the palms were spread throughout the Americas. Pindo palms were planted in urban landscapes, gardens, city parks, town squares, along sidewalks, and even in cemeteries. Despite their initial popularity, Pindo palms have fluctuated in popularity, depending on consumer landscape trends. The trees at one time faded from the limelight as homeowners became frustrated that the fruits would drop to the ground and create sticky spots, attracting insects and animals. Recently, there has been a resurgence in foraging and planting ornamental plants in home gardens with edible fruits. The Pindo palm has become a favored tree once again, as home cooks and foragers discover new ways to use the large harvest of fruits.


Geography/History

Jelly palm fruits are native to South America, with concentrated populations in Brazil, Argentina, and Uruguay, and have been growing wild since ancient times. The fruits grow on compact trees known as Pindo palms and are naturally found in subtropical, tropical, to temperate climates in woodlands, savannas, or coastal plains. Over time, Pindo palms have been spread throughout South America as ornamental palms, planted in home gardens and urban landscapes. The palms were also distributed to Central America, Mexico, and the Southern United States. Today Jelly palm fruits are not commercially cultivated and are primarily gathered from wild and domesticated garden palms. When in season, the palm fruits can be found through local farmers markets and vendors in South America, Central America, Mexico, and the Southern United States.