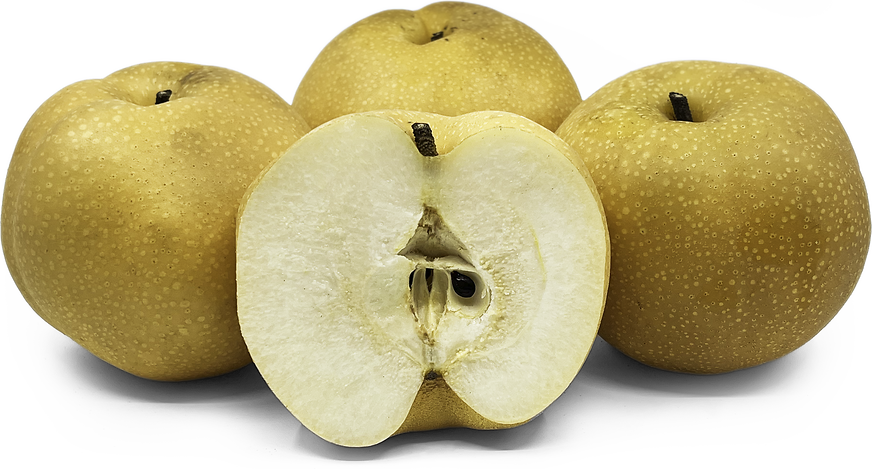 Shingo Asian Pears
Inventory, lb : 0
Description/Taste

Shingo pears are large in size, weighing 14 to 24 ounces, depending on cultivation, and have a spherical to slightly ovate shape, often showcasing several lumps and bumps around the shoulders. The fruit's skin is thin, textured, and taut, appearing in shades of light brown, golden brown, to butterscotch gold. The surface also bears a russeted nature, giving the skin a slightly sandy feel. Underneath the surface, the white-to-ivory flesh is aqueous, firm, and tender with a crisp, succulent crunch. When opened, Shingo pears release a honeyed, floral, fragrant aroma and will maintain their crisp texture for extended periods. The fruits have low acidity and moderate sugar content, averaging 13 to 14 degrees Brix, contributing to the variety's refreshing and delicately sweet taste with melon and caramelized sugar nuances. It is important to note that Asian pears retain their firm texture once picked and will not soften when kept in storage. The fruits are fully ripened on the tree, and once harvested, they can be immediately consumed.


Seasons/Availability

Shingo pears are harvested in the fall through winter. The fruits can be kept in professional cold storage for up to six months, providing almost year-round availability in select markets.


Current Facts

Shingo pears, botanically classified as Pyrus pyrifolia, is a type of Asian pear belonging to the Rosaceae family. The late-maturing variety was initially created in Japan and was introduced to Korea in the early 20th century, where it was planted and grown commercially for fresh markets. Shingo pears grow on trees reaching 3 to 4 meters in height and are a slow-maturing variety. Growers allow Shingo pears to fully ripen on the tree, and during cultivation, the fruits are manually thinned and wrapped in a protective layer to preserve their delicate, easily bruised skin. Shingo pears are labor-intensive and hand-harvested, making them a premium variety sold at high prices in the market. The variety is also widely known as Niitaka pears or Singo pears and is sometimes generally labeled as Korean pears, Apple pears, Bae, or Asian pears in commercial markets. Shingo pears are favored for their large size, aqueous nature, and sweet taste. In Asia, Shingo pears are often given as gifts and are transported in protective packaging to prevent their skin from being damaged. The variety is popular in Japan and Korea and is also exported to Singapore, Malaysia, and Indonesia, where they are sold as premium fresh fruits.


Nutritional Value

Shingo pears are a source of vitamin C to strengthen the immune system, fiber to regulate the digestive tract, and vitamin K to support bone growth and blood clotting. The variety also provides potassium to balance fluid levels within the body, vitamin A to maintain healthy organ functioning, copper to develop connective tissues, calcium to build strong bones and teeth, and other nutrients, including phosphorus, B vitamins, magnesium, and iron. In Asian natural medicines, Asian pears, such as Shingo, are cooked and consumed with honey to soothe sore throats.


Applications

Shingo pears have a sweet, refreshing taste suited for fresh and cooked preparations. The variety is traditionally consumed out of hand, and the skin can be peeled or left intact, depending on preference. Lime juice can also be squeezed over the flesh for a pop of flavor. In Korea, it is customary to serve Asian pears as a dessert along with other fruits, and the entire platter is peeled for easy consumption. Shingo pears can also be peeled and tossed into salads, served as an edible garnish over chilled soups and dips, displayed in charcuterie boards, shredded into slaws, or blended into sauces. Try wrapping slices of flesh in prosciutto as a substitute for melon in the well-known appetizer. The pear's sweet taste is popularly used as a marinade in Korea, especially for bulgogi and galbi, or the flesh can be incorporated into kimchi and served with cooked sweet potatoes. One of the most popular Korean summertime foods is naengmyeon, a dish of cold noodles garnished with Asian pears. The variety is also sliced and topped with yukhoe, or a meat sashimi filled with an aromatic blend of garlic, sugar, toasted sesame seeds, soy sauce, sesame oil, and pepper. In Japan, Shingo pears are poached in spices, wine, and sugar as a decadent dessert and cooked in syrups and chilled as a snack. They are also blended into smoothies and juices as a cooling beverage. Outside of Asia, Shingo pears can be used in any recipe calling for Asian pears or apples. Heating the fruits for extended periods is not recommended as their watery nature will cause the flesh to break down quickly, so light cooking methods are preferred. Shingo pears pair well with herbs such as fennel, mint, rosemary, and thyme, spices including cinnamon, nutmeg, ginger, and cardamom, and nuts such as almonds, hazelnuts, cashews, and pistachios. Whole, unwashed Shingo pears will keep for 1 to 3 weeks when stored at room temperature and for 2 to 6 months when stored in the refrigerator. They can also be sliced and frozen for 10 to 12 months.


Ethnic/Cultural Info

In Korea, Shingo pears are traditionally harvested from growers around Chuseok, also known as Korean Thanksgiving Day. Chuseok is an important celebration in Korea, where Koreans return to their ancestral hometowns to spend time with their families. The three-day event is a time for thanksgiving, and historically, the celebration fell on the day of the full harvest moon to thank the ancestors for an abundant harvest. During Chuseok, families celebrate the harvest season by preparing unique dishes such as galbijjim, a labor-intensive beef short rib, japchae or stir-fried noodles, and wanjajeon, which are egg-battered meatballs. Another tradition of Chuseok is gift-giving. Shingo pears are popularly given as gifts during Chuseok to friends, coworkers, family members, store owners, and other acquaintances as a sign of appreciation. The golden, round nature of the fruits is thought to resemble the moon, alluding to the origins of Chuseok being a harvest moon festival, making the pear an auspicious gift. Beyond fresh fruits, one of the most customary and favored gifts to give during Chuseok is multiple cans of Spam enclosed in a decorative box. This peculiar gift stems from the canned meat's rise to fame when it transformed from a necessity during the Korean War to a luxury item in the 1980s. It is said gifting Spam is giving the receiver the gift of warmth and love.


Geography/History

Shingo pears are native to Japan and were developed in the early 20th century. Breeder Mr. Akio Kikuchi crossed the varieties Amanogawa and Chojuro in 1915 in the Kochi Prefecture, Japan. The crossbred seedling produced its first fruits in 1922, and by 1927, the pears were officially released to Japanese markets and growers. Shingo pears are widely known as Niitaka pears in Japan, and after their release to the market, the variety was extensively grown in Harigi in the Kochi Prefecture. In the 1930s, Shingo pears were introduced to Korea, as the country was under Japanese colonial rule until the fall of 1945. Breeders in Korea had begun Asian pear improvement programs at research stations across the country in the late 1920s, but most of the large-scale research was conducted later in 1967. Asian pears were studied, improved, and cultivated throughout Korea, and by the 1980s, the Korean Asian pear market was transformed from a local economy to an international business. Today Shingo pears are primarily produced in the Jeollanam-do and Naju Provinces. The fruits are also grown on a smaller scale in the Gyeonggi and Chungcheong-do Provinces. In Japan, Shingo pears are cultivated in the Kumamoto, Chia, and Niigata Prefectures. Shingo Asian pears are sold domestically throughout Japan and Korea and are also exported to countries worldwide, especially to markets in Taiwan, China, Singapore, Malaysia, and Indonesia. Shingo pears can also sometimes be found in select retailers in the United States, including Trade Joes and Target.