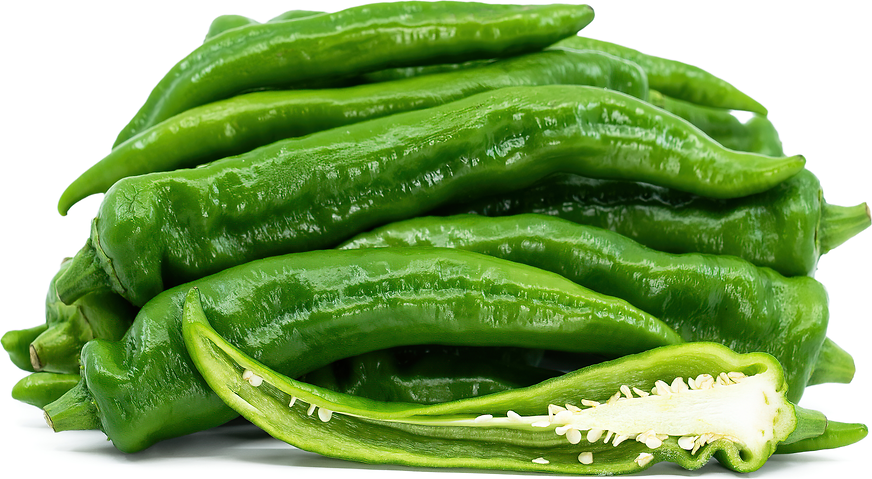 Manganji Peppers
Inventory, lb : 0
Description/Taste
Manganji chile peppers are a small to medium-sized varietal, averaging 10 to 23 centimeters in length and 2 to 5 centimeters in diameter, and have an elongated, slender conical shape. The pods can be curved or straight and have small, slightly creased shoulders that taper to a distinct point on the non-stem end. Many Manganji chile pepper pods will exhibit bunched wrinkles towards the stem, and the skin is smooth, glossy, and taut, showcasing dark green to bright red hues, depending on maturity. Underneath thick skin, the pale green to red flesh is crisp, aqueous, tender, and succulent with a crunchy, snappy consistency. The flesh also encases a central cavity filled with round, flat, cream-colored seeds. These edible seeds can be consumed or discarded based on personal preferences. Manganji chile peppers have a vegetal, grassy, and subtly earthy smell, and the pods can be consumed raw or cooked, bearing a bright, subtly sweet, bitter, vegetal, and earthy taste. Most Manganji chile peppers are mild, but some open-field peppers may have a slight kick to them, less in intensity than a jalapeno.
Seasons/Availability
Outdoor, field-grown Manganji chile peppers are available in the summer through fall. Greenhouse-grown Manganji chile peppers are offered year-round.
Current Facts
Manganji chile peppers, botanically classified as Capsicum annuum, are a Japanese variety belonging to the Solanaceae or nightshade family. The hybrid peppers were developed in Japan in the 20th century and were favored among growers for their mild taste, elongated nature, and crisp, fleshy texture. Manganji chile peppers are also known as Manganji Togarashi, Manganji Amato, and Manganji Sweet peppers, and the long, green peppers are a regional and traditional specialty of Kyoto, Japan. In the modern day, Manganji chile peppers are well-known throughout Japan, and the earthy peppers have been extensively cultivated as a versatile culinary pepper. Several improved varieties of Manganji chile peppers have also been released to commercial markets, known as Kyoto Manganji No. 1, circulated in 2007, and Kyoto Manganji No. 2, an improved variety with less bitterness, introduced in 2012. Manganji chile peppers are typically harvested 80 to 90 days after sowing and are customarily picked when green and young. If Manganji chile peppers are left on the plant to ripen, the green peppers will become red, later labeled and sold as Akamanganji in fresh markets.
Nutritional Value
Manganji chile peppers are a source of vitamin A to maintain healthy organ functioning, potassium to balance fluid levels within the body, and vitamin C to strengthen the immune system. The peppers also contain fiber to regulate the digestive tract, magnesium to support nerve functioning, copper to develop connective tissues, and other nutrients, including iron, B vitamins, and calcium.
Applications
Manganji chile peppers have a mild, earthy, and vegetal taste suited for raw and cooked culinary preparations. The peppers can be washed and cooked whole, consuming the seeds, or they can be halved, sliced, or chopped, discarding the seeds. It is recommended to pierce the peppers before cooking them whole, as the peppers may explode if they become too hot. In Japan, Manganji chile peppers are fried, braised, baked, stir-fried, roasted, simmered, and grilled. The peppers are popularly roasted and topped with bonito flakes, sautéed and tossed with a combination of fish sauce and soy sauce, battered with tempura and fried whole, skewered for traditional Japanese yakitori, or blistered in oil and served with a light sprinkling of sea salt. Manganji chile peppers can also be simmered in a light broth and served as a side dish, stuffed with miso chicken and other meats, or wrapped in thinly sliced meat such as pork and baked. In Kyoto, Manganji chile peppers are famously used in sweet recipes and pair well with chocolate. One chef in Kyoto pickles Manganji chile peppers in soy sauce and salt and freeze-dried them. The peppers are then mixed with almond praline and added to 55% cacao chocolate, creating a balance of both bitter and tart tastes to create an unusual chocolate bar. Another chef in central Japan extracts the pepper juice and makes candies from it. Manganji chile peppers can also be dipped whole in chocolate and eaten as a sweet treat. In addition to cooked applications, Manganji chile peppers can be pickled in a salty brine for extended use as a condiment. Manganji chile peppers pair well with meats such as pork, beef, and poultry, soy sauce, grated ginger, bonito flakes, shiitake mushrooms, daikon radish, tomatoes, zucchini, eggplant, asparagus, bell peppers, red onion, yuzu, and shiso leaves. Fresh Manganji chile peppers will keep up to one week when stored whole and unwashed in a plastic bag in the refrigerator.
Ethnic/Cultural Info
Manganji chile peppers were the first vegetable to be branded as a "Kyoto Brand Product" in the Kyoto region. This protected label was given to the variety in 1989, and during this time, the variety was known as the "King of Japanese chile peppers" and was widely cultivated across the Kyoto prefecture. Kyoto Brand Products is a prestigious label given to varieties that exhibit quality characteristics and are grown in an environmentally friendly, safe way. Some Kyoto-grown vegetables are also called kyo yasai, another respected label. There are forty-one different vegetables designated as kyo yasai, including Manganji chile peppers, and the peppers were named for the Manganji Temple and Manganji District in Maizuru City in northern Kyoto. Within the region, Manganji chile peppers grown within the variety's site of origin are labeled Manganji Amato. These peppers are a specialty amongst the Manganji chile peppers grown across Japan, and they must also pass strict requirements to be sold in markets under the Manganji Amato name. The peppers are measured to at least lengths of 13 to 23 centimeters, and in addition to length, the peppers must be straight and not curved. Manganji Amato peppers are challenging to cultivate, and only a small number of growers produce the variety in its traditional region, making them a seasonal, highly desired culinary ingredient.
Geography/History
Manganji chile peppers are native to Maizuru, a city in the Kyoto prefecture of Japan. The variety was developed in the early 20th century during the Taisho Era and is a hybrid between the native Fushimi togarashi and an unknown pepper, with one possible hypothesis tracing the parent variety to the California Wonder bell pepper. Manganji chile peppers were initially grown among home gardeners throughout Kyoto, but over time, their popularity increased, and the variety was commercially cultivated across Japan. In 1983, the variety was also examined by the Maizuru Nakasuji Agricultural Cooperative and was deemed a successful cultivar that should be promoted. Manganji chile peppers have remained a treasured variety in Japan, and the cultivar was given a protected Geographical Indication, or GI, in 2017. Today Manganji chile peppers are grown throughout Japan, but the most revered are produced in the cities of Fukuchiyama, Maizuru, and Ayabe. Manganji chile peppers were also introduced to other markets worldwide as a specialty cultivar, most notably in the United States and Europe. The Manganji chile peppers featured in the photograph above were sourced from Takashimaya Shinjuku in Tokyo, Japan.
Recipe Ideas
Recipes that include Manganji Peppers. One

is easiest, three is harder.