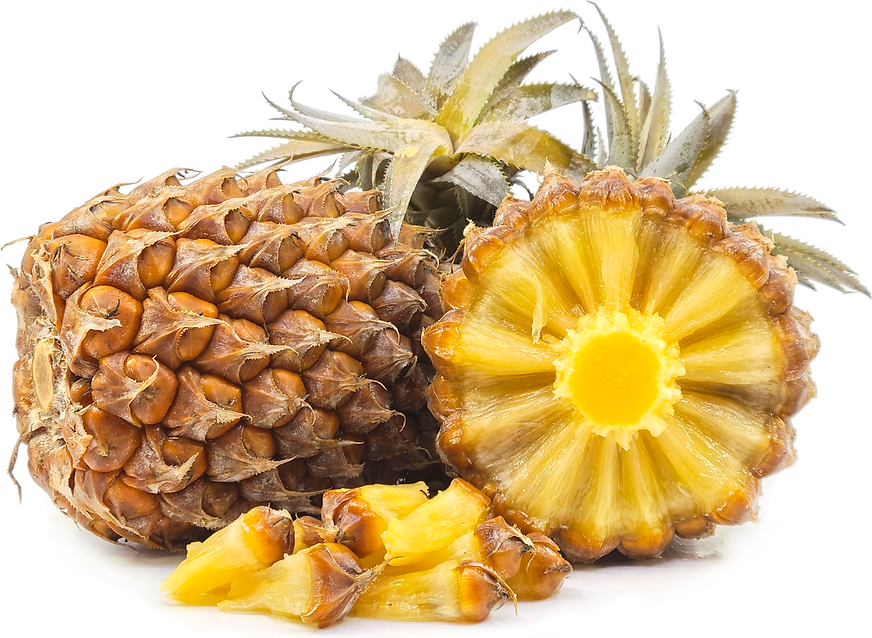 Bogor Pineapples
Inventory, lb : 0
Description/Taste
Bogor pineapples are small in size, averaging 10 to 12 centimeters in diameter and 700 grams to 1 kilogram in weight, and have a cylindrical to oval shape with a flattened bottom and top. The variety features a spikey, serrated crown of overlapping sage green, lanceolate-shaped leaves. The short leaves are inedible, have a stiff, fibrous nature, and are very sharp, covered in a soft bloom. The pineapple's rind consists of individual hexagonal segments that have fused to form a textured, bumpy surface. The rind ripens from green to an orange-yellow, golden brown hue, and has a waxy, semi-rough feel, sometimes bearing in a few spiny nodes. Underneath the rind, the bright yellow flesh is soft, fragrant, moderately juicy, and tender, containing less fiber than common pineapple varieties. The flesh also includes a unique central core that is crisp, soft, and edible. Bogor pineapples release a tropical aroma and have a high sugar content mixed with low acidity, creating a sweet, tangy, refreshing, candy-like flavor.
Seasons/Availability
Bogor pineapples are available in the summer, with a peak season from June through August.
Current Facts
Bogor pineapples, botanically classified as Ananas comosus, are a small, specialty variety belonging to the Bromeliaceae family. The cultivar is known as a collective fruit, meaning it is comprised of multiple nodes or "berries" fused to a central core. Bogor pineapples are primarily cultivated in Japan and are harvested at peak maturity, as pineapples do not continue to ripen after picking. The variety is also known as Snack pineapples, meaning it can be torn apart at the nodes by hand and consumed in bite-sized pieces. Bogor pineapples are highly valued for their small size, sweet flavor, tender texture, and interactive eating experience. The pineapple's core is also soft and edible in addition to the flesh.
Nutritional Value
Bogor pineapples are a source of vitamin C to strengthen the immune system, potassium to balance fluid levels within the body, and fiber to regulate the digestive tract. The pineapples also provide manganese to develop connective tissues, folate to produce red blood cells, vitamin E to protect the cells against free radical damage and contain other nutrients, including B vitamins, copper, magnesium, iron, vitamin K, and phosphorus. In addition to vitamins and minerals, Bogor pineapples contain bromelain, an enzyme that helps reduce swelling and increase digestion.
Applications
Bogor pineapples have a sweet and tangy flavor suited for fresh and cooked preparations. The pineapples are known for fresh eating, as the fruit can be pulled apart by the nodes into individual pieces. The bottom of the pineapple is commonly sliced, removed, and each small hexagonal node is torn off from the core to create bite-sized pieces. These small chunks of flesh can be used on appetizer platters, in fruit bowls, mixed into yogurt, or tossed into salads. The flesh can also be blended into smoothies like other common sweet pineapples, frozen into granitas, sliced into rings and used as an edible garnish, or placed as decoration on cakes and other desserts. In addition to fresh preparations, Bogor pineapples can be pressed into juice and used to flavor cupcakes, cakes, bread, and cookies, sliced and caramelized, or incorporated into crisps, puddings, and ice cream. Bogor pineapples pair well with fruits such as oranges, mango, pears, grapefruit, apples, passion fruit, bananas, and peaches, black garlic, tomatoes, cucumbers, carrots, soy sauce, peanuts, and meats such as poultry and fish. The pineapples should be used immediately when ripe for the best flavor and can be lightly wrapped and stored in the refrigerator's crisper drawer for up to one week.
Ethnic/Cultural Info
Ishigaki island is one of the central pineapple regions in Japan and was the first region to produce the fruits commercially. The island is in southwestern Okinawa and is only about 300 kilometers away from Taiwan, having been heavily influenced by the neighboring island country throughout history. Many of the first pineapple farms on Ishigaki island were established by Taiwanese growers. Approximately 330 Taiwanese farmers emigrated to Ishigaki island in 1935 and brought several varieties of pineapple seedlings. After the farms were established, the pineapples were mainly grown for the canning industry, and fruits cultivated for fresh production did not occur until years later. In the modern-day, Bogor pineapples are one of the top-produced varieties on the island, and the variety is highly favored for its pull-apart nature and sweet flavor. Ishigaki has a subtropical climate, developing pineapples with a primarily sweet taste, distinct from other commercial pineapples that are more sweet-tart. Ishigaki pineapples are so famous throughout Japan that the Hi-Chew candy created a specialty flavoring known as Ishigaki Okinawa Pineapple.
Geography/History
Pineapples were brought from Taiwan to Japan in the 1920s to 1930s and were planted by farmers in the Okinawa Prefecture. Over time, several varieties of pineapples were extensively cultivated for fresh eating in Japan, and by the 1960s, pineapple production became one of the major crops in Okinawa. Bogor pineapples were thought to have been created in Taiwan and were planted in Okinawa, becoming one of the top three cultivars produced in Japan. Today Bogor pineapples are still primarily grown in the Okinawa Prefecture, specifically on Okinawa Island, Ishigaki Island, Miyako Island, and Iriomote. They are also grown in Kagoshima Prefecture. When in season, Bogor pineapples are found at specialty grocers and farmers markets in Japan and are also exported to other countries in Eastern Asia and Southeast Asia.
Recipe Ideas
Recipes that include Bogor Pineapples. One

is easiest, three is harder.