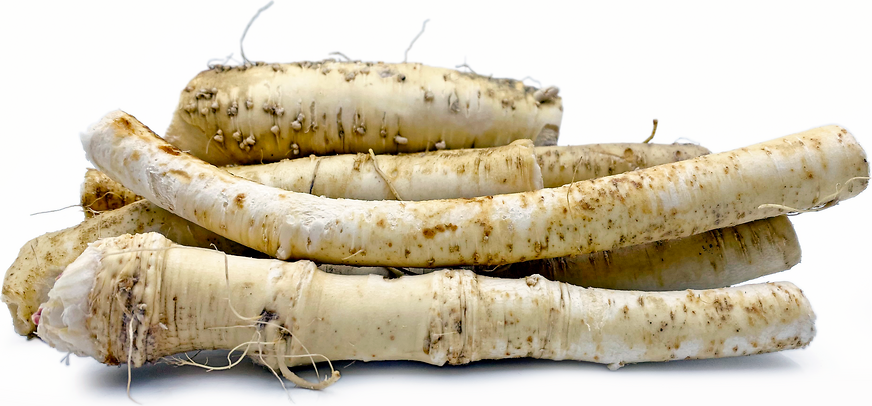 Young Horseradish Root
Inventory, lb : 0
Description/Taste

Young Horseradish roots are slender and elongated, averaging 15 to 38 centimeters in length, and have a cylindrical, straight, and slightly tapered shape. The skin is rough, firm, tan to cream-colored, and is covered in wrinkles, bumps, and fine root hairs. Despite the root's tough appearance, the skin is thin, and underneath the surface, the white flesh is dense, crisp, and aqueous. Young Horseradish roots have no fragrance when whole, but when crushed, ground, or sliced, the flesh releases volatile oils creating a pungent, spicy flavor and aroma.


Seasons/Availability

Young Horseradish roots are available year-round, with a peak season in the late fall through early spring.


Current Facts

Young Horseradish roots, botanically classified as Amoracia rusticana, are edible, underground roots that belong to the Brassicaceae or mustard family. The slender roots are harvested prematurely before they can fully develop and have a softer, less fibrous texture in comparison to full-grown horseradish roots. There are many different varieties of horseradish that are collected early for sale under the Young Horseradish root name in local markets. Young Horseradish roots are primarily used as a flavoring and are a valued condiment around the world, especially in eastern Europe. The roots have also become a popular home garden variety as the plants are adaptable, hardy, and cold resistant. Horseradish plants can sometimes be aggressive in home gardens, so care should be taken to control the roots or seeds from rapidly spreading.


Nutritional Value

Young Horseradish roots are an excellent source of fiber, which can regulate digestion and vitamin C, which can boost the immune system and protect the body against external environmental aggressors. The roots also provide a source of potassium to balance fluid levels in the body and contain calcium, magnesium, and isothiocyanate, which is the volatile oil that gives horseradish its spicy flavor.


Applications

Young Horseradish roots are best suited for both raw and cooked applications such as roasting or boiling. The tender roots are commonly grated, shredded, or minced to distribute the flavor evenly and can be added to sauces and relishes, mixed into mustard, or combined with mayonnaise or sour cream and served with roasted meats. Grated Young Horseradish can also be cooked into egg-based dishes, tossed into potato salads, or mixed with cream or vinegar and spread as a condiment on sandwiches. In addition to using the roots fresh, Young Horseradish can be pickled for extended use or roasted for a tender, milder flavor. Beyond the roots, the young leaves are also edible and are commonly used in soups, smoothies, sauces, and salads. Young Horseradish roots pair well with potatoes, beets, parsnips, tomatoes, asparagus, celery, meats such as pork, poultry, sausages, and beef, and smoked seafood. The roots will keep 1-2 weeks when stored in a plastic bag with a damp paper towel in the crisper drawer of the refrigerator.


Ethnic/Cultural Info

In Austria, horseradish root is traditionally used in tafelspitz, which is a famous dish consisting of simmered beef with fried potato pancakes, root vegetables, and a mixture of minced horseradish and apples. The first known version of the dish was created in 1892, and while there are many different versions of tafelspitz, a dollop of horseradish mixed with apples is a staple, and mandatory ingredient served on top of the cooked meat in almost every recipe. Legend has it that the Emperor of Austria, Franz Joseph I highly favored the dish and frequently consumed it multiple nights a week for dinner. Many members of his court also followed suit and consumed the meal as a visual symbol of support for the emperor. In the modern-day, tafelspitz is still one of the most famous dishes of Austria, but it has also increased in popularity around the world as a dish used in Jewish Passover Seders. Horseradish is also frequently paired with other ingredients such as minced beets and is served with gefilte fish during the feast.


Geography/History

Horseradish roots are native to Eastern Europe, especially Russia and Hungary, and have been used for medicinal and culinary purposes since ancient times. The root was later introduced to Western Europe, where it became widely cultivated in the 17th century, and arrived in the United States in the 19th century. Today fresh Young Horseradish roots are somewhat challenging to find and are primarily sold at local markets throughout Europe, Asia, and the United States. The roots and seeds of the plant are also available through online seed catalogs for home garden cultivation.