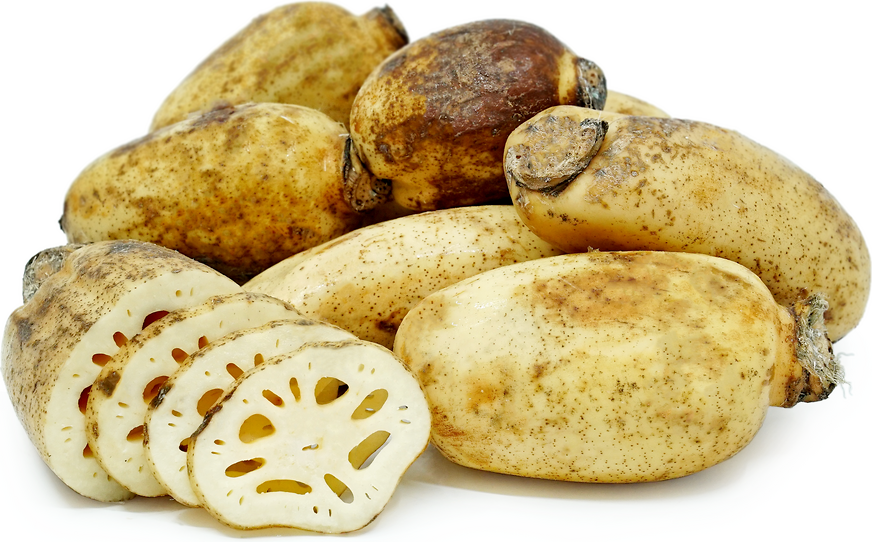 Lotus Root
Inventory, 10 lbs : 2.05
This item was last sold on : 10/07/23
Description/Taste
Lotus roots are bulbous rhizomes that form underground in bodies of water, averaging 5 to 10 centimeters in diameter and 10 to 20 centimeters in length. The cylindrical and short to elongated and tapered rhizomes develop in groupings of 3 to 5 and resemble underwater sausage links. These groupings can extend over one meter in length and are traditionally harvested by hand. The rhizome's skin is semi-smooth, thin, firm, and taut, appearing in shades of white, beige, to brown-yellow, depending on the variety. Underneath the surface, the flesh ranges in color from ivory, white, to grey-white and is crisp, dense, starchy, and aqueous with a textured, breaking crunch. The flesh also encases numerous symmetrical air pockets patterned into a pinwheel shape that extends the length of the rhizome. Select Lotus roots that are heavy for their size, firm, and free of external blemishes or cracks. The rhizomes have a mild, refreshing, and subtly sweet taste reminiscent of water chestnuts. When cooked, Lotus roots develop a slightly softer but still starchy texture and neutral taste, absorbing accompanying flavors within the dish.
Seasons/Availability
Lotus roots are available year-round, with a peak season in the fall through winter.
Current Facts
Lotus roots, botanically a part of the genus Nelumbo, are underwater rhizomes of aquatic, perennial plants belonging to the Nelumbonaceae family. There are over 300 varieties of Lotus plants found worldwide, and the edible rhizomes of each type vary in appearance. The most commercially produced types of Lotus roots are found in China and generally belong to Nelumbo nucifera. Despite their root moniker, Lotus roots are the plant's rhizome and are harvested by hand from the muddy bottoms of rivers, lakes, and ponds. Lotus roots are an extensively grown crop favored for their texture and versatility, and the roots have historically been used as a medicinal and culinary ingredient. In Asia, Lotus plants are revered for their spiritual symbolism. Lotus flowers represent grace, purity, beauty, majesty, fertility, wealth, serenity, and knowledge and are one of the eight auspicious signs of Buddhism. Most of the plant is also edible, cultivated for its seeds, flowers, leaves, and rhizomes. In the modern day, Lotus roots are a commercially produced crop worldwide and are prepared as a crunchy element in a wide variety of fresh and cooked culinary preparations.
Nutritional Value
Lotus roots are a source of fiber to regulate the digestive tract and energy as they are high in carbohydrates. The rhizomes also contain vitamin C to boost the immune system, copper to develop connective tissues, potassium to balance fluid levels within the body, and other nutrients, including manganese, zinc, iron, vitamin B, and magnesium. In Traditional Chinese Medicine, Lotus roots are viewed as having a "cooling effect" on the blood to help reduce body temperature. The rhizomes are nicknamed the "ginseng of the water" for their versatile uses and are incorporated into remedies to soothe coughs and irritations in the respiratory system. In mystical practices throughout Asia, Lotus roots are dried, ground into a powder, and mixed into a tea to enhance meditation and welcome connections with spiritual energies.
Applications
Lotus roots have a mild, earthy flavor suited for fresh or cooked preparations. The rhizomes are sometimes found still linked to another rhizome, which can be separated once used for culinary preparations. The rhizomes should be washed, peeled, and trimmed of their tough ends. The rest of the rhizome is customarily sliced into thin rings, revealing the flesh's distinct hole-like pattern. After peeling and cutting the root, it is recommended to immerse the slices in acidulated water using vinegar or citrus to prevent discoloration. Lotus roots can be blanched to remove bitterness and then cooled and added to salads or crudité. The roots can also be sliced and braised until tender in soups, stews, and curries, battered and fried into tempura, baked into chips, or stir-fried with vegetables as a simple main dish. In India, Lotus roots are boiled, mashed, and added to vegetarian kofta, a dumpling dish paired with spicy sauces. A traditional Korean dessert also utilizes Lotus root with soy sauce, honey, and sesame seeds called yeongun bokkum. In Japan, Lotus roots are popularly served in Osechi cuisine on New Year's Day, as it is considered an auspicious symbol welcoming "good prospects for the future." Lotus roots are prevalent in Chinese cooking and are often used as a starchy ingredient in hot pots to absorb the flavorful broth. The roots are also stuffed with glutinous rice and cooked in a mixture of Lotus seeds, jujubes, and sugar as a dessert, added to steamed buns, or mixed into various vegetable dishes. In the Zhejiang province, Lotus roots are associated with former Zhejiang province resident Xi Shi, one of the four legendary beauties of ancient China. Among local folklore, Xi Shi eventually became a Lotus fairy, and it is said Lotus roots make a crystallized jelly that can help the consumer become beautiful like Xi Shi. Lotus roots pair well with mushrooms, peppers, snap peas, snow peas, asparagus, corn, celery, cucumber, oyster sauce, peanuts, red beans, and sesame seeds. Lotus roots will keep up to two weeks when stored whole, wrapped in damp paper towels, and placed in a plastic bag in the refrigerator. Sliced Lotus roots can be stored in an acidulated water solution for a couple of days, or they can be frozen for long-term storage.
Ethnic/Cultural Info
In the district of Huadu in the capital city of Guangzhou, China, a special type of Lotus root is cultivated for the Dongzhi Festival, also known as the winter solstice celebration. "Dong" means "winter," and "zhi means "arrival," and this annual celebration is a time for family and friends to gather, share meals, and celebrate that the days will become longer and the nights shorter after the solstice. Lotus roots are traditionally harvested around the winter solstice, and in Huadu, the prized roots are known as Jingtang, showcasing a long and thin appearance. Legend has it that the residents of Huadu first learned of Lotus roots from He Xiangu, one of the Eight Immortals. According to Chinese mythology, He Xiangu was the only female figure in the Eight Immortals, and she represents feminine characteristics, including selflessness, chastity, devotion, compassion, and obedience. The story recounts a time when the Eight Immortals discovered a plague wreaking havoc on crops and villages near Huadu. Tieguai Lee replenished the fields by bringing rain, a short-term solution, but He Xiangu was concerned for the long-term well-being of the town. He Xiangu remembered she had Lotus seeds in her sleeves and threw them into a lake. The pond began growing Lotus plants, and these plants were her gift to the community so that they may have a sustainable and reliable food source each year. He Xiangu is often depicted holding a Lotus flower as a symbol of beauty and enlightenment.
Geography/History
Lotus is a part of the Nelumbo genus, a classification of aquatic perennials native to tropical and semi-tropical regions of Asia. Plants within the Nelumbo genus have been growing wild since ancient times, and high concentrations of Nelumbo nucifera are present in India and China. Lotus plants have been recorded in culinary, medicinal, and cultural traditions for thousands of years, and the genus spread worldwide through human introduction and cultivation. In China, Lotus plants symbolize rebirth and enlightenment and are often used in Buddhist spiritual imagery. A form of Lotus root soup was once discovered in the famous Mawangdui Han Tomb in Changsha, the capital city of the Hunan Province. Archeologists unearthed the pot of Lotus soup in the 1970s, which was thought to be over 2,100 years old. In Japan, there were a few native Lotus species traced to the Yayoi period, with remnants of the ancient varieties found at various sites in Chiba and Gyoda City. Historians speculate that despite the Lotus root's presence in ancient times, the roots were not consumed until around the Heian period in 794 to 1185 CE. Lotus roots expanded in culinary use after Chinese Lotus species were carried to Japan in the Meiji period, from 1868 to 1912. Outside of East Asia, Lotus plants were prevalent in Hinduism. The flower is depicted in images of the goddesses Lakshmi and Saraswati, and the blooms welcome divine energy into sacred spaces. Lotus plants were also depicted in ancient Egyptian artwork as a symbol of life. Today Lotus plants thrive in ponds, lakes, slow-moving rivers, deltas, and flood plains. The plants have naturalized in habitats worldwide and are also commercially produced for their seeds, flowers, rhizomes, and leaves, especially in Asia, the South Pacific, Australia, and South America. China is the largest producer of Lotus roots, and the roots are sold fresh and dried domestically and internationally. In Japan, Lotus root is primarily cultivated in the Ibaraki, Tokushima, Ishikawa, and Niigata Prefectures. Lotus roots are cultivated year-round and are sold through local markets, retailers, and distributors worldwide.
Recipe Ideas
Recipes that include Lotus Root. One

is easiest, three is harder.
the other 2...